Censia is an intelligent recruiting automation solution powered by the next-generation talent search engine for the enterprise, built on an integrated people data platform, to predictively match the best people to opportunities with radical efficiency and equality. Censia exists to change the way companies hire talent and shift it from human search plagued with bias and error to predictive intelligence and automation.
Greenhouse Recruiting's integration with Censia allows users to import their preferred candidates from a role created in Censia into a specific role in Greenhouse, while checking for duplicate records at the same time. In this article, we will cover how to:
Configure User Setup Permissions in Greenhouse Recruiting
In order to enable the Greenhouse/Censia integration, you will need the developer permission Can manage ALL organization's API Credentials.
Contact a Greenhouse user in your organization with Site Admin level permissions with the additional user-specific permission Can edit another user's advanced permissions to apply the API credential management permission to your account. Have the user with Site Admin level permissions edit your user account's permissions by navigating to the Configure icon

> Users > Your Name.

The user with Site Admin level permissions should navigate to the Permissions panel on your user page and expand the Developer Permissions dropdown menu.
Select Can manage ALL organization's API Credentials so that a check is in the checkbox. When finished, click Save.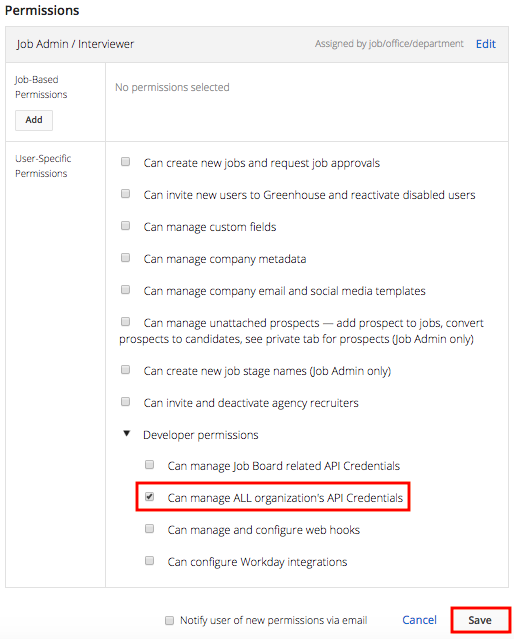 Repeat as necessary for any other user that should have access to set up the integration.
Create a Harvest API Key for the Greenhouse/Censia Integration
To create a Harvest API key for the integration, click on the Configure icon

in the upper right-hand corner. Navigate to Dev Center on the left-hand panel.
From the Dev Center page, click API Credential Management.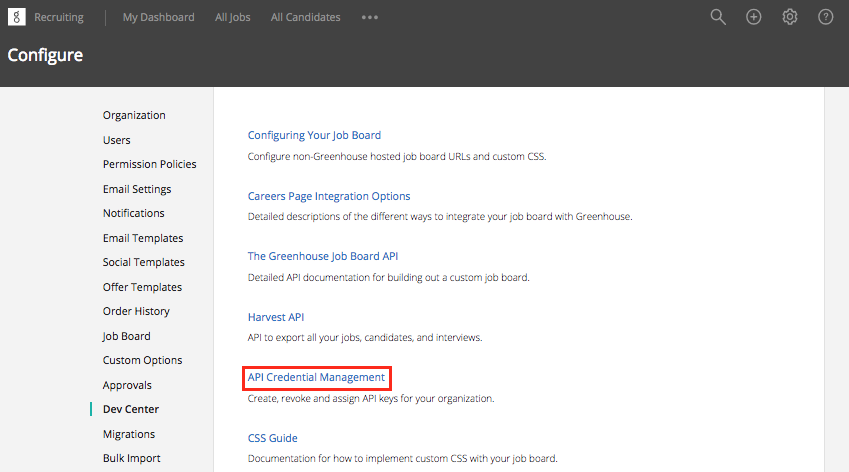 From the API Credential Management page, click Create New API Key to generate the API key for Censia.

From the Create new credential dialog box, give your API key a name and select Harvest from the Type dropdown menu. When finished, click Create.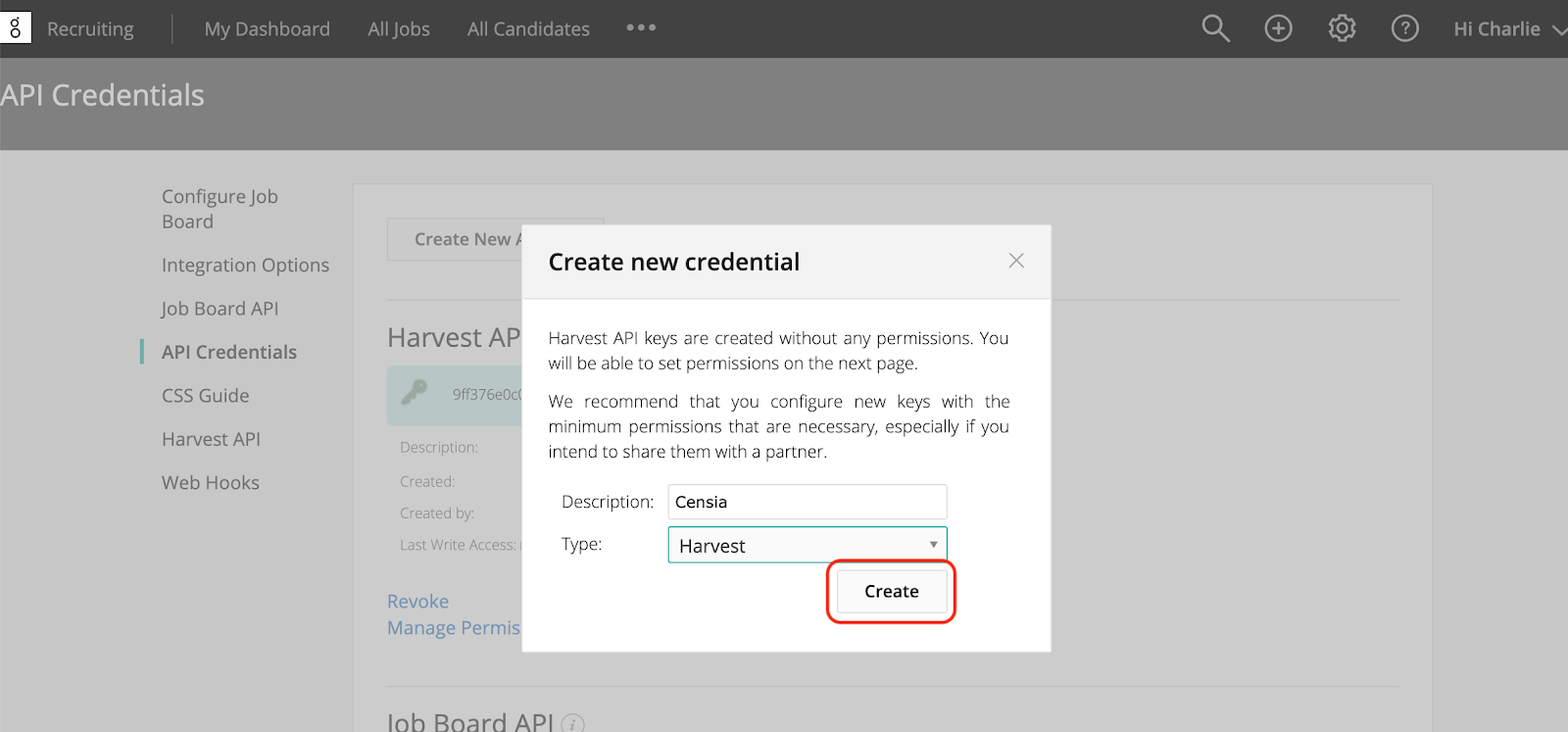 On the Manage API Key Permissions page, select all permissions. When finished, click Update.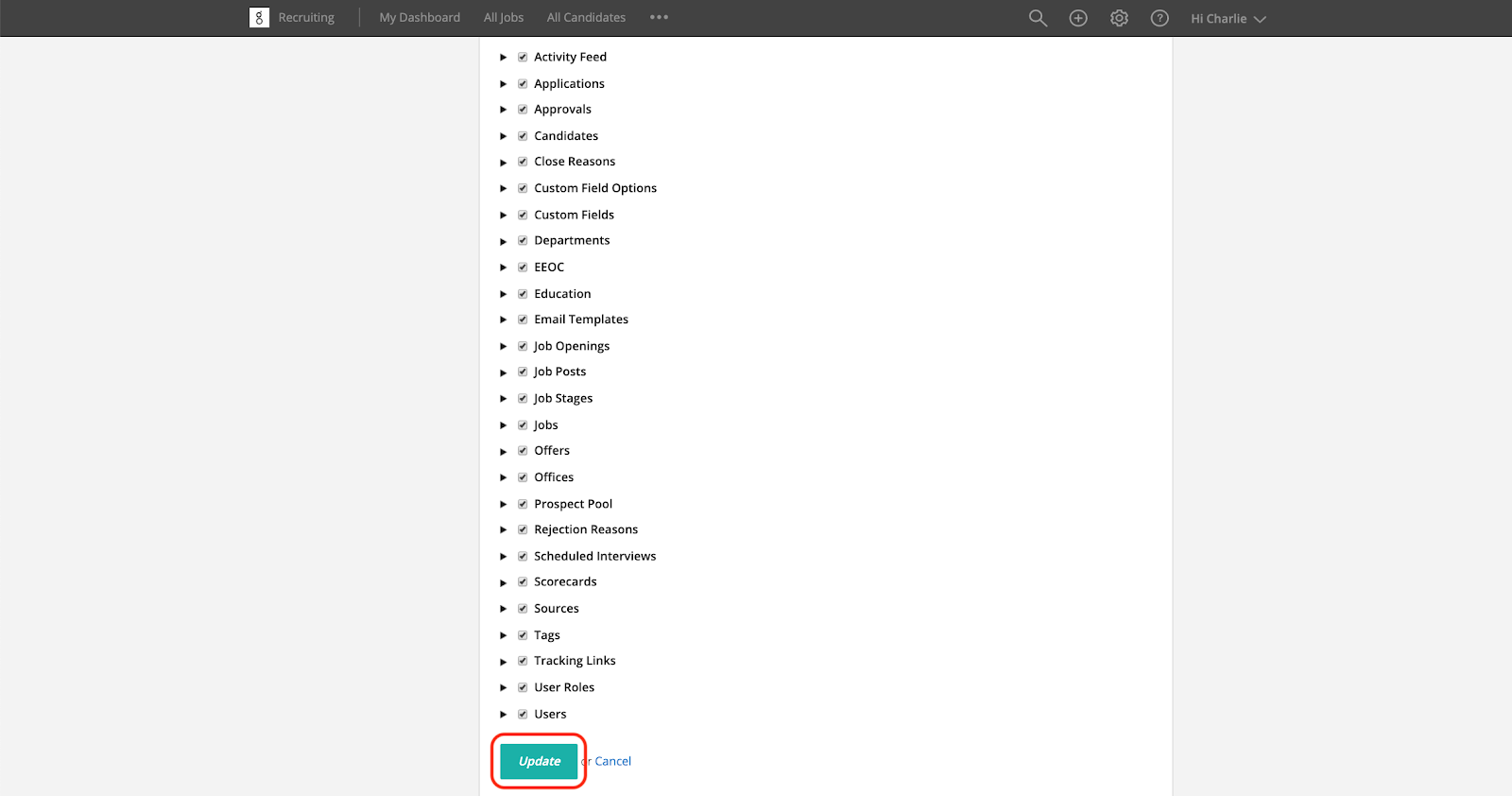 Your Harvest API key for the Greenhouse/Censia integration is created and configured.

Enable Censia Integration
Once your Greenhouse Harvest API Key has been created, complete the Greenhouse Integration: Data Requirements & Authentication form shared by your Censia CSM for the integration to be completed.
Use Censia Integration with Greenhouse Recruiting
Select the candidates you want to export to Greenhouse Recruiting.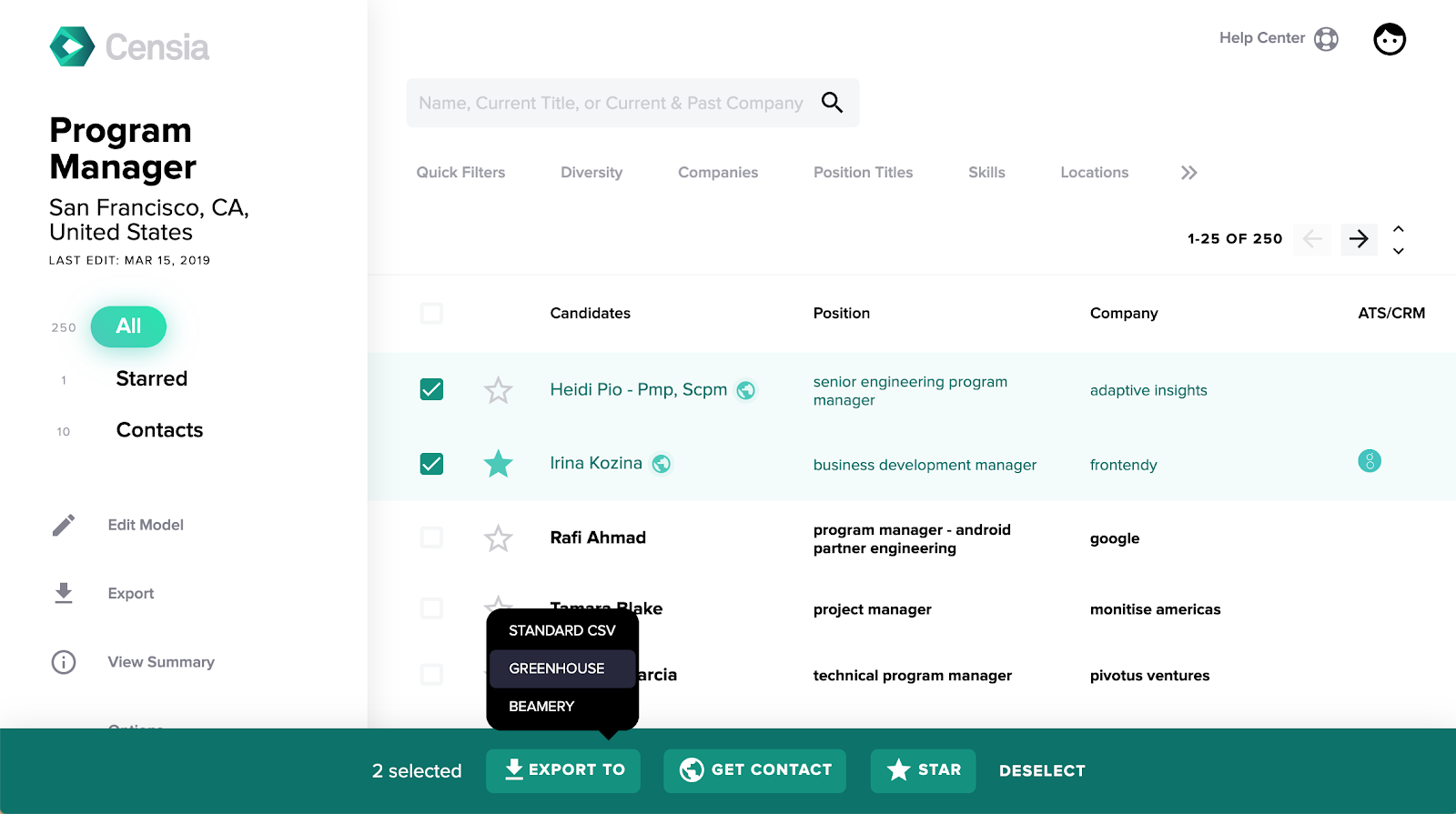 Check for candidates that already exist in Greenhouse Reruiting.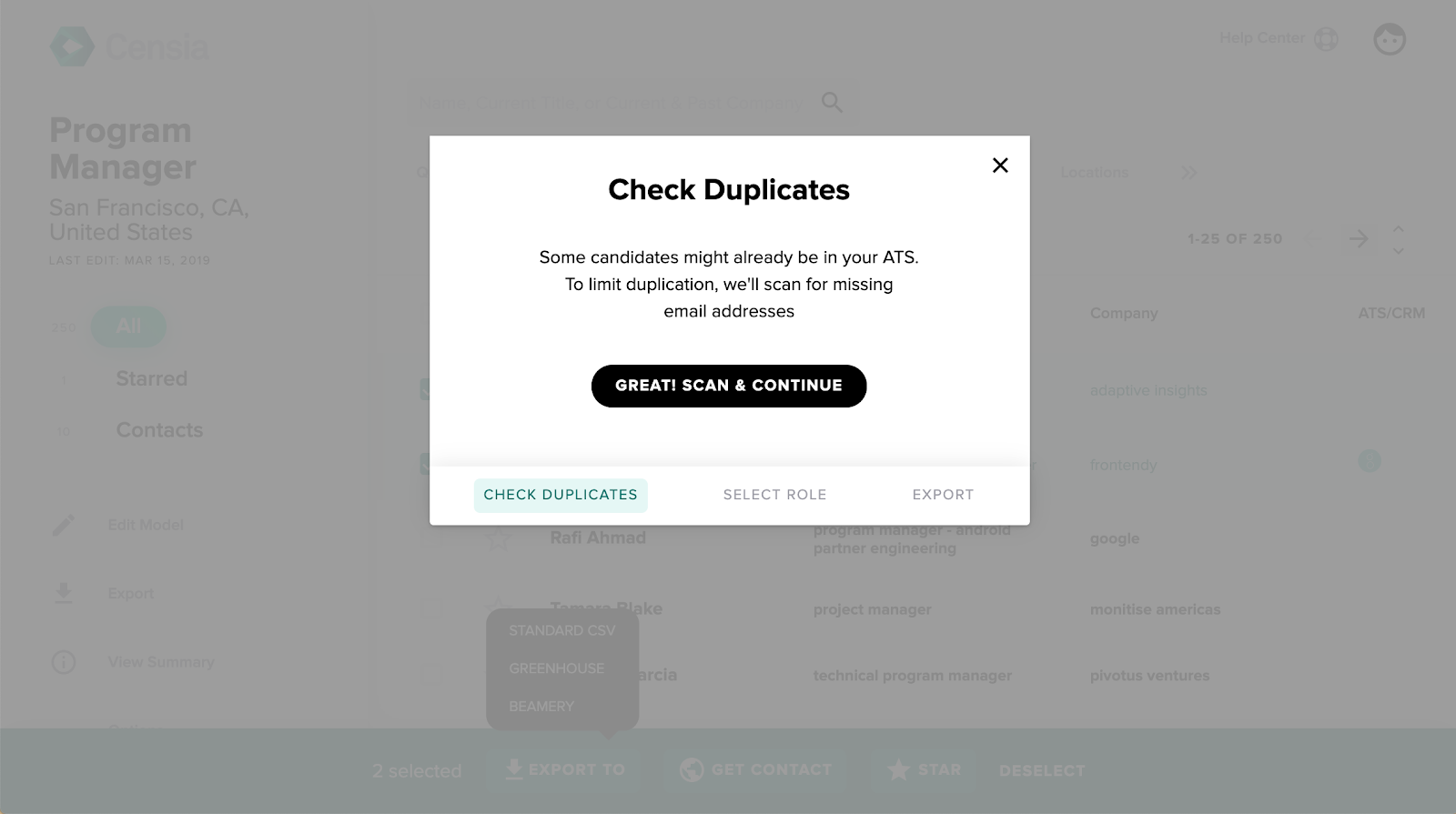 Select your export destination in Greenhouse Recruiting.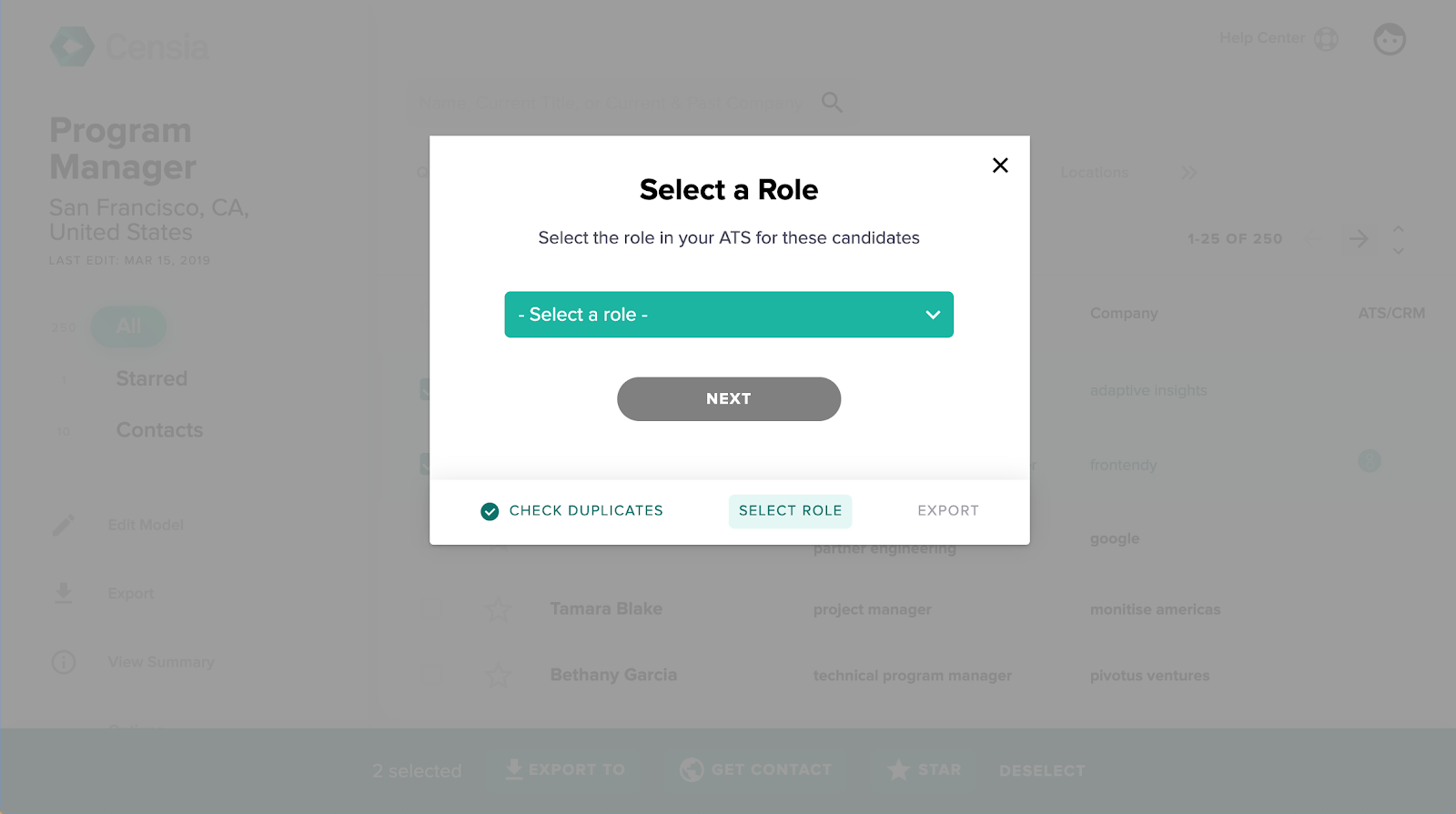 Export your candidates from Censia to Greenhouse Recruiting.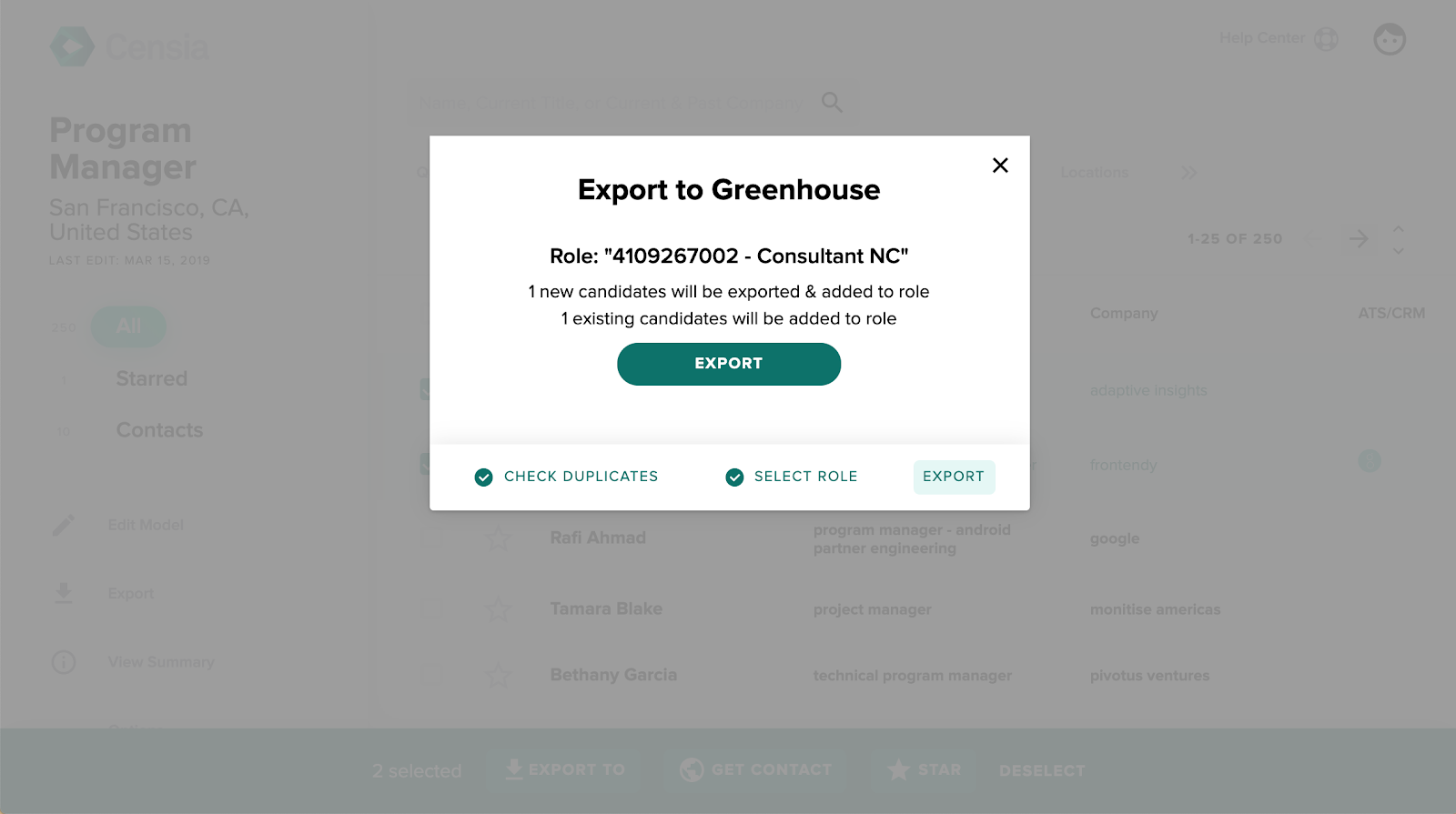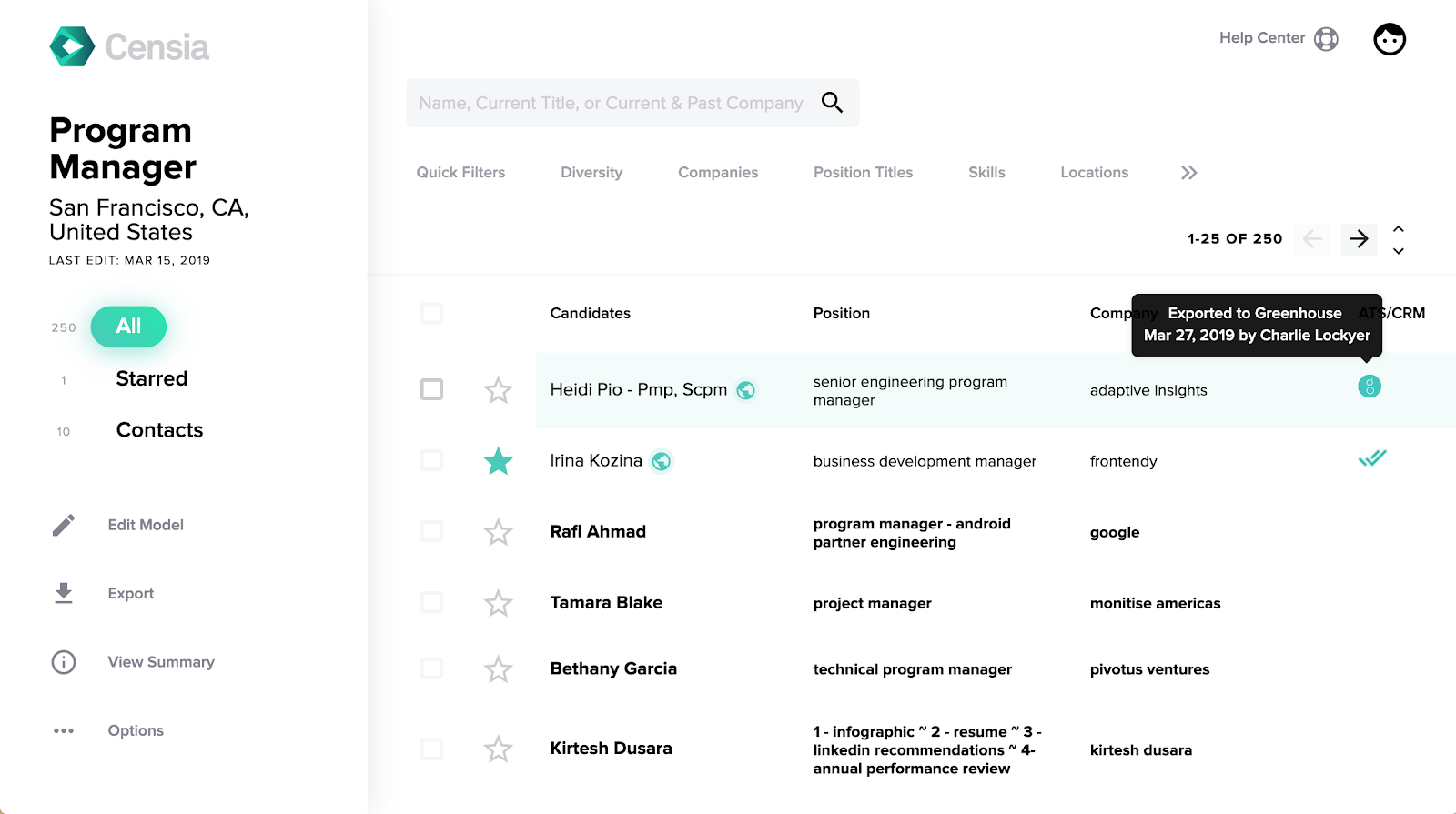 Note: As part of the on-boarding, each user will be added to the integration and their unique ID will be used in the "on-behalf-of" header, required by Greenhouse for auditing purposes.

Need help?
Please contact support@censia.com for troubleshooting assistance regarding the integration.