CodeScreen is the world's first automated take-home coding test platform and allows companies to screen developers 10x faster than what was previously possible.
Greenhouse Recruiting and CodeScreen have created an integration that allows you to seamlessly add a CodeScreen test to a job's interview plan. In this article, we will cover how to:
Enable the Greenhouse/CodeScreen Integration
To start, head over to the client account section on the CodeScreen platform to view your Greenhouse API key. Once you have your API key, fill out the form at www.greenhouse.io/asksupport or click here to open a ticket.
Note: Do not send your API key in any unencrypted communication, such as email and support tickets. Greenhouse Support will provide a secure way to send your API keys if needed.
The Greenhouse Support Team will respond with a SendSafely link for you to enter your API key. A notification will be sent to the Greenhouse Support Team after you have entered your API key and they will email you to confirm that your API key has been set up in your account and your integration is enabled.
Note: To verify your identity, the Greenhouse Support Team might request you provide a Support Verification Code before adding the API key to your organization's account.
Add CodeScreen Stage to Job's Interview Plan
Once the Greenhouse/CodeScreen integration is enabled for your organization, you will be able to add the CodeScreen assessment as an Interview stage.
To do this for an existing job, navigate to a job (All Jobs>Job Name) and click Job Setup from the Job navigation bar.

From the Job Setup page, navigate to Interview Plan on the left-hand panel. Scroll down the page and click + Add a Stage.

From the Add Stage dialog box, select the CodeScreen stage. When finished, click Add to apply the stage to the job's interview plan.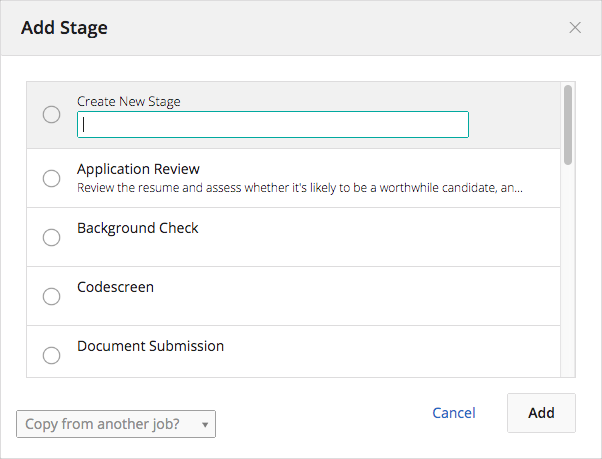 Configure CodeScreen Stage
Once the stage has been added to the job's interview plan, click Edit Take Home Test. Use the provided dropdown menu to choose tests for jobs that you have previously set up in CodeScreen. There will be one entry for each job you have on CodeScreen.

Select the appropriate test and assign at least one Greenhouse user to grade/review submitted assessments. When finished, click Save.
Send and Review the Test
When candidates are moved into the CodeScreen interview stage, Greenhouse will display a Send Test link.

When you click Send Test, CodeScreen sends an email containing the instructions for the test to the candidate.
You are able to edit the email templates that are used to include your own wording and your company's branding. You can configure this in the account section of the CodeScreen platform. The default email template looks like the following: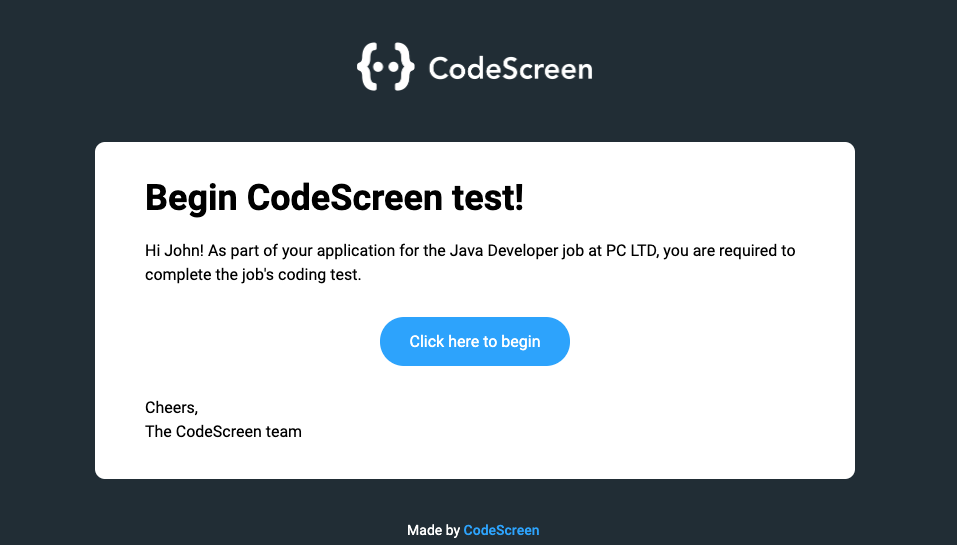 The status of the assessment will be viewable in Greenhouse:

Once the candidate has submitted their test, you will be notified via email by Greenhouse and the Interview Kit will contain a link to view the submitted test on CodeScreen.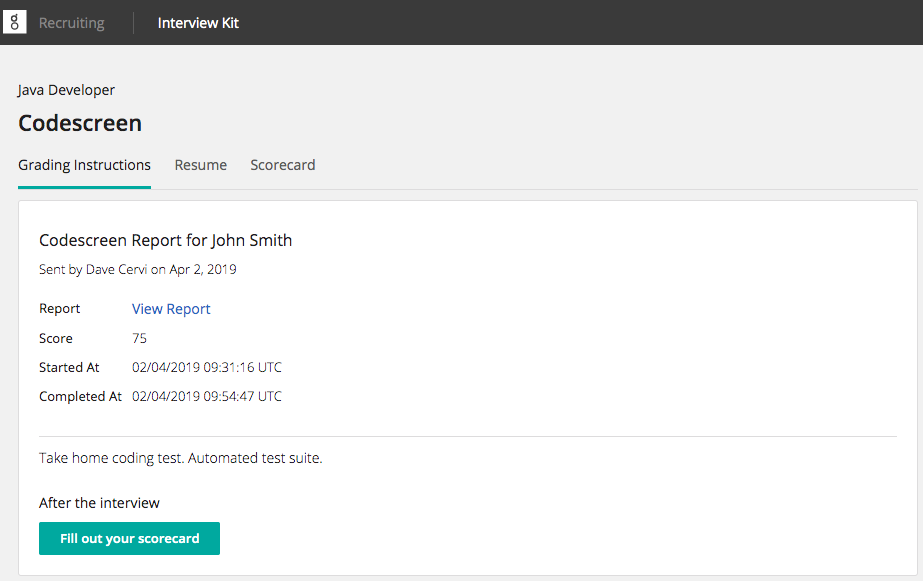 After you click on the Interview Kit on the candidate's profile,you will be taken to a page where the URL is available to view the test result on CodeScreen. You can get this URL by clicking View Report, which will bring you to a page similar to the following: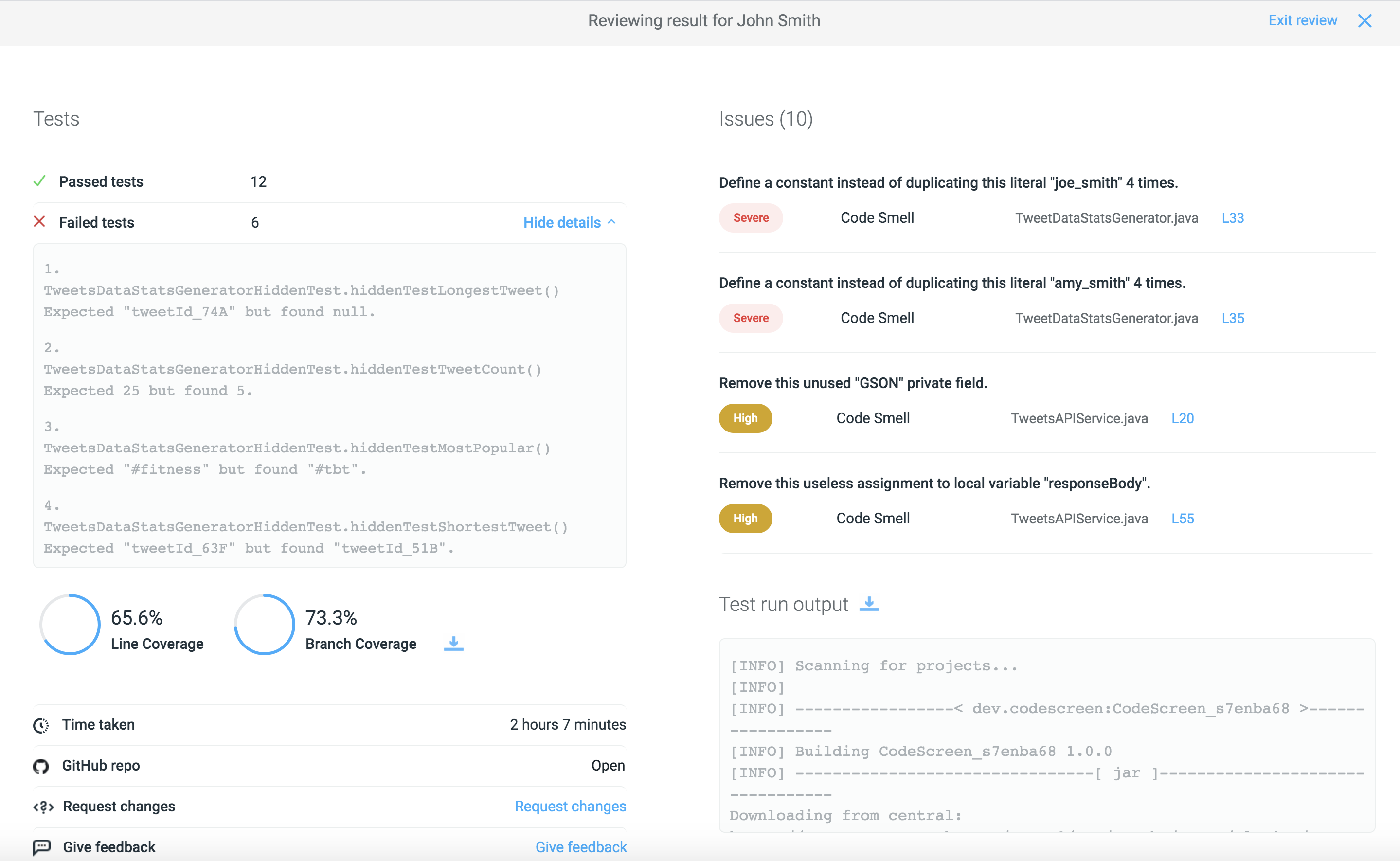 Need help?
Please head over to the FAQs section on our website.
If you have any more questions/thoughts not covered by our FAQ, or need troubleshooting assistance regarding the integration please contact hello@ codescreen. dev for a quick response.