Permissions: Owners
Product tier: Available to the Greenhouse Onboarding subscription tier
BambooHR is a cloud-based HRIS platform for small and medium-sized businesses that enables your organization to manage the data for your employees. Greenhouse Onboarding has created an integration with BambooHR to sync employee data between the two systems. 
Note: Greenhouse Onboarding's integration with BambooHR is a one-way sync of information. 
Enable the BambooHR integration
Before your organization can enable the BambooHR integration, you'll need your organization's BambooHR domain. Your organization's domain is the text in front of bamboohr.com when you're logged into your BambooHR account.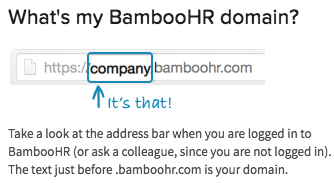 Once you retrieve your domain, open Greenhouse Onboarding.
From your homepage, navigate to Settings > Data Flow > Integrations.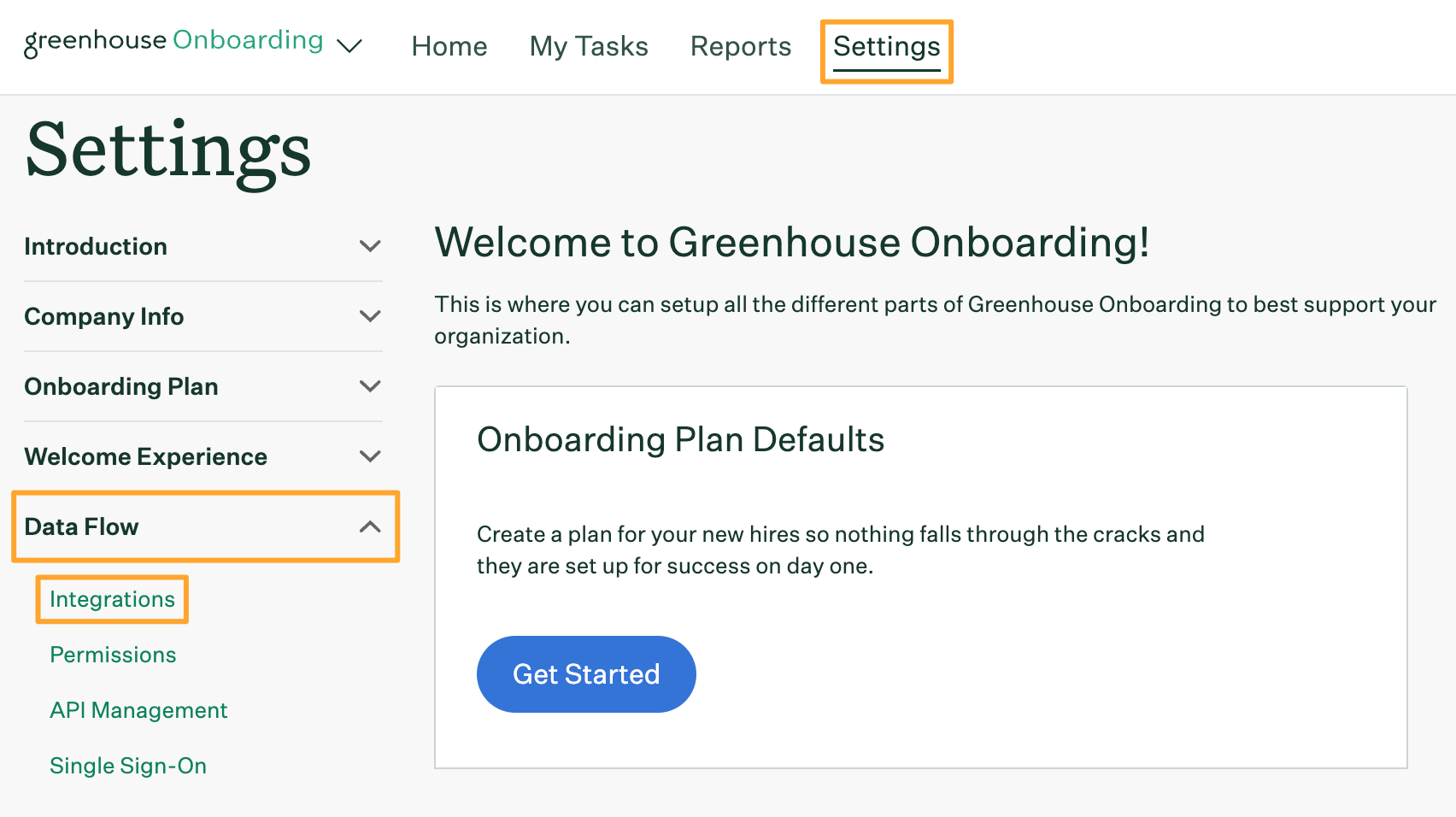 On the Integrations page, scroll to BambooHR. Click Enable.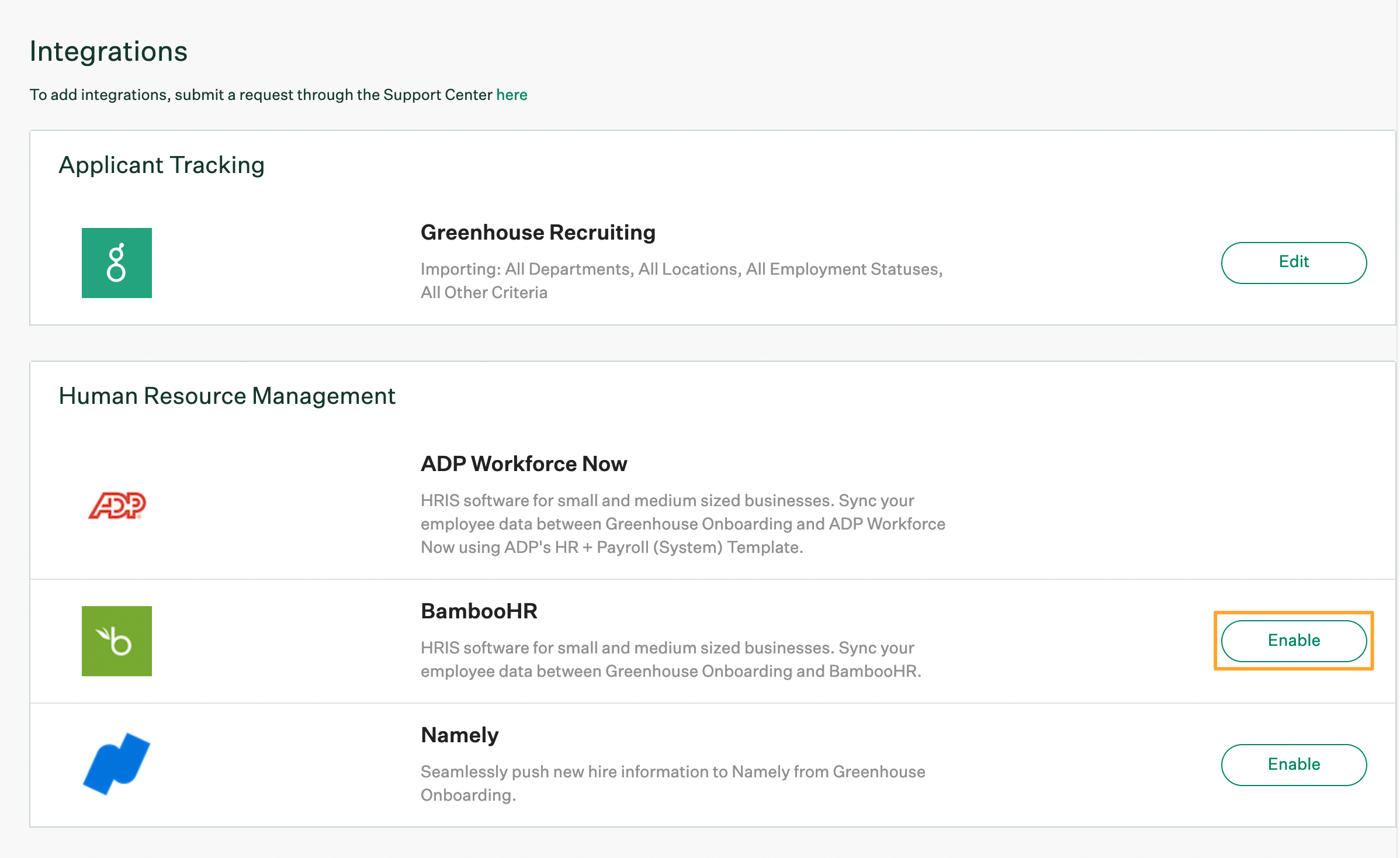 Enter your BambooHR domain and click Connect to BambooHR.

BambooHR will open. You'll need to sign into your account to finish the integration setup. Once setup is complete, you'll be automatically sent back to Greenhouse Onboarding.
Mapped integration fields
The following Greenhouse Onboarding fields will be mapped and exported to the corresponding field in BambooHR:
| | |
| --- | --- |
|  First Name* |  Status |
|  Last Name* |  Date of Birth |
|  User Status* |  SSN |
|  Start Date* |  Gender |
|  Email* |  Marital Status |
|  Department |  Personal Email |
|  Location |  Profile Photo |
|  Address |  Employee Documents |
|  Preferred Name |   |
|  Job Title |   |
*Required field to create a BambooHR employee account
Note: An employee's SSN should be formatted as ###-##-#### (including the dashes) in order to export successfully to BambooHR.
You can add help text to your organization's SSN field to remind employees how to format their SSNs. To do this, go to Settings > Fields. Click on SSN, then enter your formatting note in the Help Text field.
When logging in to Greenhouse Onboarding for the first time, new employees can hover over the Info icon to see your reminder about SSN formatting.

Greenhouse Onboarding will export any available information for the above fields to BambooHR.
Note: Reports can't be exported to BambooHR.
Export an employee profile
Once your integration is enabled, Owners and Coordinators in Greenhouse Onboarding can export an employee profile to BambooHR.
In Greenhouse Onboarding, use the Search bar on your homepage to search for the employee whose profile you want to export.
From the employee's profile, navigate to the Integrations tab. Click Export to BambooHR.

Note: Since every organization configures its onboarding process differently, employee data can only be exported manually from Greenhouse Onboarding. In addition, an employee's profile can only be exported once from Greenhouse Onboarding. Make sure to verify that all details are correct before exporting to BambooHR.
Once you've successfully exported an employee's profile to BambooHR, the export date, user, and BambooHR ID will display on the employee's Integrations tab.