A candidate's response to an application question can vary across job applications within the same organization. By creating and implementing custom application fields you can track these responses.
In this article, we will cover how to create a new application question on a job post and link it to a custom application field so responses to the question will populate in the appropriate field on the candidate's profile.
With a custom application field already created, click the All Jobs tab and select a job from the subsequent list.

Click Job Set up and navigate to Job Posts on the left-hand panel.

Select a job post from the list and click 

 inline with the job post name.

From the Edit Your Job Post page, navigate to the Custom Application Questions panel and click Add Custom Question.

From the Add a Question dialog box, pose a question and provide a description, select a privacy setting, and whether a response to the question should be required.
From the Answers dropdown menu, select Link answers to a custom field on a candidate's profile. Select a custom application field from the secondary dropdown menu
Click Add when finished.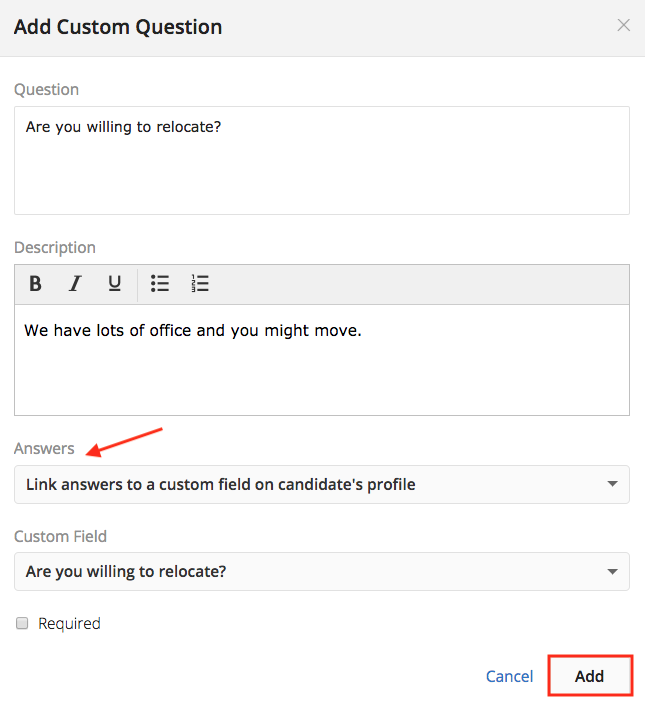 Note: When a custom application question is linked to a custom application field, the question will inherit the Type and Privacy settings of the custom application field.
Back on the Edit Your Job Post page, the new custom application question will indicate that it is linked to a custom application field.