Central Test offers decision-makers a wide portfolio of innovative and reliable online assessment tools to help organizations gain valuable insight into a candidate's people abilities, behavior, and potential to succeed. Greenhouse Recruiting's integration with Central Test allows you to seamlessly add Central Test's assessments to a job's interview plan. In this article, we will cover how to:
Enable the Greenhouse/Central Test Integration
To start, contact your Central Test representative (customer@centraltest.com) to receive your API key. Once you have received your API key, fill out the form at www.greenhouse.io/asksupport or click here to open a ticket.
Note: Do not send the API key in this initial email.
The Greenhouse Support Team will respond with a SendSafely link for you to enter your API key. A notification will be sent to the Greenhouse Support Team after you have entered your API key and they will email you to confirm that your API key has been set up in your account and your integration is enabled.
Note: To verify your identity, the Greenhouse Support Team might request you provide a Support Verification Code before adding the API key to your organization's account.
Add Central Test Stage to Job's Interview Plan
Once the Greenhouse/Central Test integration is enabled for your organization, you will be able to add the Central Test assessment as an Interview stage.
To do this for an existing job, navigate to a job (All Jobs>Job Name) and click Job Setup from the Job navigation bar.

From the Job Setup page, navigate to Interview Plan on the left-hand panel. Scroll down the page and click + Add a Stage.

From the Add Stage dialog box, select the Central Test stage. When finished, click Add to apply the stage to the job's interview plan.

Configure Central Test Stage
Once the stage has been added to the job's interview plan, click Edit Take Home Test. Use the provided drop-down menu to choose assessments that you have previously set up in Central Test.
Select the appropriate assessment and assign at least one Greenhouse user to grade/review submitted assessments. When finished, click Save.
Note: Keep in the mind that all configuration of the assessment itself, as well as the email template, will need to be done in Central Test.
Send and Review the Test
When candidates are moved into the Central Test interview stage, Greenhouse will display a Send Test link.
Note: When you send a test from Greenhouse, the interview instructions are actually sent by Central Test.

The status of the assessment will be viewable in Greenhouse:

Once the candidate has submitted their test, the Interview Kit will contain a link to view the submitted test on Central Test.


The screenshots below show what a completed test result (in this example: the Big Five Profile personality test in HTML) looks like when a Greenhouse user clicks on the View Report link.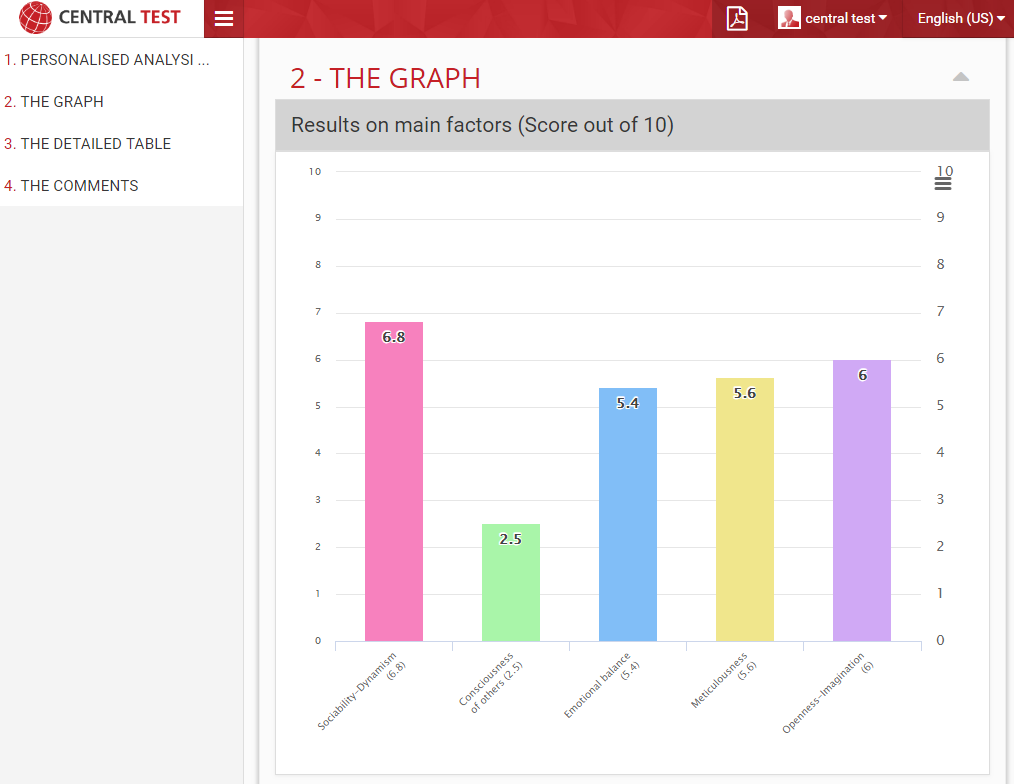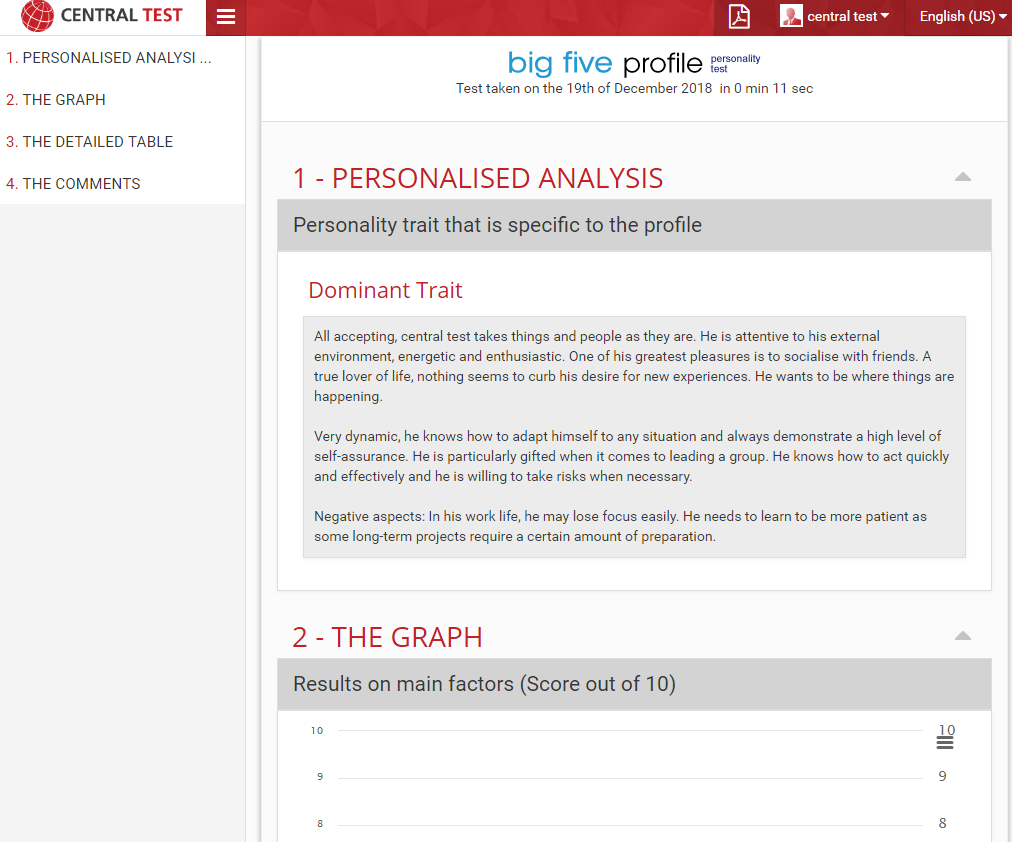 Troubleshoot
A user could experience some errors such as not having enough credits to send a test to a candidate. This is the most common "error" that a user may encounter. In that case, the user will get a message in his/her inbox on his/her Central Test's account explaining the reason why he/she couldn't send an invitation (not enough credits), therefore the user will be able to order more credits to send the invitation.
Another error that the user may encounter could be when he/she tries to send the same test to the same candidate (In that case, the user will get the following notification in his/her inbox : "The candidate has already been invited to take this test. He/she will get a reminder email"). In any case of occuring error, the user will be notified.
For any support questions, please contact the technical contact at Central Test: Adrien Mazzoli, adrien.mazzoli@centraltest.com, +33 (0)146594222