In an effort to improve our suite of products, Greenhouse Software regularly releases new product features, updates, and improvements. Stay up-to-date with what's new at Greenhouse by Following our Release Notes.
Find our releases for this week below:
Greenhouse Recruiting
We just release a small update that allows your organization to view when a job was first published (made live). Regardless of whether the job is later turned off, the First Published date will not change.
Note: This feature does not apply retroactively to pre-existing jobs in your organization.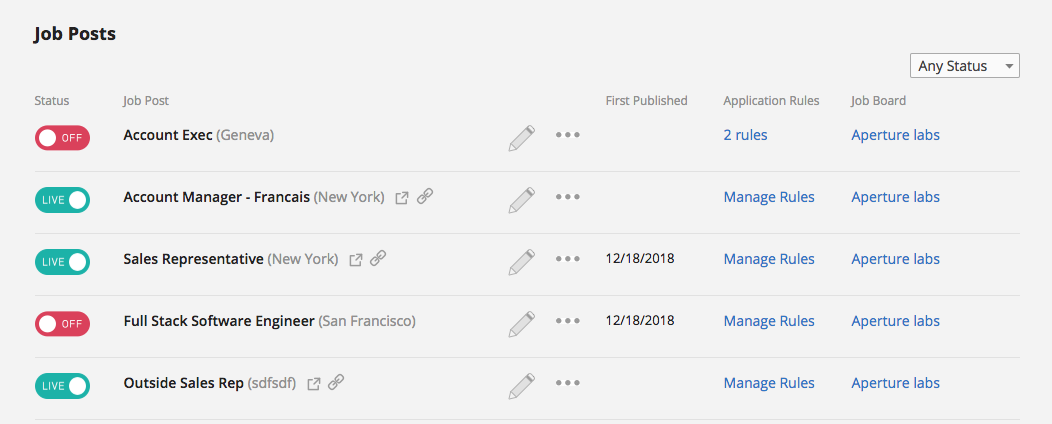 Greenhouse Inclusion updated our resume highlights feature so that all attachments will be renamed File # (e.g File 1) since candidates oftentimes include identifying information in the file name. Additionally, we are also redacting the following information when the feature is enabled:

website/social media links
referral questions
LinkedIn URL contained in a job post answer

When you create a new job using another job as a template (i.e. Copy an Existing Job), you can select to copy over Forms. This should expedite the new job creation process especially if your organization is using template jobs.
In compliance with GDPR, candidate responses to Forms is now an option that can be targeted for deletion. 

Bug Fixes
Forms should now copy in bulk to other jobs. We apologize for the inconvenience.

We fixed an issue found when using the Copying an Existing Job feature to create a new job. When using this feature the webhook will no longer fire a "job_post_updated" webhook but rather the more accurate "job_post_created" webhook.
Speaking of which, we also fixed an issue found on the Approvals page so that any updates made will fire a "job_updated" webhook.
Users in Greenhouse Onboarding can now delete employees even if they have been assigned a task.