reThinkData is an integration solutions company that partners with ATS providers to integrate third party job boards for an improved candidate application experience.  
Posting and administering jobs and applications on Facebook is too expensive. We can cut your admin costs, improve the candidate experience, and deliver completed applications right into Greenhouse for you. So go ahead make Facebook jobs work for you – it's totally automated.
JobSync for Facebook
 Have your jobs posted directly onto Facebook and receive completed applications into your greenhouse account. Once you are setup, JobSync takes over.  JobSync will post jobs to your Facebook page for your followers and in the marketplace so your jobs are discoverable for everyone.  
Setting up reThinkData
To setup reThinkData in your apply process you will need to get an API setup. First, you will need to configure a job board token. Second, you will need to create an API Key.  You will then be able to copy and paste these values into reThinkData's Dashboard. Finally you will need to create a source tag.
Configuring your Job Board
You will need to send us the job board token. Usually that's pretty simple (e.g. CompanyABC's board token is "companyabc" with the URL being https://api.greenhouse.io/v1/boards/companyabc/jobs)
 To find the job board token, the Greenhouse user will need to complete the following steps:
The Greenhouse user will click on the

Configure

tab

Select

Job Board

 

Click

Edit

The job board token will be located in the URL field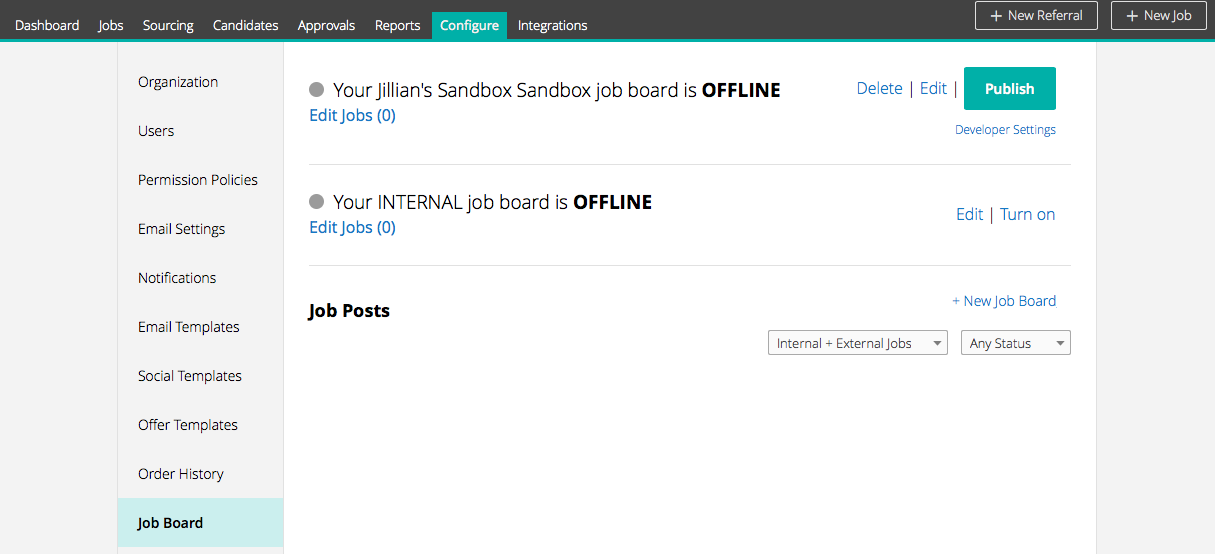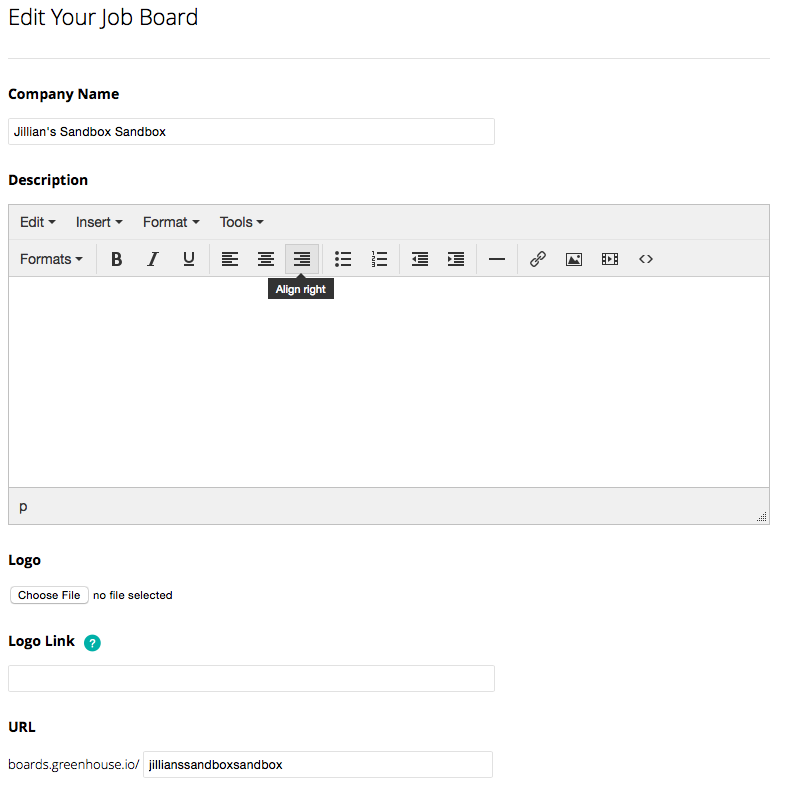 Select your ATS
 Go to the My ATS tab in the reThinkData Dashboard.  Click the dropdown and select Greenhouse.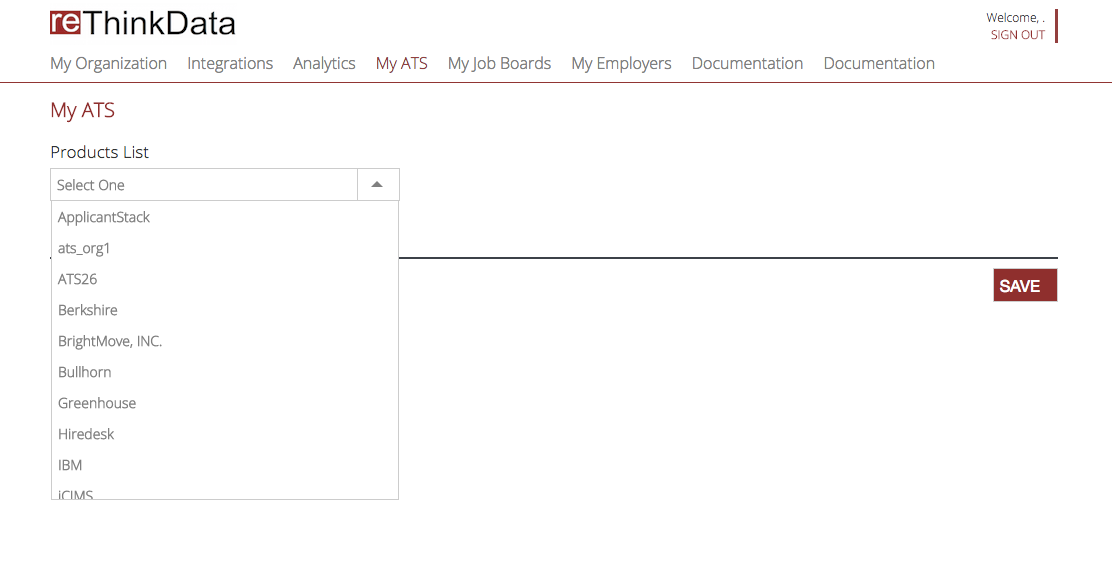 Paste your Job Board Token into reThinkData's Dashboard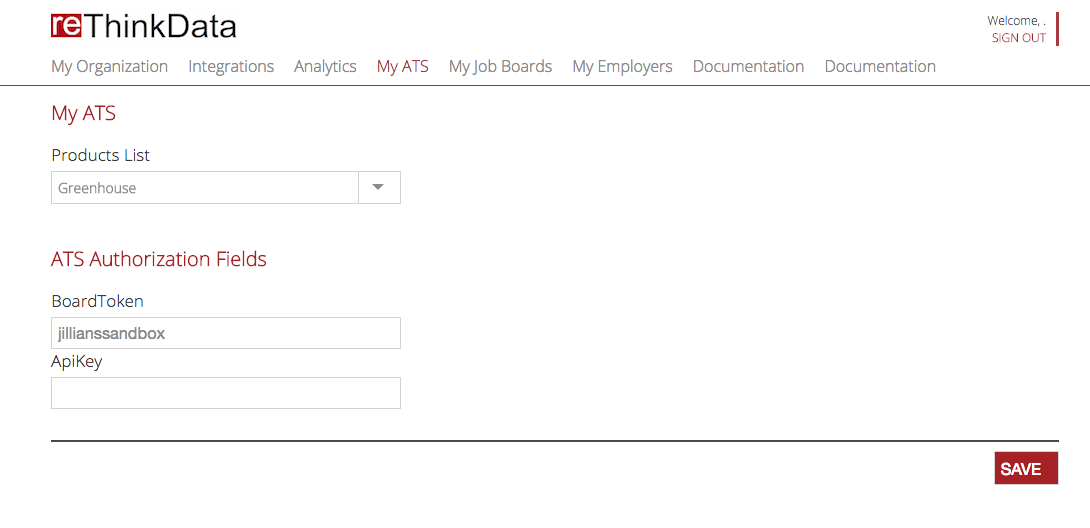 Generating Job Board API Key:
You'll need to generate an API key in the Greenhouse account by following the steps below:
The Greenhouse user will click on the

Configure

tab

Select

Dev Center > API Credential Management

Click

Create New API Key

to generate the API key for

[COMPANY NAME]

Have the user send you the generated API key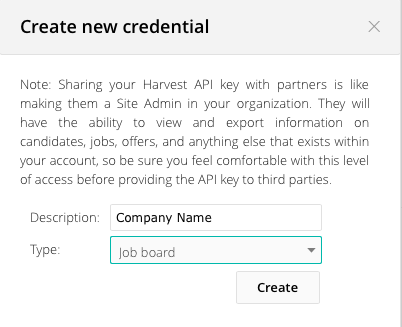 Copy Your API Key
 Copy your API Key from your Greenhouse account

Paste your API Key in the reThinkData dashboard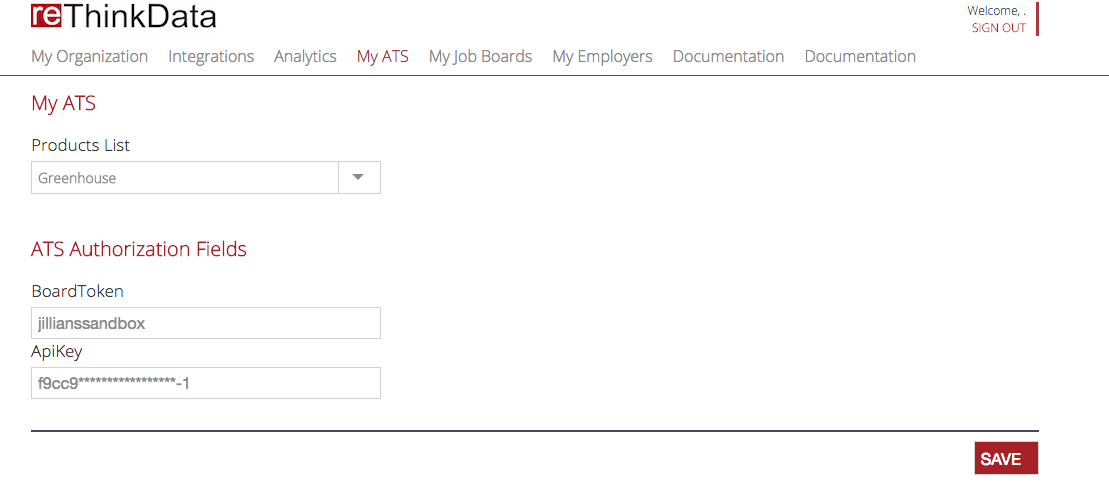 Save!
If you have any question please email contact@rethinkdata.net
Your Facebook Page
Copy the link to your companies Facebook account that you would like the jobs to be listed on and send it to us in an email.
Your Facebook Source Tag
You will want to create a source tag so you know that the applications are coming from Facebook
The Greenhouse user will click on the

Configure

tab

Navigate to Custom Options

Click sources > Create new source

Select Third Party Job Board and call the source "JobSync for Facebook"

Navigate to Job Board

Click tracking link

Select JobSync for Facebook

Create

Copy link and send in email to reThinkData