Coda combines the flexibility of a doc with the structure and depth of a spreadsheet so ideas can flow freely and evolve into tools as deep and powerful as any app. Greenhouse Recruiting's integration with Coda allows your organization to connect your Coda docs to Greenhouse Recruiting. 
In this article, we will cover how to: 
The Greenhouse Pack provides seamless integration between your Docs and the Greenhouse Harvest API. To connect your doc to Greenhouse, you'll need to a Greenhouse API Key.
You can find additional use cases for the integration with Coda at the following links:
https://coda.io/t/Recruiting-Pipeline-with-Greenhouse_tTmT9Yt-SBK
Configure User Setup Permissions in Greenhouse Recruiting
In order to enable the Greenhouse/Coda integration, you will need the developer permission Can manage ALL organization's API Credentials.
Contact a Greenhouse user in your organization with Site Admin level permissions with the additional user-specific permission Can edit another user's advanced permissions to apply the API credential management permission to your account. Have the user with Site Admin level permissions edit your user account's permissions by navigating to the Configure icon > Users > Your Name.

The user with Site Admin level permissions should navigate to the Permissions panel on your user page and expand the Developer Permissions dropdown menu. 
Select Can manage ALL organization's API Credentials so that a check is in the checkbox. When finished, click Save.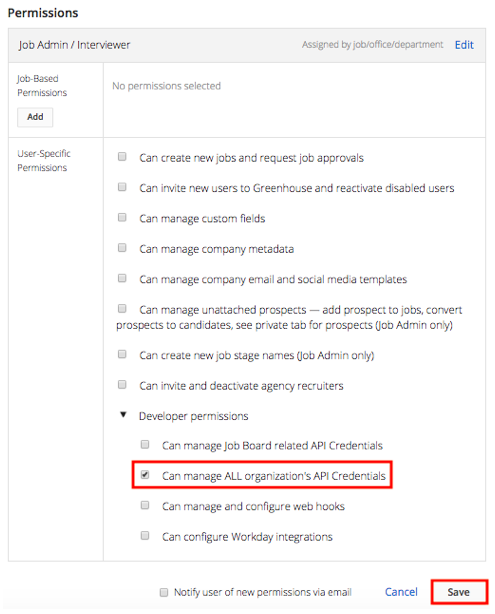 Repeat as necessary for any other user that should have access to set up the integration.
Create a Harvest API Key for the Greenhouse/Coda Integration 
To create a Harvest API key for the integration, click on the Configure icon 
 in the upper right-hand corner. Navigate to Dev Center on the left-hand panel.
From the Dev Center page, click API Credential Management.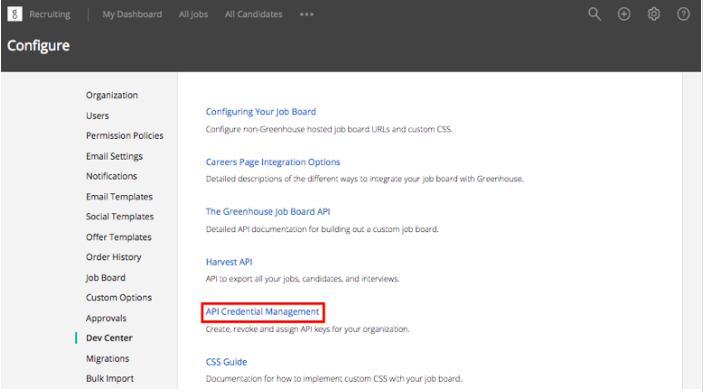 From the API Credential Management page, click Create New API Key to generate the API key for Coda.
From the Create new credential dialog box, give your API key a name (e.g. Coda) and select Harvest from the Type dropdown menu. When finished, click Create.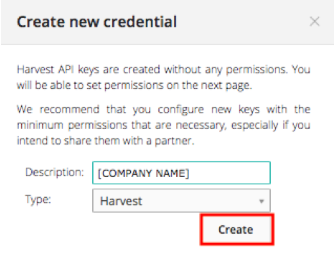 On the Manage API Key Permissions page, customize the permissions to ensure Coda has access to read and write data within Greenhouse.
Click Select All.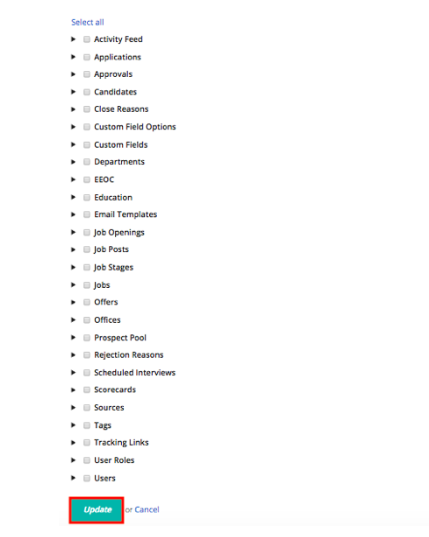 When finished, click Update.
Your Harvest API key for the Greenhouse/Coda integration is created and configured. Copy the new Harvest API key and input it into Coda.