In an effort to improve our suite of products, Greenhouse Software regularly releases new product features, updates, and improvements. Stay up-to-date with what's new at Greenhouse by Following our Release Notes.
Find our releases for this week below:
Greenhouse Recruiting
Depending on your Hiring Team role, you might only need to only perform very select tasks from the Job Dashboard page and are not particularly interested in any extraneous information. Users are now able to collapse the Application Trends and Candidate Source Breakdown and Quality panels for a more streamlined presentation.

CRM & Events
Questions created specifically for Events potentially provide a wealth of information on prospects. Previously, responses to these questions surfaced on the prospect's profile under the Details tab and could not be filtered, included in data exports, or used via Greenhouse's API. We are excited to announce that now organizations can configure Event questions so that they are linked to custom candidate fields. This will enable organizations to filter, export, etc...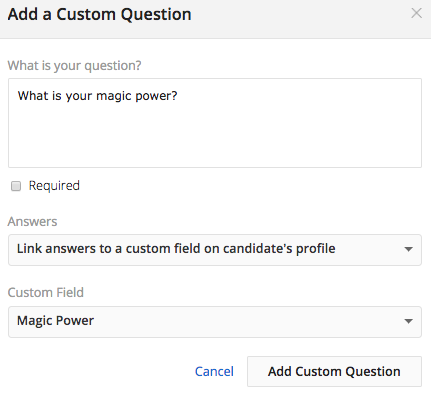 In order to provide users with a more comprehensive data set for each candidate and/or prospect that is exported from Greenhouse, all exported list of candidates and/or prospects will now include Prospect Pool, Prospect Stage, and Prospect Owner columns
The Prospecting Activity report just became more flexible now the your organization can filter this report by Source and/or Prospect Owner.

Bug Fixes
We fixed an issue where prospects with social media links would not load during Prospect Review. We apologize for any inconvenience! 
We fixed an issue with Greenhouse Onboarding reports where the Employment Status field was not correctly appearing.