RippleMatch is the most intelligent, comprehensive platform for college recruiting. Their technology makes it easy to build diverse teams and hire the right students virtually across 1200+ colleges nationwide.
RippleMatch's integration with Greenhouse Recruiting ensures candidates advancing throughout your interview process on RippleMatch are automatically uploaded and updated within corresponding roles in Greenhouse.
Create a Harvest API key for the RippleMatch integration
To configure the Greenhouse Recruiting / RippleMatch integration, you'll need to create a Harvest API key.
Follow the steps in this article to create the key, and verify that the credentials and permissions below are selected when configuring the RippleMatch integration.
Credentials
In the Create New Credential box, make the following selections:
API type: Harvest
Partner: RippleMatch (optional)
Description: RippleMatch Harvest API key
Permissions
Verify that the following permissions are selected for the RippleMatch integration:
Applications
Candidates
Close Reasons
Jobs
Job Posts
Job Stage
Rejection Reasons
Sources
Tags
Users
When finished, click Save.
Your Harvest API key for the Greenhouse Recruiting / RippleMatch integration is created and configured.
Copy the Harvest API key to provide to RippleMatch in the next step.
Configure integration in RippleMatch
After creating your Harvest API key in Greenhouse Recruiting, navigate to the RippleMatch Integration page to enter your key.
Alternatively, you can click Integration in the dropdown menu in the upper right corner of your RippleMatch homepage.

Click Sync Account next to the Greenhouse logo on the Integrations page.

Paste the copied Greenhouse Recruiting Harvest API Key in the provided field.

Optionally, you can also select your name from the list containing all Greenhouse users within your company. This step is optional, as RippleMatch will automatically locate your user information from Greenhouse Recruiting at this stage.

Match each of your roles on RippleMatch with the corresponding role title on Greenhouse. This will ensure that each position on RippleMatch is mapped to the right opening on Greenhouse.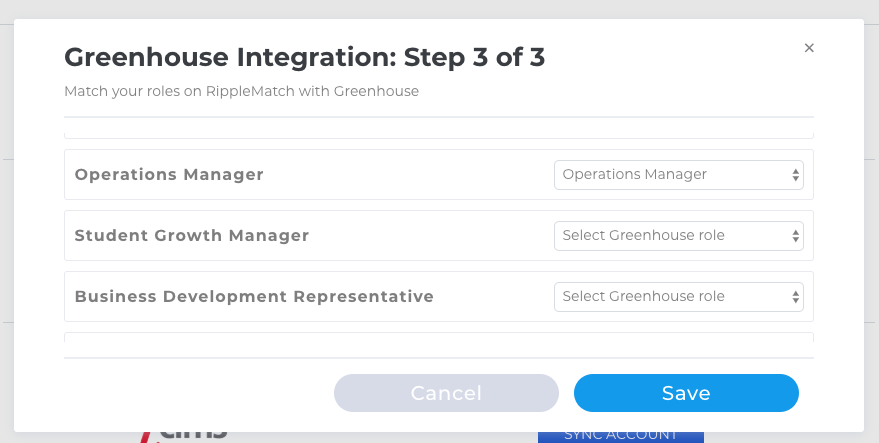 Click Save. The RippleMatch / Greenhouse Recruiting integration will be configured for use.
Now, when you accept a candidate on RippleMatch, they will show up in the corresponding Greenhouse Recruiting role. Similarly, when you move a candidate to the next stage of the interview process or reject a candidate on Greenhouse Recruiting, RippleMatch their information will be synced with RippleMatch.
Additional resources
To learn more about how RippleMatch can help your company build diverse, high-performing teams, visit https://ripplematch.com/employers or contact RippleMatch directly at info@ripplematch.com.