Custom demographic data through Greenhouse Inclusion can be captured via job post using the custom demographic question set feature. In this article, we will cover how to do the following for existing job(s) in your organization:
Note: This article assumes that your organization has configured one or more custom demographic questions sets and enabled them to be included in job posts. Click here to learn more.
Once enabled, all responses will be be reported in the Pipeline by Demographic report.
Enable Custom Demographic Question Set on Single Job
Once custom demographic question sets are created for your organization, these question sets can be enabled on a per job basis.
To enable a question set, navigate to a specific job by clicking All Jobs on the navigation bar and selecting a job from the list.

Click Job Setup on the job's navigation bar and select Job Posts from the left-hand panel.
Click the Edit icon

inline with the job post you would like to edit.

From the Edit Your Job Post page, navigate to the Settings panel and click the checkbox next to Include Custom Demographic Questions.
Use the provided dropdown menu to select a custom demographic question set.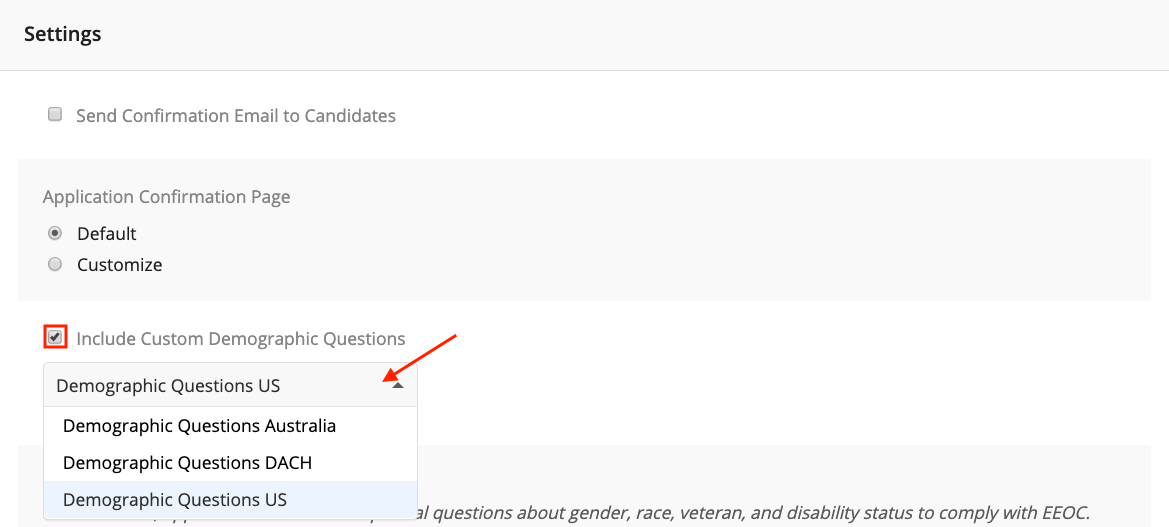 When finished, click Save to confirm the change.
Your custom demographic question set will be added to this job's job post.
Enable Custom Demographic Question Set on Jobs in Bulk
Note: In preparation of upcoming improvements to custom demographic questions you are currently unable to add custom demographic questions to job posts in bulk.