Permissions: Owners and Coordinators
Product tier: Available for Greenhouse Welcome and Greenhouse Onboarding subscription tiers
Welcome experiences in Greenhouse Onboarding give your new hires an introduction to your organization, their onboarding team, and their next steps, helping them get prepared to begin the onboarding process with you.
Create custom pages with branded assets, media, fields, and other content to personalize the welcome experience for your employees. You can also assign page rules to curate different welcome experiences for new hires based on their location, department, employment status, and other criteria.
Customize welcome experience pages
Create a new page
From your Greenhouse Onboarding homepage, navigate to Settings.
On the Settings page, navigate to Welcome Experience > Pages.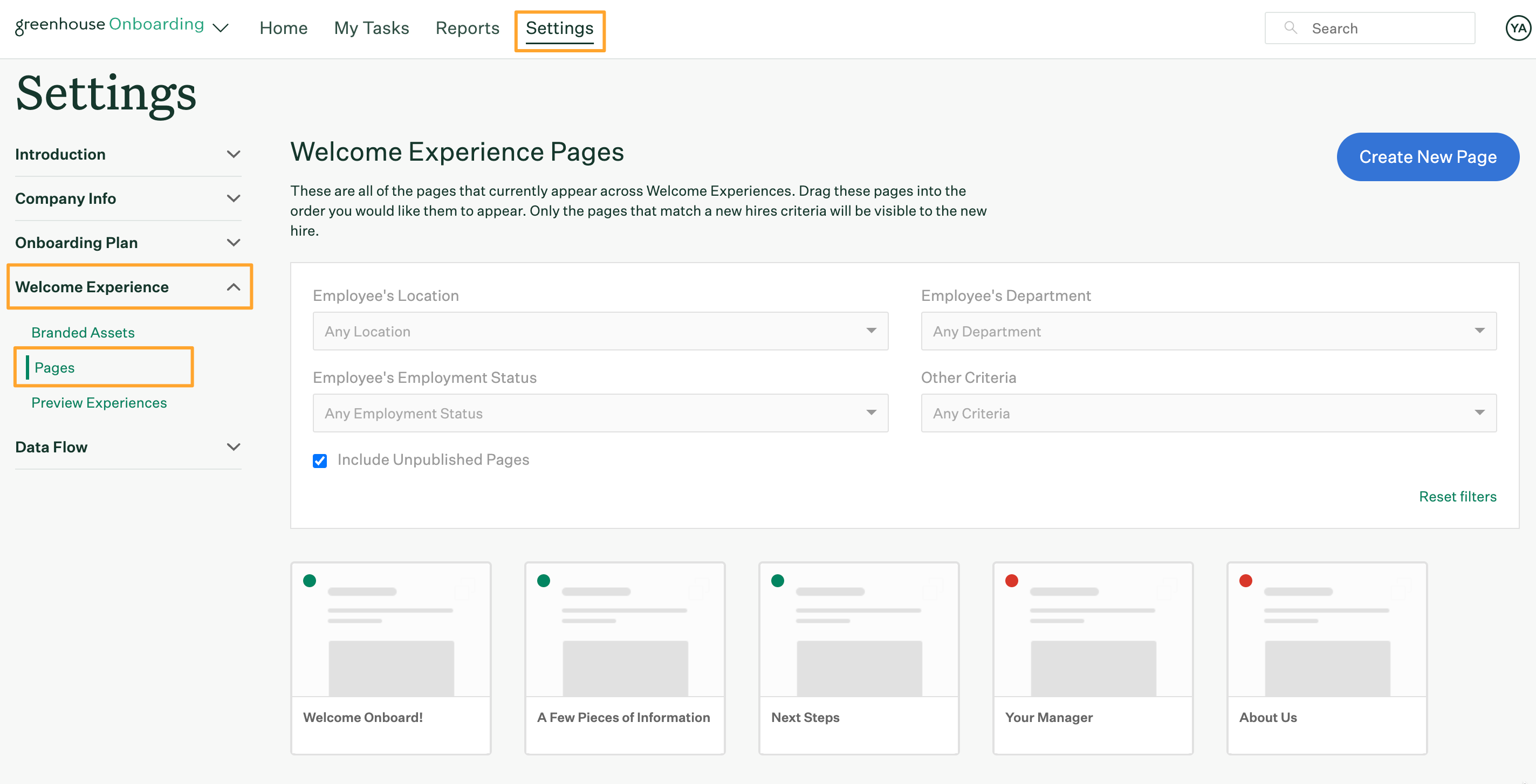 Under Welcome Experience Pages, you'll see your existing pages listed in the order that they appear to new hires.
Click Create New Page to build a new welcome experience page.

A new blank page will open in the welcome experience page editor, where you can begin customization.
Add customized content to your page
At the bottom of the page, you'll find a component drawer with options for adding content to your page. Click Open Drawer to reveal your available customization components.

Use any of the following components to customize your welcome experience page:
Component
Use
Text
Add text to your welcome experience page.
Line break
Add a line break to your welcome experience page.
Media
Upload an image from your computer (max file size 3MB and 1016px width) or add a video URL (Youtube or Vimeo links supported).

Be aware that you'll need to resize your images outside of Greenhouse Onboarding before uploading.
Employees
Introduce new hires to employees at your organization, such as their manager or their onboarding coordinator.

Click Edit to select an employee by name or by role.
Timeline
Display a timeline of important events or anniversaries at your organization. Click Edit to begin adding events dates and details to your timeline.
Fields
Include fields that you'd like a new hire to fill out when they open this welcome experience page. Configure which fields are displayed by navigating to Settings > Fields.
E-Signatures
Display the new hire's required E-Signature documents. You can configure which E-Signature documents will be assigned to new hires by navigating to Settings > Onboarding Plan > E-Signature Templates.

Be aware that the E-Signature feature is available to Greenhouse Onboarding customers only, not Greenhouse Welcome.
To add any of these components, click and hold the component's icon in the drawer.
Drag the component to the desired position on your page until the plus icon is highlighted, then release the component.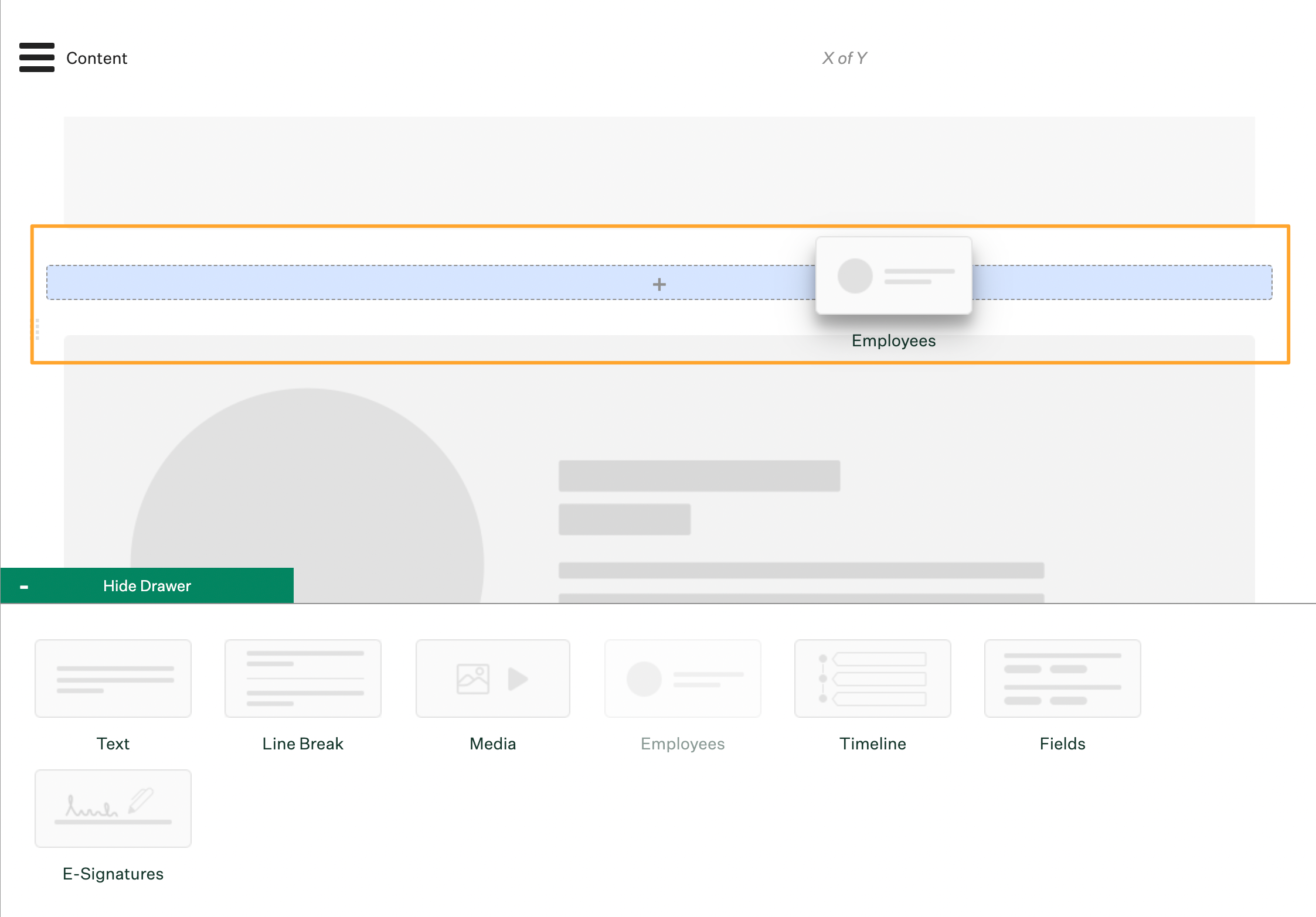 Click and hold the dots icon to the left of a component to rearrange it on your welcome experience page. Drag your component to the desired position and release.

Click on a component and then click the X icon to delete it.

Assign page rules
You can apply page rules to each welcome experience page so that it will only be shown to new hires who meet your selected criteria. For example, you can create welcome experience pages that only display to new hires based in Los Angeles and in the Marketing department.
Use the Page Rules panel to apply department, location, employment status, or other criteria matches to your page. You can select multiple rules across each field.

To save your progress, click Save in the left panel.
Publish a page
Use the Title field to give your welcome experience page a name.
Toggle the Published button to publish your welcome experience page.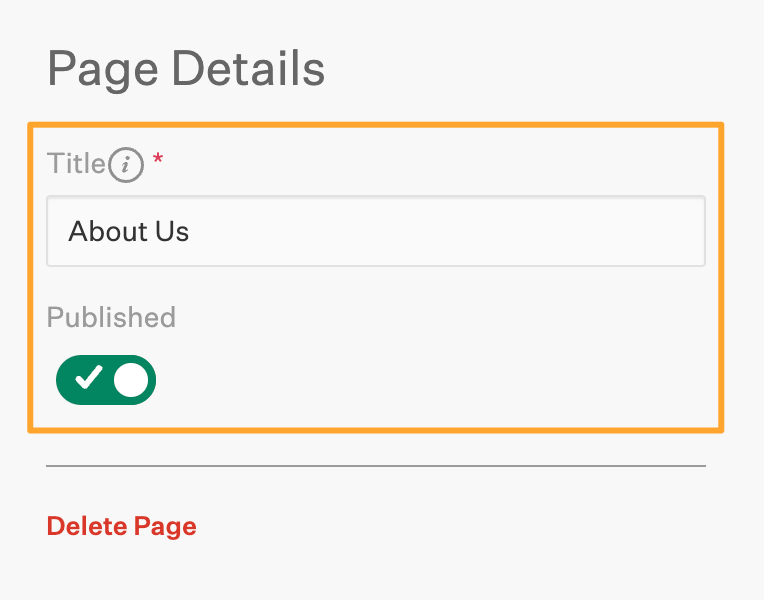 This welcome experience page will now display to your new hires when they onboard.
Delete a page
If you need to delete your page, click Delete Page at the bottom of the Page Details panel.
Note: Any employees currently going through onboarding will no longer see the deleted page in their welcome experience.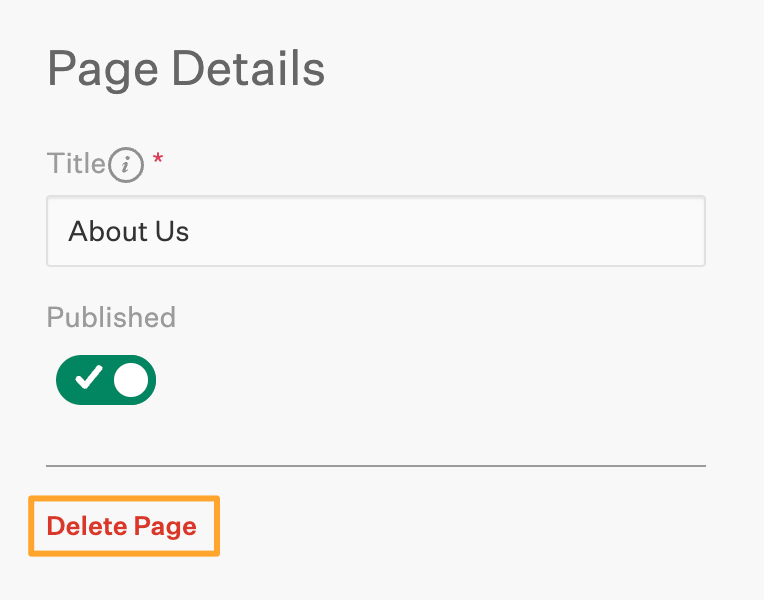 Additional resources