Permissions: Job Admin or above
Product tier: Available for all subscription tiers
After enabling the Outlook365 integration, there may be times where shared calendars, shared mailbox calendars, or other resources shared with you won't display in the dropdown menu when scheduling in Greenhouse Recruiting, and you'll only have access to your primary calendar.
As Outlook 365 releases new scheduling permissions to its users, you may be required to manually update your permissions to use this new approach.
Manually update your calendar permissions
To update your shared calendar permissions, log into the Outlook365 web app.
Note: This issue can't be fixed on the desktop application.
Next, complete the following steps:
The calendar owner updates their sharing permissions
The calendar owner re-adds the scheduling user's access
The scheduling user re-accepts the calendar invitation
Note: Both the calendar owner and user who needs to schedule using the shared calendar will need to update. To learn more, click here.
Update sharing permissions
The owner of the calendar should right-click on the calendar to open the Sharing Permissions (for a shared mailbox, a user with access to manage the mailbox's sharing permissions must open the shared mailbox directly).

Re-add the user
The calendar owner should remove the user's access to the calendar and then re-add the user's access (the can edit permission is needed to schedule to a calendar via the integration).

Accept shared invite
The recipient user who wants to access the calendar in Greenhouse must re-accept the shared calendar invitation through the web app.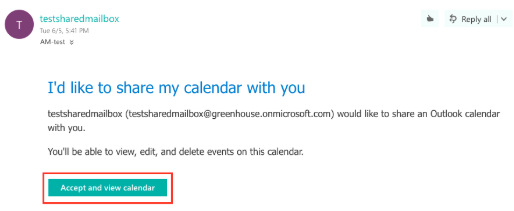 After completing these steps, the user who accepts the invitation should see the re-shared calendars in their Greenhouse Recruiting account.
Additional resources
For additional assistance with locating a calendar shared with you in Outlook, reach out to the Microsoft support team.