Connecting Greenhouse with Employee Cycle
There are two simple steps to connect your Greenhouse account with Employee Cycle:
Create an API token in Greenhouse
Send your API token to your Employee Cycle account rep.
Configure User Setup Permissions in Greenhouse Recruiting
In order to enable the Greenhouse/Employee Cycle integration, you will need the developer permission Can manage ALL organization's API Credentials.
Contact a Greenhouse user in your organization with Site Admin level permissions with the additional user-specific permission Can edit another user's advanced permissions to apply the API credential management permission to your account. Have the user with Site Admin level permissions edit your user account's permissions by navigating to the Configure icon > Users > Your Name).

The user with Site Admin level permissions should navigate to the Permissions panel on your user page and expand the Developer Permissions dropdown menu.
Select Can manage ALL organization's API Credentials so that a check is in the checkbox. When finished, click Save.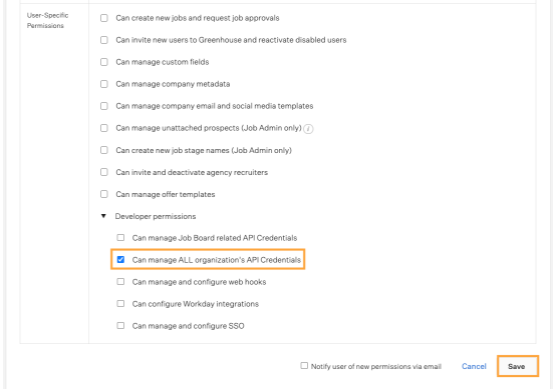 Repeat as necessary for any other user that should have access to set up the integration.
Step 1: Once logged in your Greenhouse account, click on the "configure" cog wheel icon at the top right.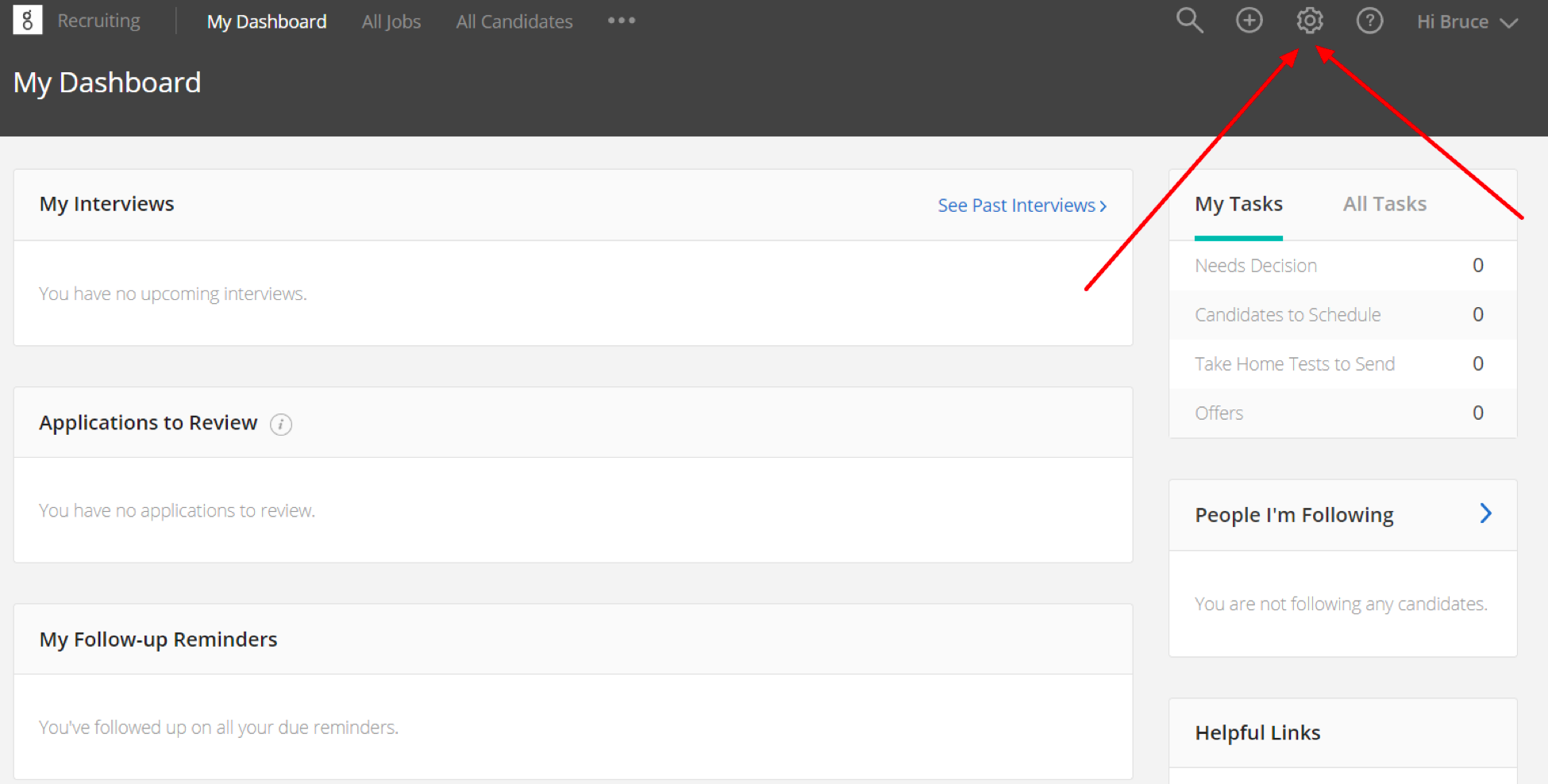 Step 2: Click on "Dev Center" near the bottom left.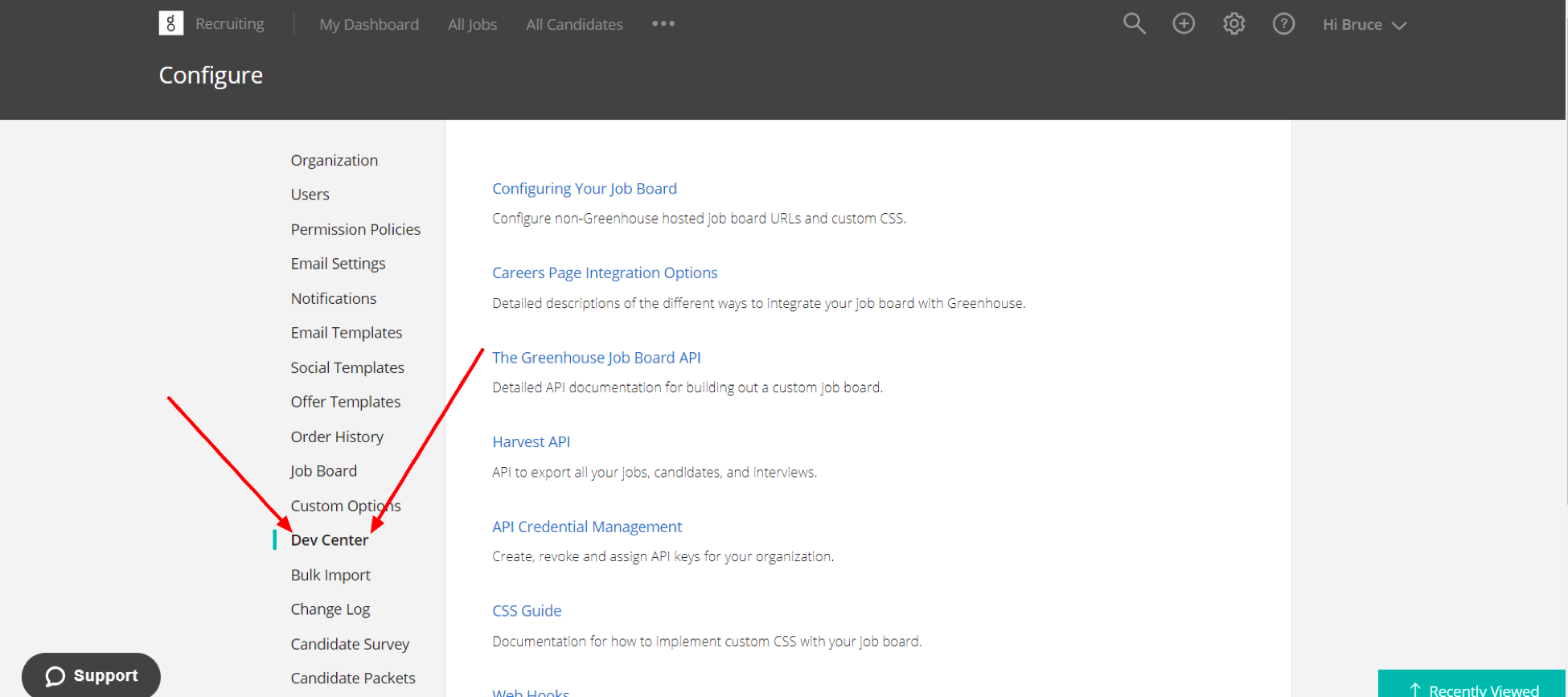 Step 3: Click on "API Credential Management"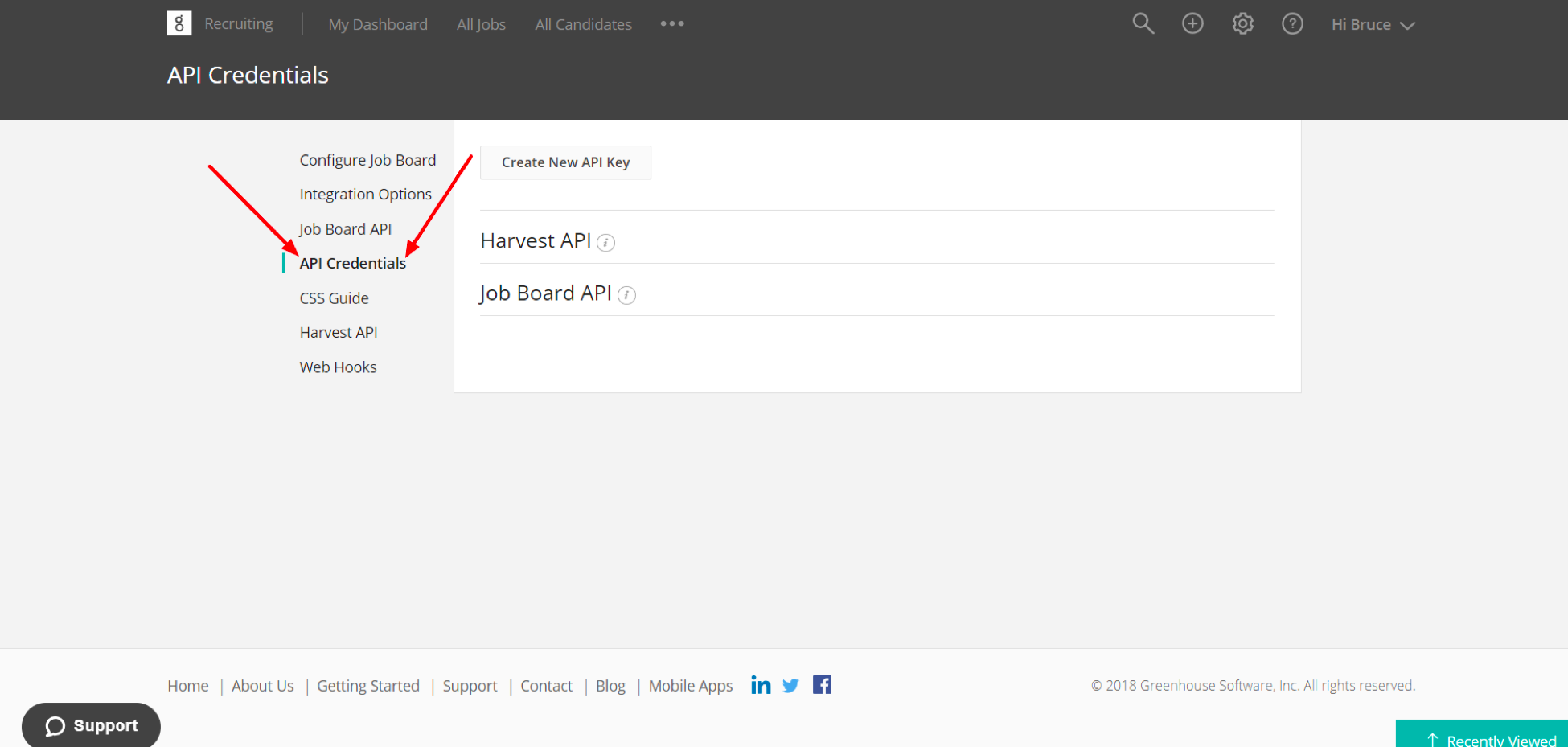 Step 4: Click "Create New API key"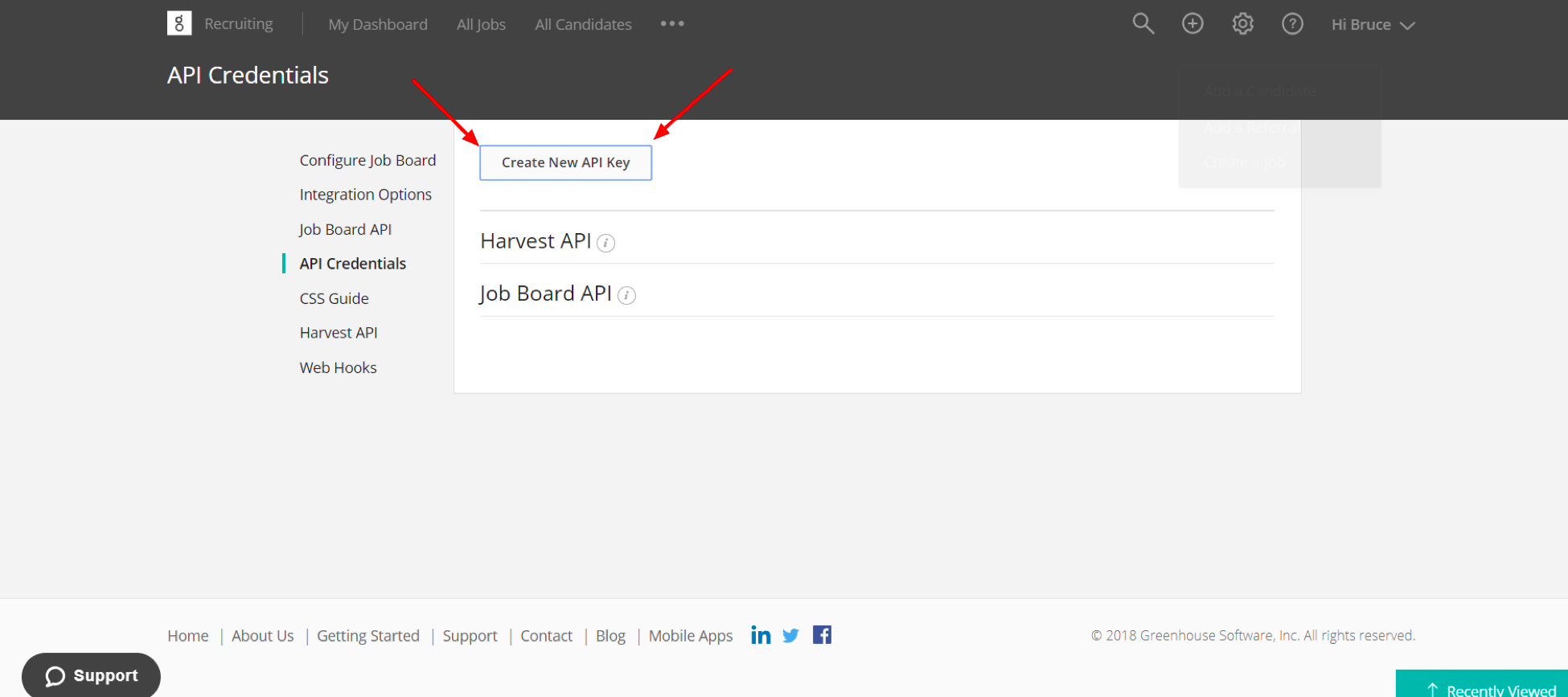 Step 5: In Description, enter the text EMPLOYEE CYCLE then select "Harvest" from the TYPE drop down options and click "CREATE".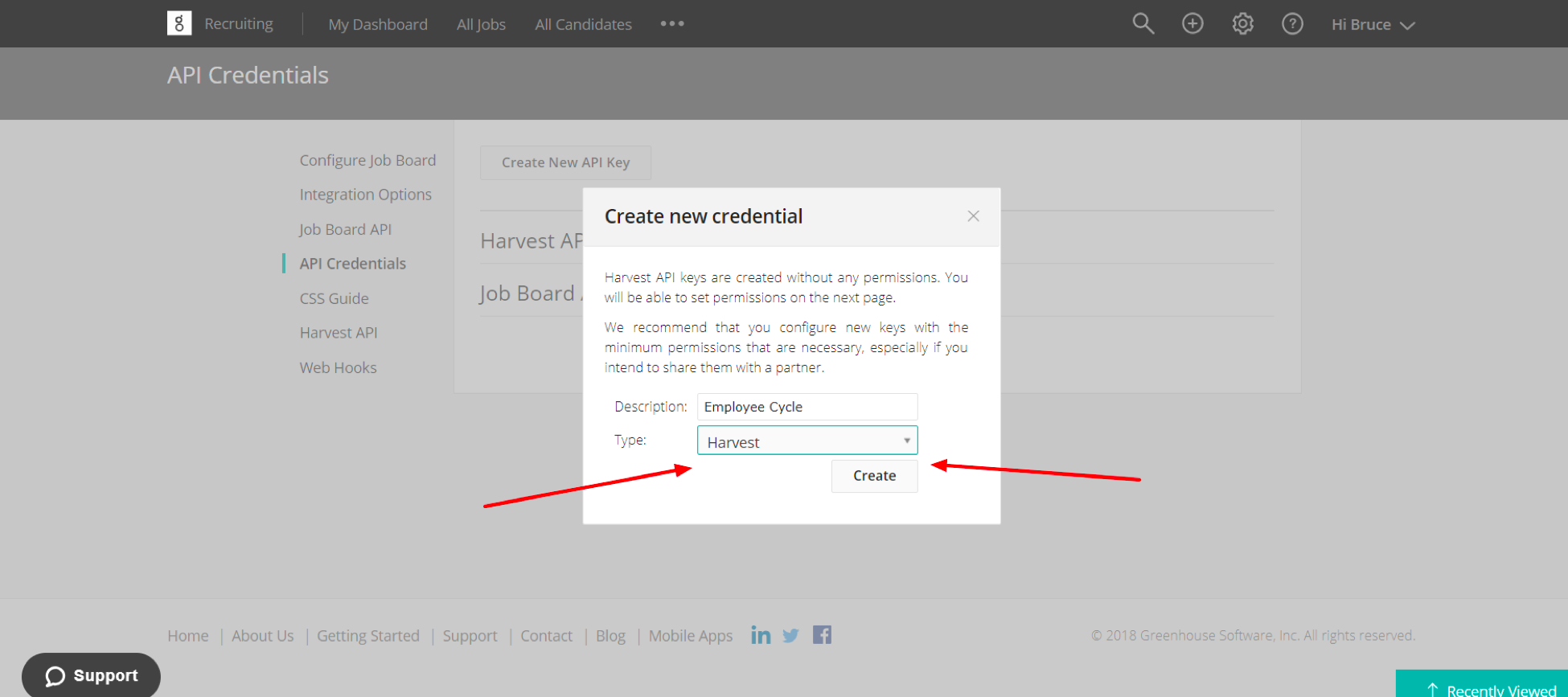 Step 6: You can now manage the permission settings for Employee Cycle, meaning you can control which data can be accessed from your Greenhouse account. Since Employee Cycle only wants to pull your data, and NOT change anything in your account, you will go through the different categories of data that can be accessed and only click on the options that say "GET".
To do this, click on the black arrows for the following categories ONLY, select every "GET" option in the drop down for these categories, and when done click the "UPDATE" button at the very bottom. Please note that selecting these endpoints allows Employee Cycle access to all of your Greenhouse data.
Activity Feed
Applications
Candidates
Close Reasons
Custom Field Options
Custom Fields
Departments
EEOC
Job Openings
Job Posts
Job Stages
Jobs
Offers
Offices
Rejections Reasons
Scheduled Interviews
Scorecards
Sources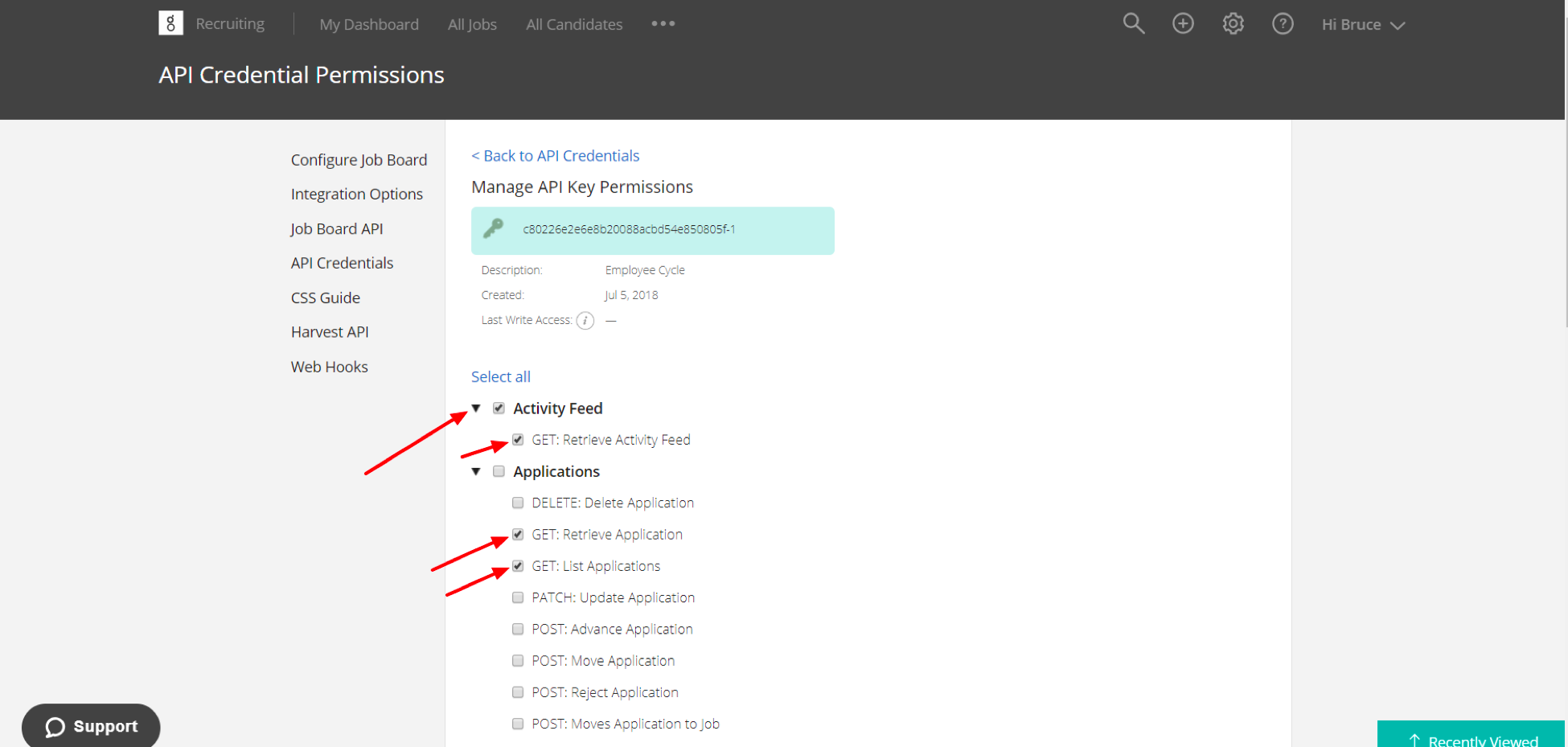 Step 7: Enter your token into the Integrations page in the Employee Cycle app.
Step 8: Copy your API key and enter it into the Integrations page in the Employee Cycle app. Greenhouse is listed under Applicant Tracking Systems. Press the Select button to expand the section. Enter the token in the slot and press submit. The key is sent securely and stored securely at Employee Cycle. Now rest easy, your dashboard will be created within 4 hours!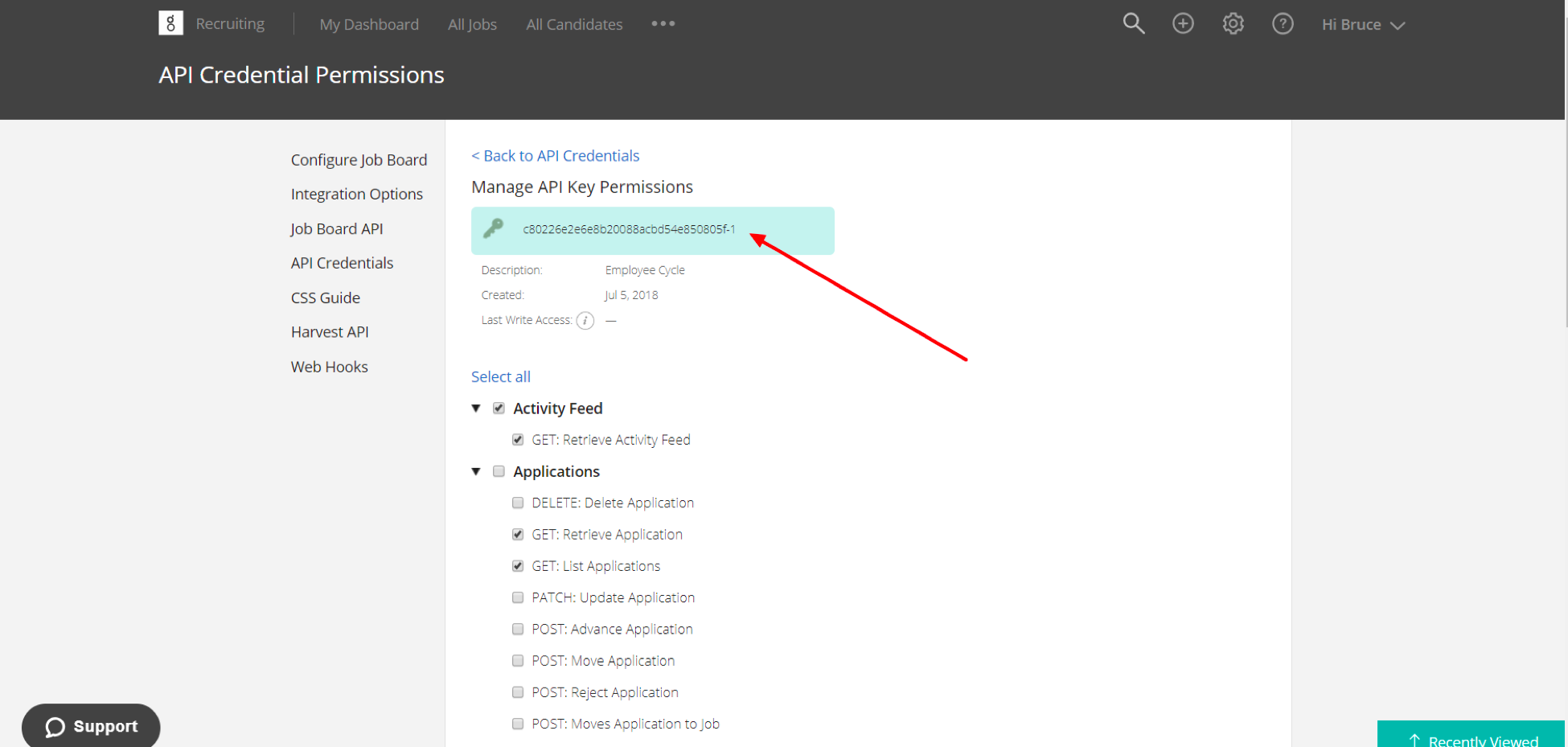 Okay...here are some questions we love to answer:
What Greenhouse data will be viewed/used in Employee Cycle, and can I make any changes?
Employee Cycle provides pre-built dashboards for your Greenhouse data, but your account rep can work with you to add any additional metrics or visuals that were not originally included.
How often is my Greenhouse data updated in Employee Cycle?
Your data will be updated in real-time.
How do customers get value from Employee Cycle?
Some of the main reasons HR and People leaders struggle to use data to make decisions include lack of time, manual processes, and using disconnected best-in-breed HR systems. By having all the data in one at-a-glance view, customers of Employee Cycle save time in reporting, become more confident decision-makers, and provide more value to their organizations.
Contact
Bruce Marable | CEO & Co-Founder | bruce@EmployeeCycle.com
Demo Video
To better understand how Employee Cycle will transform your data into beautiful and actionable insights, please watch this video: https://youtu.be/tyrAxzQ103s