Permissions: Job Admin or higher
Product tier: Available to all subscription tiers
'Data Science' is an often used umbrella term that, in reality, spans several different data and analytics competencies. To help organizations evaluate these skills, Correlation One developed the first standardized assessment platform exclusively for Data Science & Analytics (DSA) talent.
The C1 Assessment Platform consists of 1,000+ questions across dozens of data-oriented topics, including statistics, machine learning, SQL, hypothesis testing, experiment design, data wrangling & cleaning, qualitative data inference, and many more. The C1 Assessment Platform has been administered to over 50,000 DSA individuals around the world, and has been used to assess fit for a variety of analytical roles, from entry-level data analyst to product manager to data scientist to machine learning researcher. Correlation One works with you to develop custom tests that fit your specific DSA talent needs.
Greenhouse Recruiting's integration with Correlation One integration allows you to seamlessly use the two platforms together to add Correlation One assessments to your Greenhouse Recruiting interview pipeline.
Enable the Greenhouse Recruiting / Correlation One integration
To enable the integration, follow the steps in this article to retrieve your API key from your Correlation One representative and set up the assessment stage in your interview plans.
Once you've set up your interview plans and configured your take-home test, you'll be able to send the test to candidates.
Use the Correlation One integration with Greenhouse Recruiting
Once the Greenhouse Recruiting / Correlation One integration is enabled for your organization, you will be able to add the Correlation One assessment as an interview stage.
You can send an assessment to a candidate by selecting the Send Test button next to the interview stage.

After it has been sent, an assessment's status will display in Greenhouse Recruiting.

Once the candidate has submitted their test, the Interview Kit will contain a link to view the submitted test in the Correlation One application.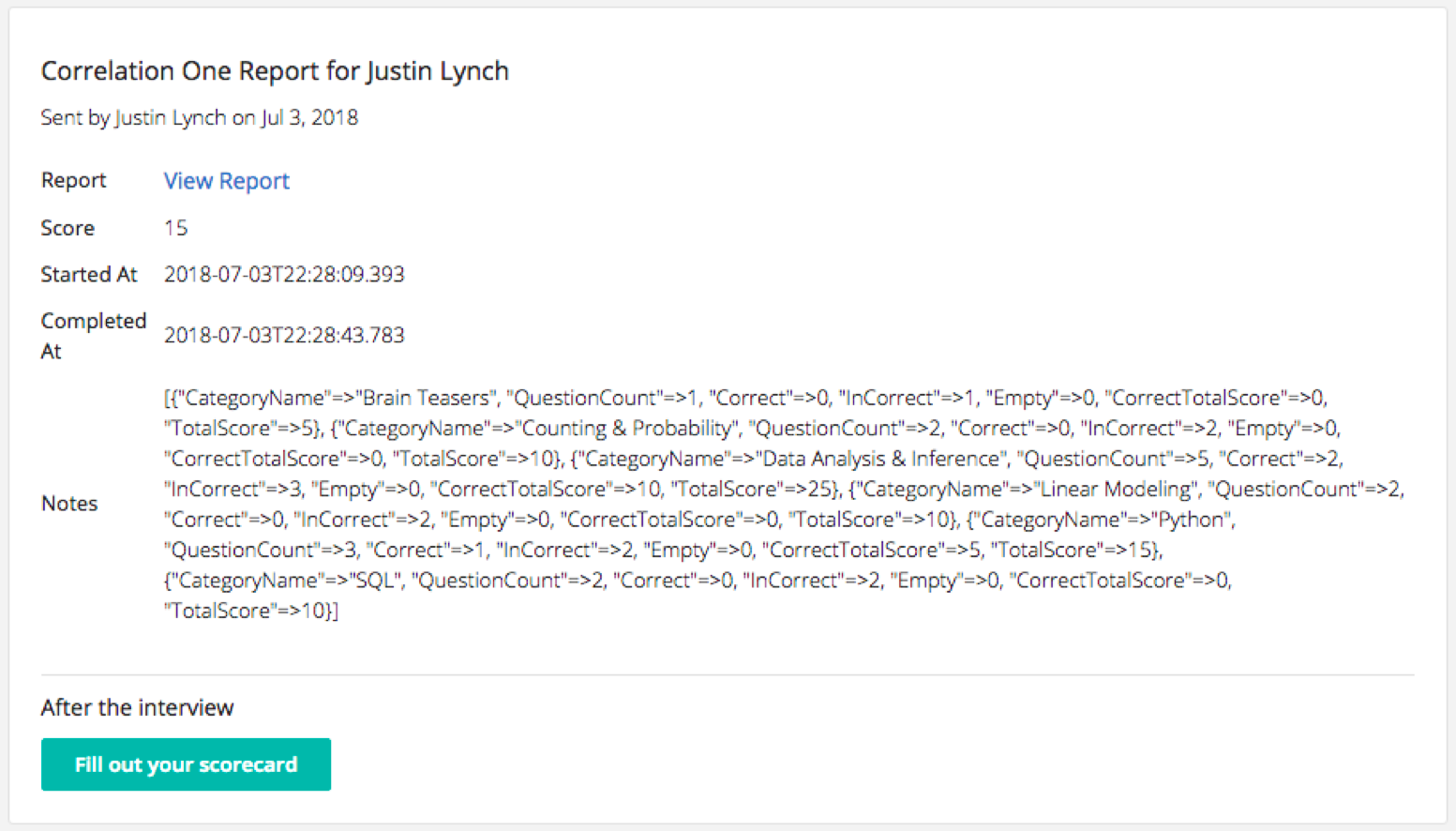 To see a candidate's results in Correlation One, click View Report.