Greenhouse Inclusion has six different interviewing features that you can activate individually by toggling the ON/OFF button. When active, these features will nudge recruiters and interviewers to think about unconscious bias, structure their decision making processes when doing scorecards, and/or hide candidate data. For more information on the research and reasoning behind Greenhouse Inclusion's Interviewing features, see Structured Decision Making and Bias Reducing Behavior.
Working with our partners at Paradigm and our academic advisory board, Greenhouse has provided the copy for the behavioral nudges included in these features.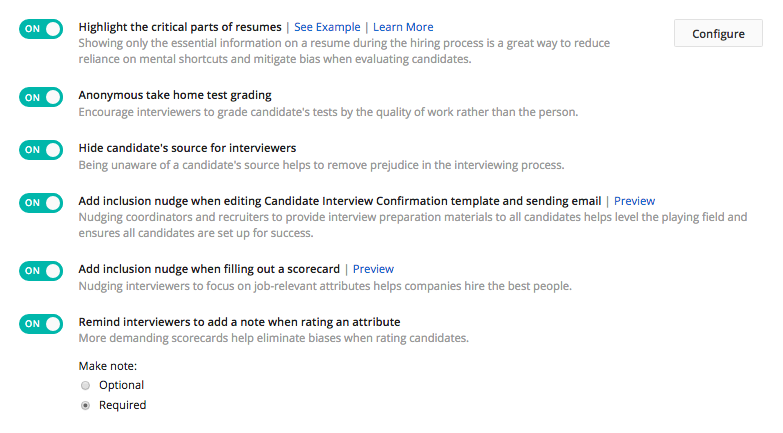 If Highlight the critical parts of resumes is activated, you will be able to configure which aspects of a resume you would like to highlight or hide. For more information about configuring resume highlights, click here.
If Anonymous take home test grading is activated, a candidate's name and identifying information will be hidden from graders. For more information, please click here.
If the Remind interviewers to add a note when rating an attribute feature is activated, you will have the additional option to make this reasoning optional or required by selecting the appropriate box.