The JOBMA – GREENHOUSE integration allows you to set up Video interviews and evaluate candidate video interviews directly from your Greenhouse Dashboard.
To get started you will need your API key. To get the API key complete the following steps:
On JOBMA
Sign into your Jobma account.
Navigate to Integrations and click on Greenhouse
Copy the API key.
Once you have received your API key, fill out the form at www.greenhouse.io/asksupport or click here to open a ticket.


Note: Do not send the API key in this initial email.

The Greenhouse Support Team will respond with a SendSafely link for you to enter your API key. A notification will be sent to the Greenhouse Support Team after you have entered your API key and they will email you to confirm that your API key has been set up in your account and your integration is enabled.

Note: To verify your identity, the Greenhouse Support Team might request you provide a Support Verification Code before adding the API key to your organization's account.

You can also create interview templates (Video interview questions) from the link on this page.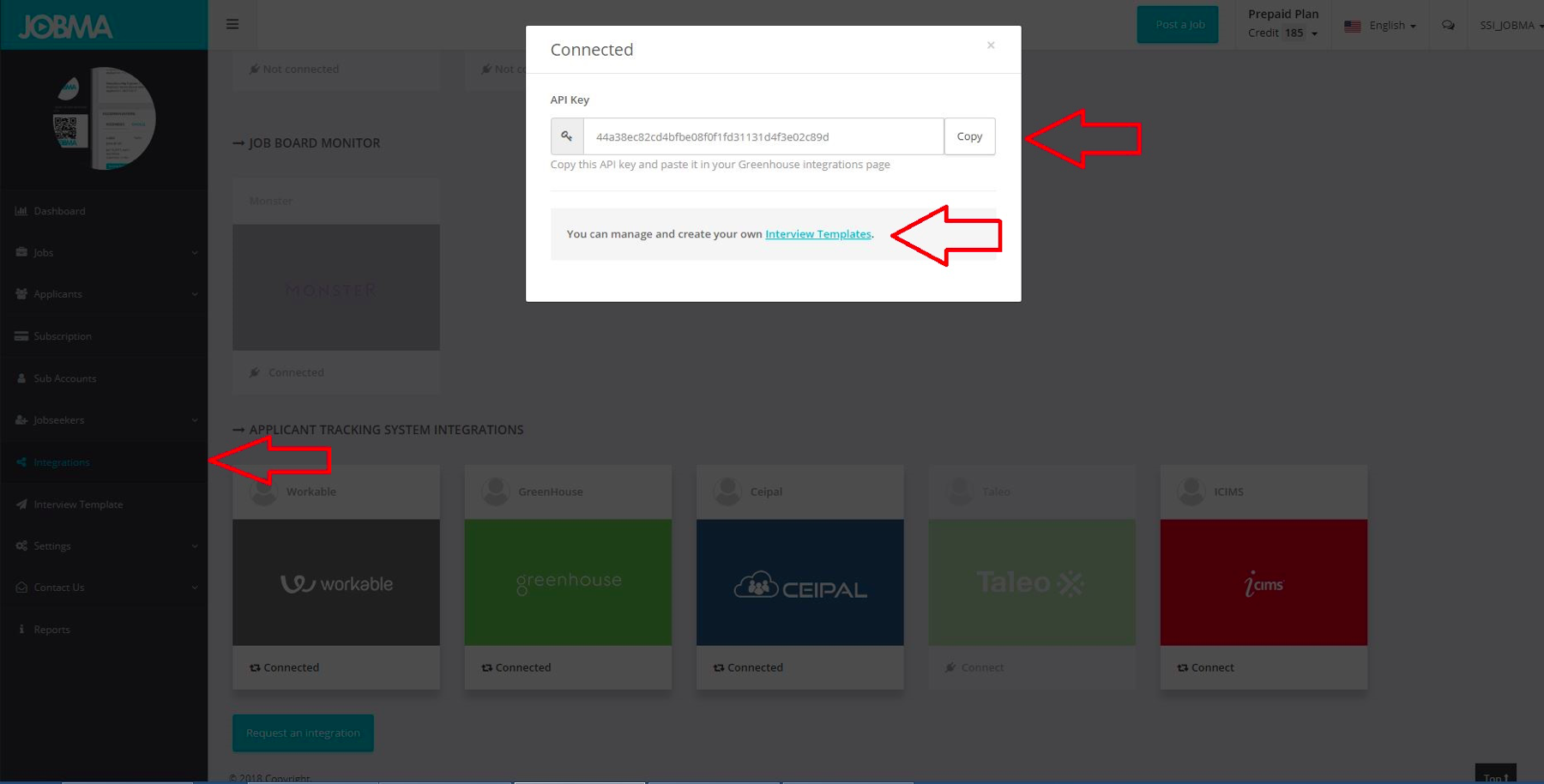 Now let's set up a video interview. To do that, please follow the instructions below.
Start by adding a Jobma Stage to your interview pipeline. To do that –

Navigate to the specific Job and click JOB SETUP.
Click INTERVIEW PLAN.
Scroll down the page and click the ADD STAGE button.
Select Jobma and click the Add button.
Select SEND TEST and pick the interview template you previously set up on JOBMA and assign at least one user to view/grade the video interview.

When candidates reach the JOBMA stage in the Job, you will get a SEND TEST link.
Clicking the SEND TEST link sends out an email to the candidate with a link where he can record his video interview.
Once the Candidate finishes his video interview, the INTERVIEW KIT will contain a link where you can view the video interview.
And that's it!
If you run into any difficulties, the JOBMA customer support team is standing by to help. Click on this link to access our Contact Us page -
http://www.jobma.com/contact