Workday Integration: Hired Candidate Export
When a candidate is marked as hired, Greenhouse will export all relevant data about them using a web hook. This export includes candidate details, job details, and offer details, as well as any custom fields configured in Greenhouse. You can view a sample Candidate Hired payload to see what this looks like in our Candidate Hired developer documentation.
This payload will be received by a Workday listener service. From there it will be transformed so that the data can be imported into Workday using their web services calls to create the pre-hire and employee record. Information about the position can also be included if the position was created in Greenhouse.
Candidate Hired Web Hook
Greenhouse exports the data using our standard Candidate Hired web hook. A web hook is a simple event-based notification system. Greenhouse provides a number of standard web hooks that can be used for a variety of integrations. You can find all of the standard web hooks we provide in our Web Hook developer documentation.

The Candidate Hired web hook is triggered in real time when a candidate is Marked as Hired on their Greenhouse profile. Candidates are only exported from Greenhouse to Workday when they are hired. One web hook will fire per candidate, even if multiple candidates are hired at the same time.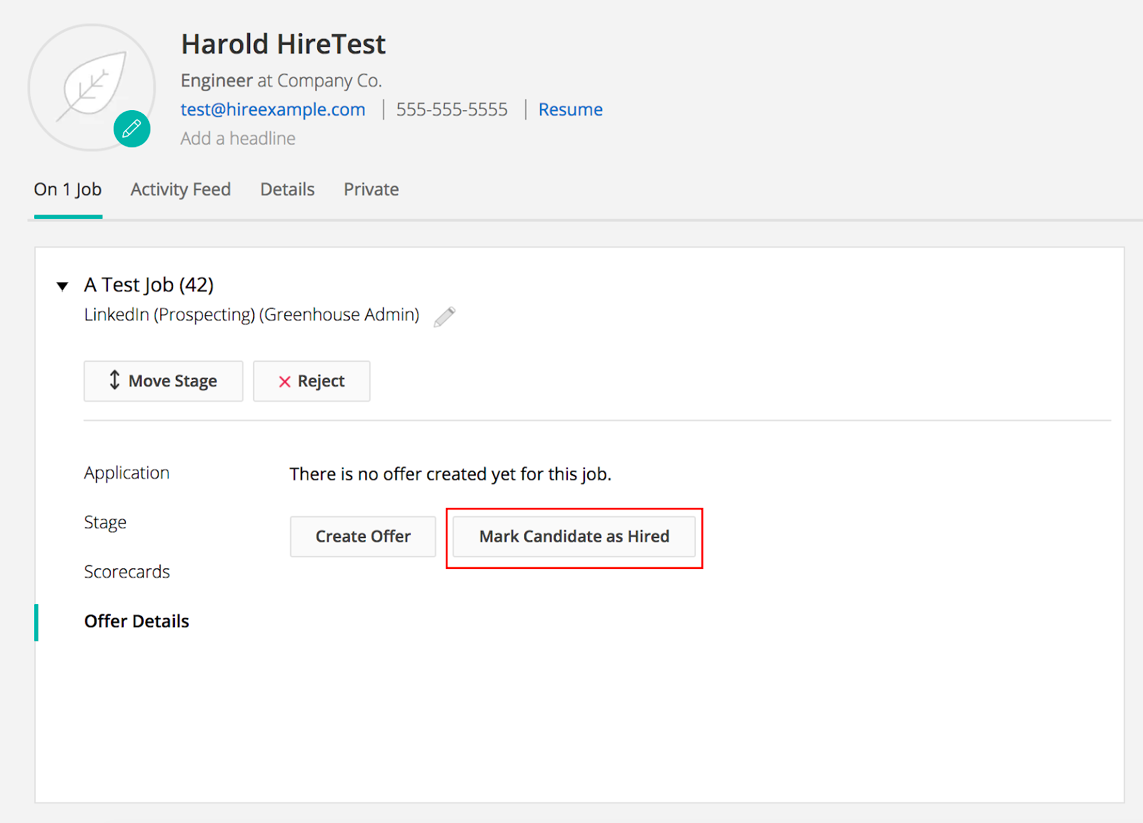 Additional FAQs
How much work is it to enable the Candidate Hired Web Hook? How do I enable it?
The Candidate Hired web hook for Workday will be enabled the same way as all other web hooks in Greenhouse. It usually only takes a couple of minutes! Most of the integration work is done on the Workday side to build the listener and integration workflow that receives the data and transforms it as needed for the import into Workday. You can find detailed information on how to enable the Candidate Hired web hook in our guide here.  
Can I receive an example web hook payload from a candidate in our organization?
You can find an example of Candidate Hired payload in our developer documentation. We cannot provide organization specific examples. However, the only difference between your organization's payload and the example are that your custom field arrays for the Candidate, Offer, and Job objects will include your organization's custom fields.
The best way to receive a test payload would be to enable the web hook and hire a test candidate in your account.
What happens if I unhire and rehire the candidate, will the web hook fire again?
Yes. The web hook will fire each time you click Mark Candidate as Hired.