This feature is limited to Premium customers only.
An Employee ID may be a more permanent fixture of your work life than your email address or even your name at some companies, so you can now add it in Greenhouse!
Site Admins with the ability to "edit another user's advanced permissions" can add an Employee ID when editing any other user's permissions. This ID is not limited to numbers and can even be a string, so it is flexible based on whatever criteria your organization uses in assigning IDs. We will, however, force uniqueness within a single Greenhouse account, so you'll see an error when attempting to save an ID that is already saved on another user. Once the IDs are assigned, they will appear as an extra column on the User Excel Export and can even be added when using the Excel User Export tool.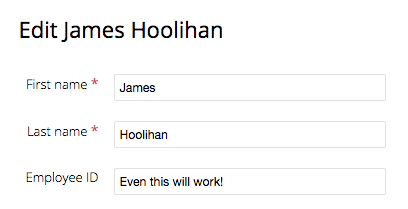 For organizations using a Single Sign-On provider to log into Greenhouse, it's also possible to add the Employee ID in your SSO provider and add it automatically the first time a user logs into Greenhouse. If you're interested in option, the Solutions Engineering team can walk you through the steps during the normal SSO setup. 
Once Employee ID is set up, it will appear in webhooks and the Harvest API when retrieving lists of users. Additionally, you can make an API call about a single user by using only their Employee ID. Check out our updated documentation here to try it out!