Note: This feature is limited to Pro and Enterprise level customers only. 
There are many reasons you might want one job to have multiple job posts associated with it at the same time. 
Advertise a single job in New York and San Francisco
Advertise a single job in English and French
Advertise a single job on two different job boards (Brand A vs. Brand B)
Advertise a single job with different titles (Senior Software Engineer vs. Full-Stack Engineer IV)
All of those seemed too compelling to pass up, we're thrilled to announce the rollout of Multiple Job Posts per Job. As the name suggests, it will allow you to create any number of internal and external posts on a single job as you need to support the cases above (and probably more that we're not even thinking of yet!).
Users can start by clicking a job and selecting Job Setup > Job Posts. This section should look very similar, but a new button will appear at the top of the page to allow you to create any number of additional posts for this job.

Add a post from scratch or use the Duplicate option, found by clicking the 3 dots to the right of the pencil icon, to easily create copies of your old posts.
A single post can only be related to one job board at a time, but there is no limit to how many times a single job can be posted to a board (either internal or external).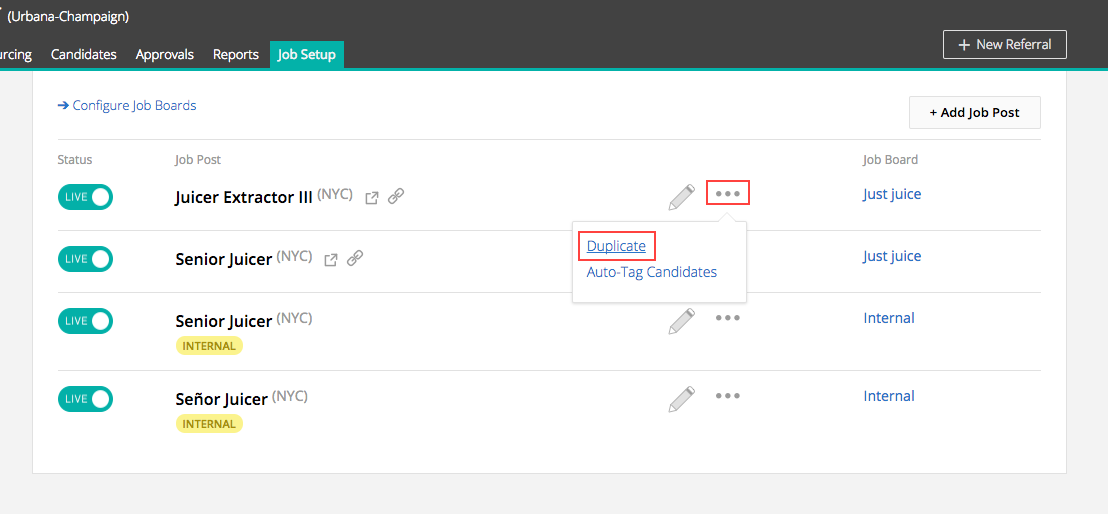 Because Job Posts exist in so many places throughout the app, there are a few places where you will need to choose a job post in addition to choosing a job. After selecting a post,you can continue your action normally. The new dropdown shows up...
When creating a new referral link on the Dashboard page:

When posting to social media:

When purchasing third-party job ads: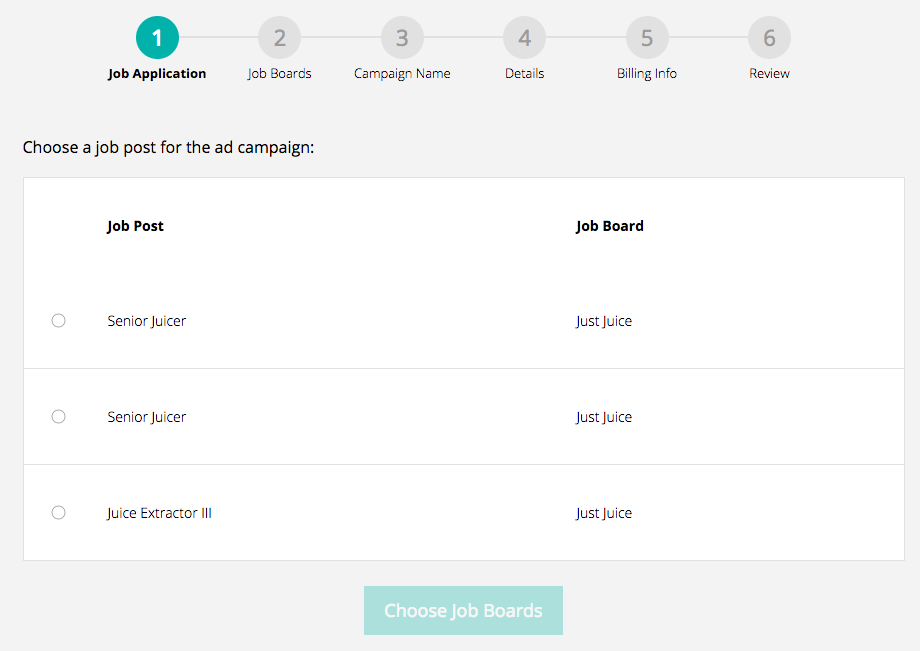 You may have noticed that the Bulk Edit Job menu changed slightly over the past few months. Instead of a single option for Edit Job Posts, we've split it into two actions — Edit Internal Job Posts and Edit External Job Posts. If you select 3 job (each with 2 external posts) and select Edit External Posts, all 6 posts will be affected by any changes you make.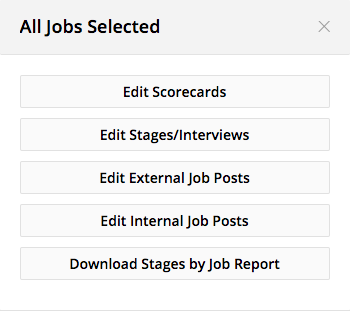 Once you have all of your posts created and configured just the way you want them, you can view which posts a candidate applied through on the Application tab and in Application Review.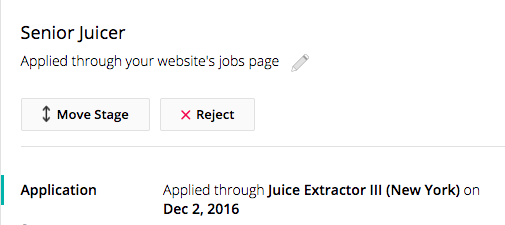 Additionally, the Job Post Conversion Report will allow you to view data about all of your external posts to see which ones are getting the most traction on a given job.