Greenhouse and Affintus have created an integration so that you can seamlessly use the two products together to add an assessment to your interview pipeline.
Enabling the Integration
To enable the integration, contact Affintus to start your free trial: https://my.affintus.com/EmployerCreateAccount.aspx?GHE=Y 
Affintus will provide you an API key. Forward the API key to your Greenhouse Account Manager. Your Account Manager will enter the API key into Greenhouse and let you know when the integration is ready. 
Add a job listing to the Affintus system that mirrors the opening for which you want to use Affintus.
Add a special Affintus questionnaire stage to your interview pipeline.
As candidates enter that stage, Affintus will email the candidate and invite them to complete the Affintus questionnaire.
Once the candidates complete the questionnaire, a link to the match reports will be accessible through the Interview Kit in Greenhouse.
Affintus Contact URL: https://my.affintus.com/EmployerCreateAccount.aspx?GHE=Y
Adding a job listing to Affintus
On the welcome screen, select the right most option as pictured below and follow the on screen instructions to save job listing. Affintus needs the job listing to determine which candidates are the best fit for your position.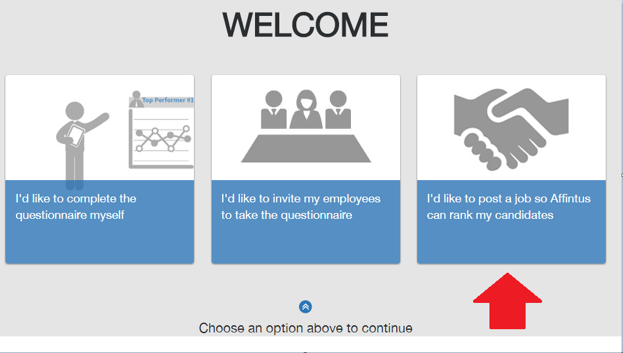 Adding the Affintus Interview Stage in Greenhouse
To add the stage to your Interview Plan:
Navigate to a specific job, and click the Job Setup tab
Click Interview Plan 

Scroll down the page, and click the green + Add Stage button
Select Affintus, and click the Add button 
Configuring the Stage
Once the stage has been added, click Edit Take Home Test. From there, you will see a drop-down menu that reflects the job listing that you've previously set up in Affintus. Select the appropriate job listing, assign at least one Greenhouse user to grade/review submitted assessment, and then click Save.
Keep in mind that all configuration of the assessment itself, as well as the email template, will be handled by Affintus.  
Sending the Test
When candidates are moved into the Affintus Interview stage, Greenhouse will display a Send Test link. While you will click "Send Test" in Greenhouse, the interview instructions will actually be sent through Affintus.
The status of the questionnaire will be viewable in Greenhouse:
Take Home Test to be sent.
Waiting for candidate to submit test
Scorecard due from <DESIGNATED_GRADER>
Reviewing Test Results
Once the candidate has submitted their test, the Interview Kit will contain a link to view the match report on Affintus.