Permissions: Site Admin, Job Admin who can add users to their assigned jobs
Product tier: Available to Advanced and Expert subscription tiers
Greenhouse Recruiting allows your organization to assign job-based permissions to multiple users in bulk.
Assign job-based permissions in bulk
To assign job-based permissions in bulk, navigate to the Users configure page. (Configure icon > Users)

Use the filter panel at the top of the page to narrow your list of users. Click Apply when done.

Next, click Bulk Actions.

Add a checkmark next to each user this permission will be assigned to, or click Select All to action all users.

Note: You can quickly locate users by selecting Quick Select and adding users to the bulk action by name or email address. You can also paste a list of users in this field if each email address or name is separated by a comma.

When all the users are selected, click Edit Selected.

Click Add and remove permissions per job.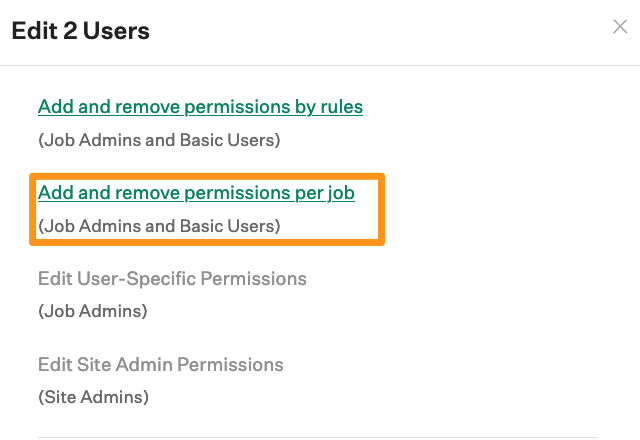 Add a checkmark to the Notify user of new permission via email box to send communication to the impacted users.
Use the filter button to modify the list of jobs as needed.
Next, select the permission for each job from the dropdown menu, or use the Mark all as dropdown menu to apply the permission in bulk.

Note: Job-based permissions cannot be added or removed from Site Admins. If you selected Site Admin users in the previous step, those users will be skipped during the bulk update, and no changes will be made to their user permissions.
Click Save at the bottom of the page when done.
Assign new permissions for more than 30 users
If you attempt to add or remove job-based user permissions for 30 or more users at a time, you will need to complete an extra confirmation prompt before the changes can be completed.
To confirm these changes, type the phrase in the text field and click Save.
Bulk assignment rules
Based on whether you have Job Admin or Site Admin permissions, specific users may be excluded from any bulk updates.
Job Admin
If the assigner in the bulk action is a Job Admin, they can do the following:
Assign users to a job where the assigner has Job Admin level permissions
Assign users to a permissions level that does not exceed the level of the assigner
Site Admin
If the assigner in the bulk action is Site Admin, they can do the following:
Assign users to any job within the organization
Assign users to any permission level
Note
: The ability to assign Job Admin levels in bulk is available for organizations subscribed to our
Advanced
and
Expert
tiers. Organizations with an Essential subscription will need to assign permissions individually.
Click here
to learn more.