Note: Create Offers in Bulk can only be performed by Site Admins with the added permission to see private notes, salary info, manage offers, and approve jobs/offers 
Organizations who hire seasonally or on contract for specific roles can find it tiresome to manually generate offers over and over again. With Greenhouse's Bulk Actions, you can select many candidates at once and generate identical offers for each individual candidate. 
To create offers in bulk, click on the Candidates tab from your Dashboard. Using the left-hand panel, navigate to Application Type and filter by Candidates Only.
After filtering your candidate list by candidates, click on Bulk Actions.  Select a group of candidates or click Select All to perform bulk action on every candidate on the filtered list. When finished, click Edit Selected. 
Candidates are able to be in any stage and on different jobs, although you could also filter down further to only generate offers for one position at a time. 
From the Bulk Actions dialog box, click on Create Offers.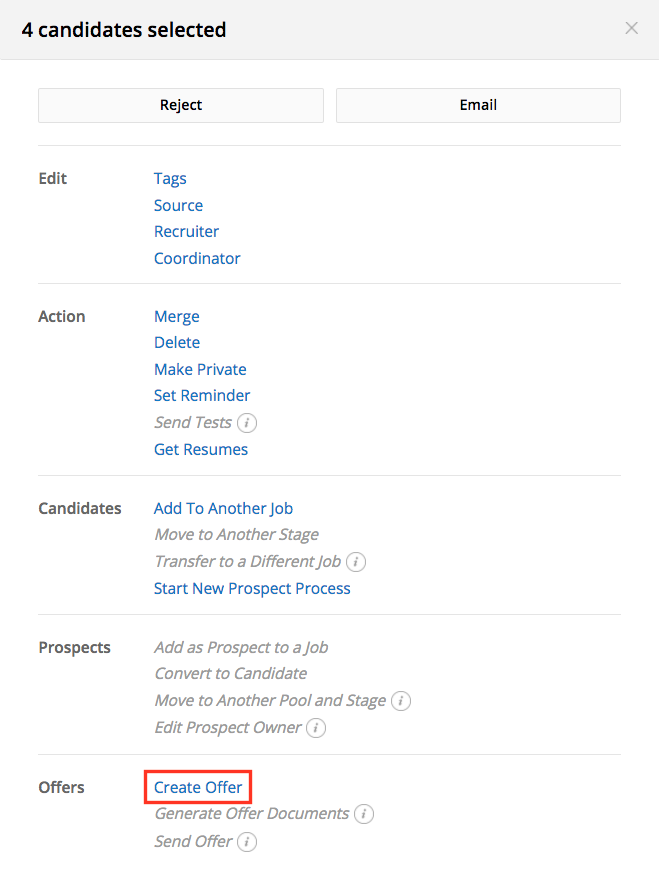 In the subsequent dialog box, you will be able to input information into a superset of all custom offer fields associated with the job(s). If there are any office-specific fields that only appears on some of the candidates' offers, they will be noted with a dagger symbol (†).
When finished, click Create Offers.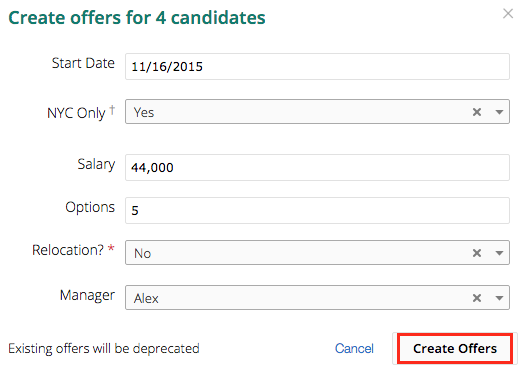 All of the offers will be generated in the background after a short delay. If any of the candidates you chose already had an offer generated, it will be replaced by this new version instead. From there, you can head to each candidate's individual Private tab to request approval, generate their offer documents, or mark them as Accepted!