To schedule with Outlook, you will to take the following steps:
1. Go to the Candidate's profile and under the appropriate interview, select "Schedule Interview".
2. If this is your first time scheduling, you will need to select the "Settings" option and choose Outlook from the dropdown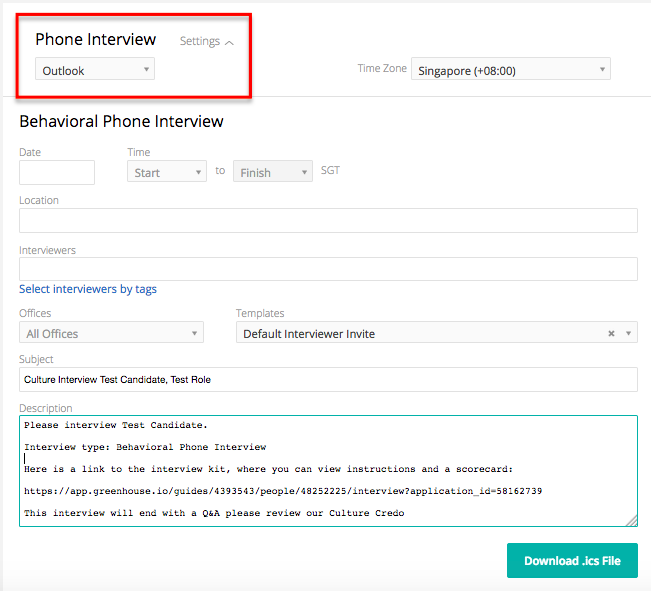 3. Input your interview information, including the date, time, interviewers, etc
4. Once all information has been added select "Download .ics File"
5. This will download the .ics file which can then be opened within Outlook.  You will notice that the interviewers you included on the event are added as guests/ participants to the downloaded event, as well as the Greenhouse Calendar (schedule@ghcalendar.io)
6. Once you have opened this in Outlook, you can make any needed adjustments and then select "Send" to send the invite to all interviewers as well as the Greenhouse Calendar
7. If you need to make any updates to the event, this can be done by going to the event in your Outlook calendar, making the update, and then selecting the option to "Send updates to all".  This will ensure that the Greenhouse Calendar receives these updates, so they can be synced to the candidate's profile.
Related Articles:
I use Outlook. How does "Schedule All" work?
Why doesn't my Outlook for Mac calendar pre-populate with calendar@greenhouse.io?