The Equal Employment Opportunity Commission (EEOC) questionnaire is a set of federally-approved questions about race, gender, veteran status, and disability status. Greenhouse Recruiting's EEOC report allows your organization to view an anonymized report of this data to see how many total and hired candidates fall into each category.
Open the EEOC report
Click the ellipsis on your navigation bar and select Reports from the dropdown menu.

When you've opened the reports page, select Essential Reports from the left side of the page.

Scroll to the bottom of the page and select EEOC in the Run Your Own Analysis section.

Run the EEOC report
The results of the EEOC report will appear on the table. Applicant responses to EEOC questions will never be tied directly back to individual applicants.

You can filter the report using the Filters and more section at the top of the page.
When you filter the EEOC Report by Stage, the report will display all applicants who are currently in the current stage. Since this filter will only include candidates who completed a current state, the Hired column will always display as zero, because they were moved into the offer process but never moved out of the Hired stage.

You can filter the report by Rejection Reason by selecting an option from the dropdown menu. Like the Stage filter, the Hired column will always display as 0.

The Date Applied filter can be used to limit the time range of the report. By default, the Date Applied filter is set to Current Year.

You can also limit the jobs displayed in the report by selecting Change Filter.

Once the Filter Jobs window displays, you can select the jobs to be included using the checkboxes on the left side of the page. You can narrow the listed jobs using the filters at the top of this window. When you're finished selecting jobs, click Save.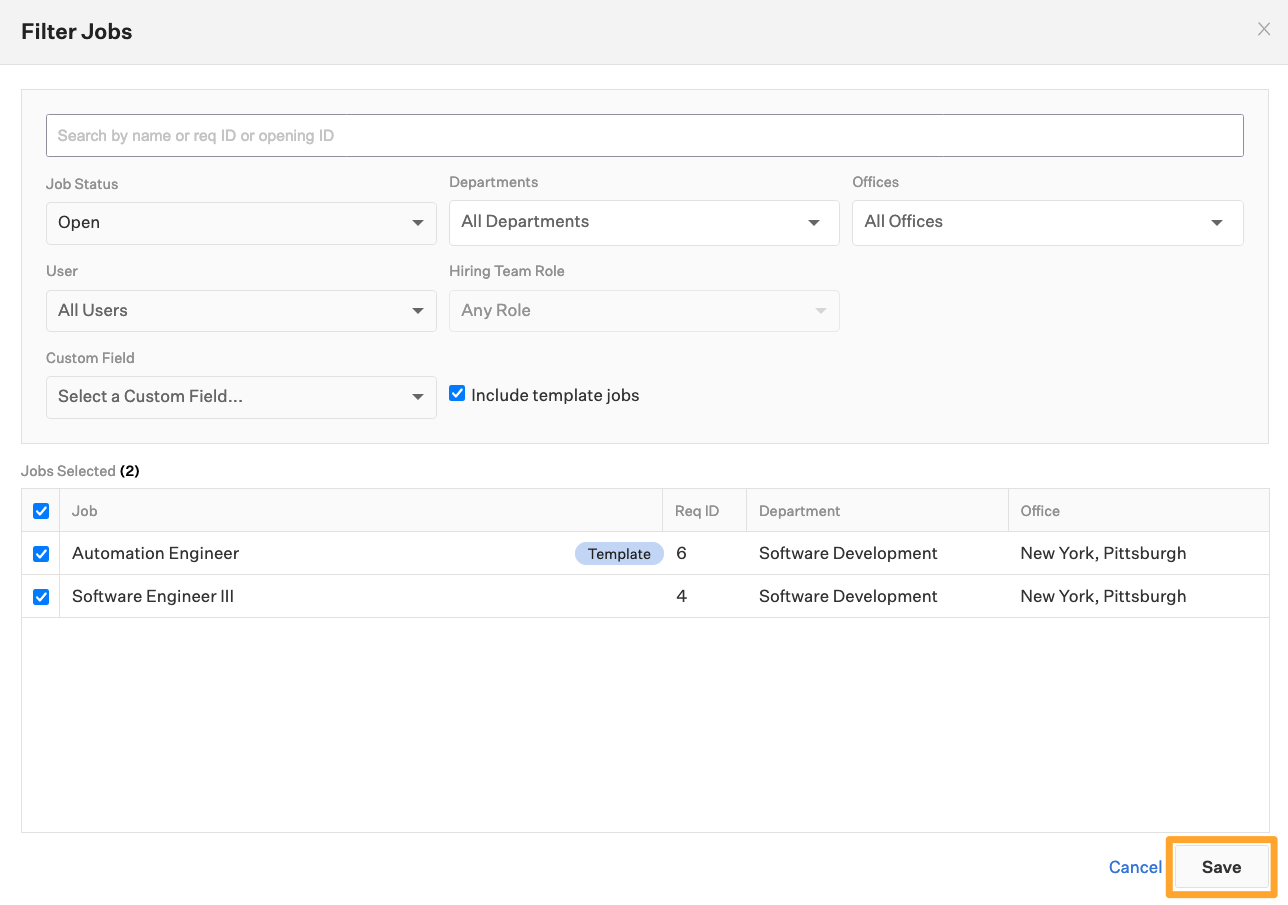 When finished applying filters, click Apply to regenerate the report.