Your organization's carefully planned efforts in guiding and narrowing candidates through your rigorous interview process can seem all for naught if the final candidate rejects their offer. The Offer Activity report allows your organization to examine how successful you have been in navigating the final hurdle in the hiring process. The report not only gives your organization a snapshot of which jobs have been easier to close but also help you see which jobs require late stage actions. 
To generate an Offer Activity report, click the ellipsis on your navigation bar and select Reports from the dropdown menu. 

From the Reports page, navigate to the Share Progress with Executives section and click Offer Activity. 

By default, the Offer Activity report will include all Open jobs in your organization. The report will display for all jobs included in the report:
Requistion ID
Offers Created
Offers Extended - the number of offers your organization sent through Greenhouse for this particular job during a set time period
Offers Outstanding -the total number of offers that were sent, but unresolved, for this particular job during a set time period
Offers Accepted
Offers Rejected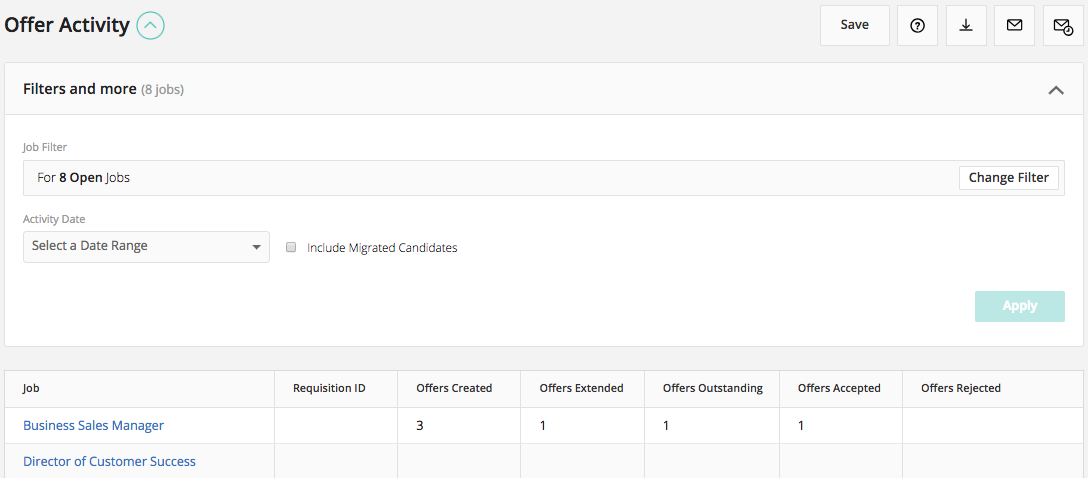 The Offer Activity report can be filtered by specific jobs and/or activity date range. Click Apply to repopulate the report after applying filters.