Greenhouse Recruiting offers a full and ever evolving suite of features to help your organization in its recruiting efforts. However, the availability of these features do not necessarily correlate to them being adopted by your team. If your organization is concerned that some recruiters or Hiring Managers may be underutilizing Greenhouse in their day-to-day activities, the Greenhouse Usage report can reveal how many times an action was performed by a user. Compare which coordinators are scheduling the most interviews, which recruiters are lagging behind on moving candidates, and even how many referrals each person has made!
To generate a Greenhouse Usage report, click the ellipsis on your navigation bar and select Reports from the dropdown menu.

From the Reports page, navigate to the Evaluate Your Team's Performances section and click Greenhouse Usage.

The Greenhouse Usage report will generate and include all jobs where you have access. The report will display for all users included in the report:
Candidates Rejected
Emails Sent
Candidates Advanced
Scorecards Submitted
Interviews Scheduled
Days Logged In
Candidates Added
Referrals Made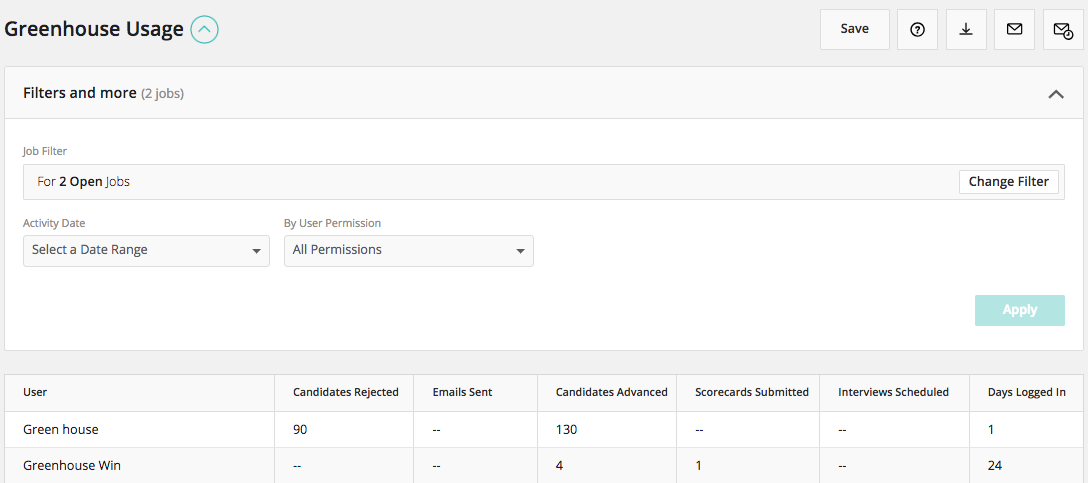 The Greenhouse Usage report can be filtered by specific jobs, by different user permission levels, and/or activity date range. Click Apply to repopulate the report after applying filters.
Note: By default, the Activity Date for the report is set to Current Year.