Draup for Talent is an AI-driven, talent intelligence platform helping global enterprises make better, data-driven talent decisions. By using artificial intelligence and big data to analyze millions of data points about talent and the talent ecosystem, Draup provides users with actionable insights to help them with:
Workforce Planning: Build strategic workforce plans to meet talent requirements for today and tomorrow.
Recruitment: Hire a diverse and skilled workforce with data-backed recruitment insights. Bypass talent shortages with targeted talent acquisition. Build your workforce with diversity at the core.
Reskilling and Upskilling: Future-proof your workforce with smart insights into talent gaps for reskilling your existing team. Stay ahead of talent shortages.
Draup's integration with Greenhouse Recruiting allows you to export candidate information from Draup and transform it into detailed prospects or candidate profiles within Greenhouse.
These profiles encompass insights such as professional and educational backgrounds. Streamline your candidate management workflow by harnessing the integration capabilities of Draup with Greenhouse Recruiting.
Set up the Draup integration
Create an Ingestion API key
To integrate with Draup, you'll need to create an Ingestion API key and provide it to Draup.
Follow the steps in this article for more information on creating an Ingestion API key. Once the key is created, provide it to Draup so they can complete integration setup. 
Provide your key to Draup and complete setup
After creating your Ingestion API key, you'll need to add it to Draup as a next step. Navigate to Draup and from the top right dropdown menu, select Apps & Integrations.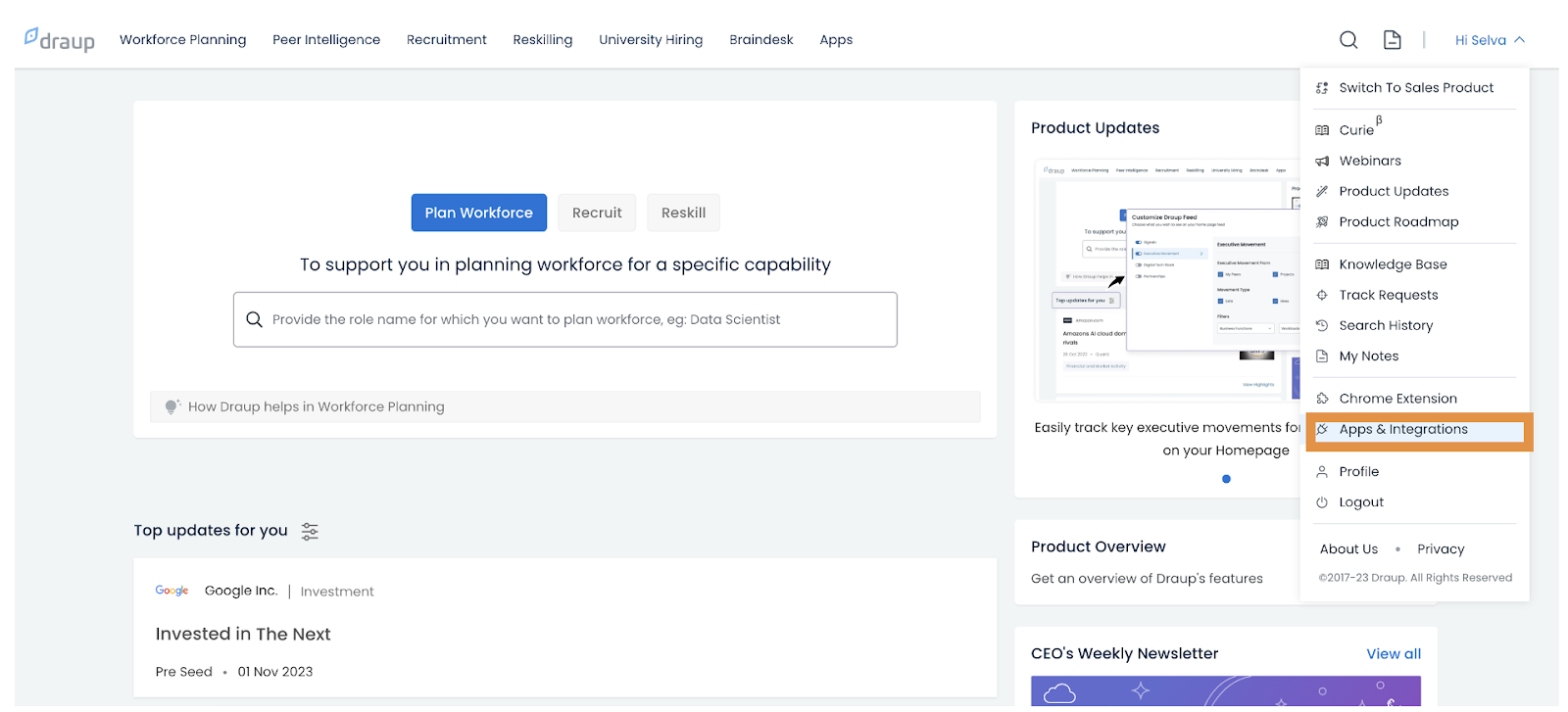 Search and select Greenhouse from the available listings and then, click Contact Us to submit your request and share the generated Ingestion API key.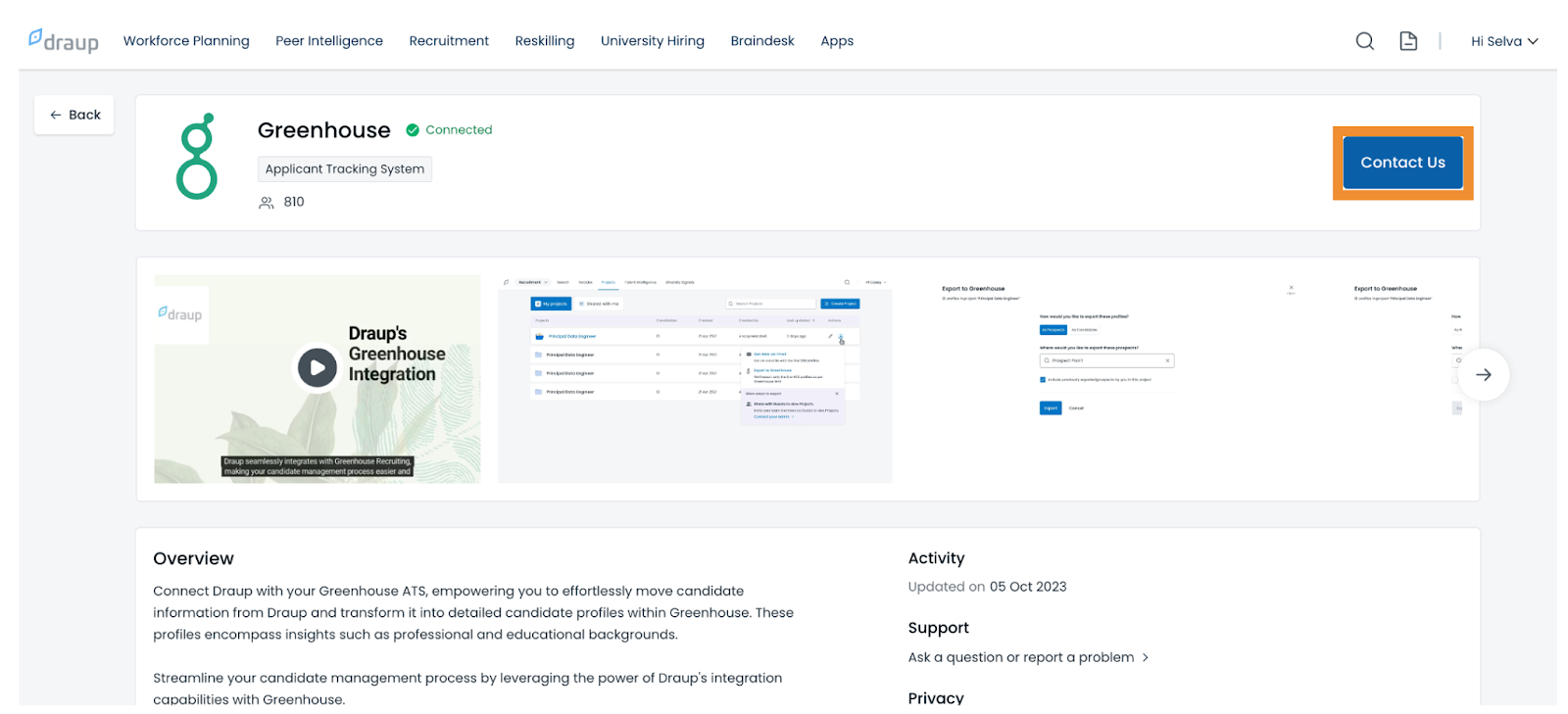 Upon receiving the key, the Draup team will contact you as soon as the key is integrated into Draup. Once you receive the confirmation, you can effortlessly export the shortlisted prospects or candidates pool from Draup's projects to Greenhouse by following the outlined steps below.
Use the Draup integration
Add candidates to Greenhouse Recruiting
After the Draup integration is completely enabled, you'll be able to export candidates from Draup to Greenhouse Recruiting.
You can choose the profile type for exporting to Greenhouse, such as Prospects or Candidates. It also enables you to include previously exported profiles added by you in the project. This option lets you add them as new profiles.
To add a candidate, click Export to Greenhouse from the export options of a project. This option opens a modal displaying the number of profiles and the project's name.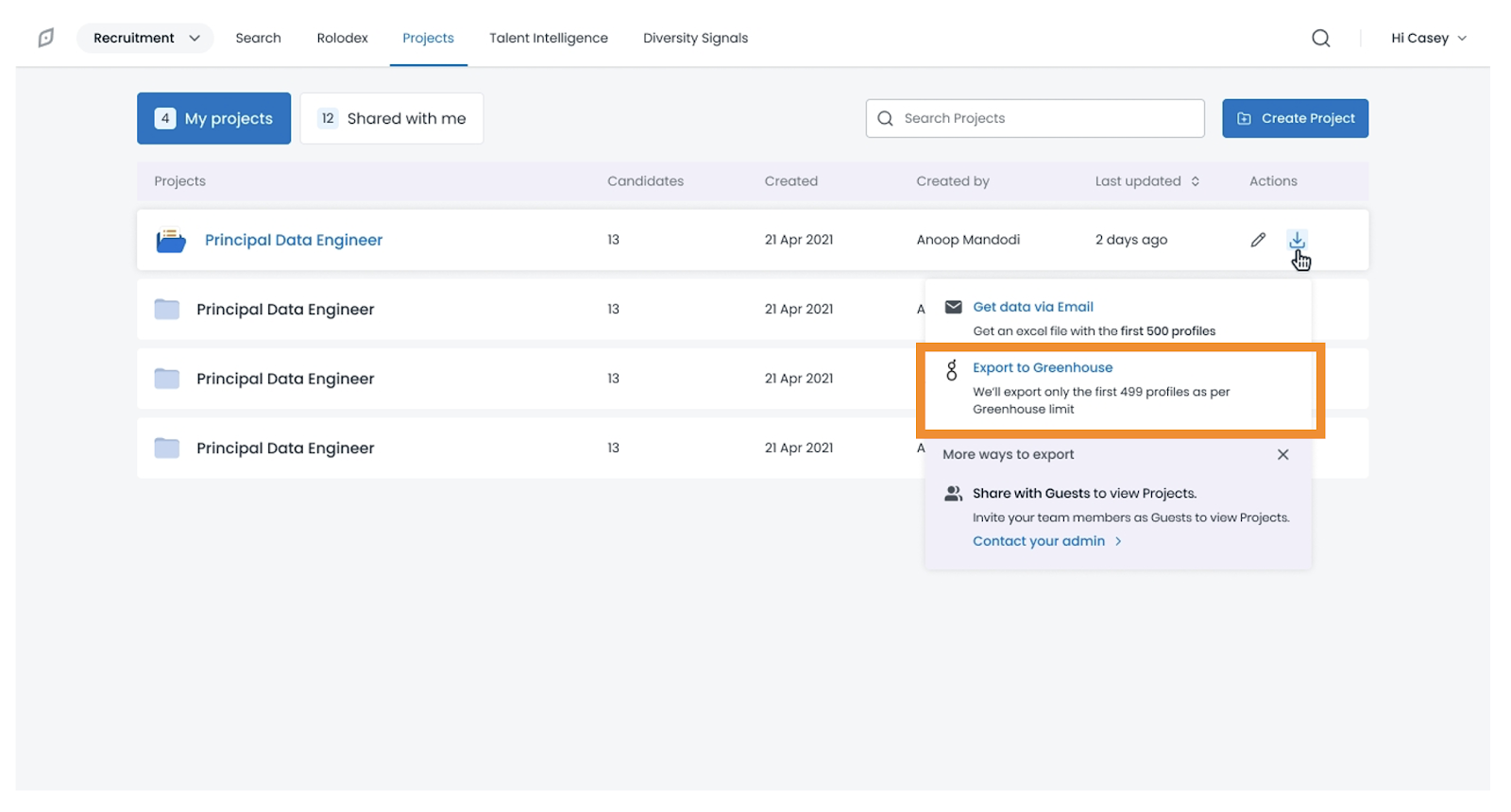 Prospects: You can add the profiles as prospects in a prospect pool. A prospect pool is a larger group of available prospects, such as talent for the upcoming year. You can search for prospect pools using the search box. As you type in the search box, matching prospect pools are suggested. The profiles are exported to the default pool when no pools are created.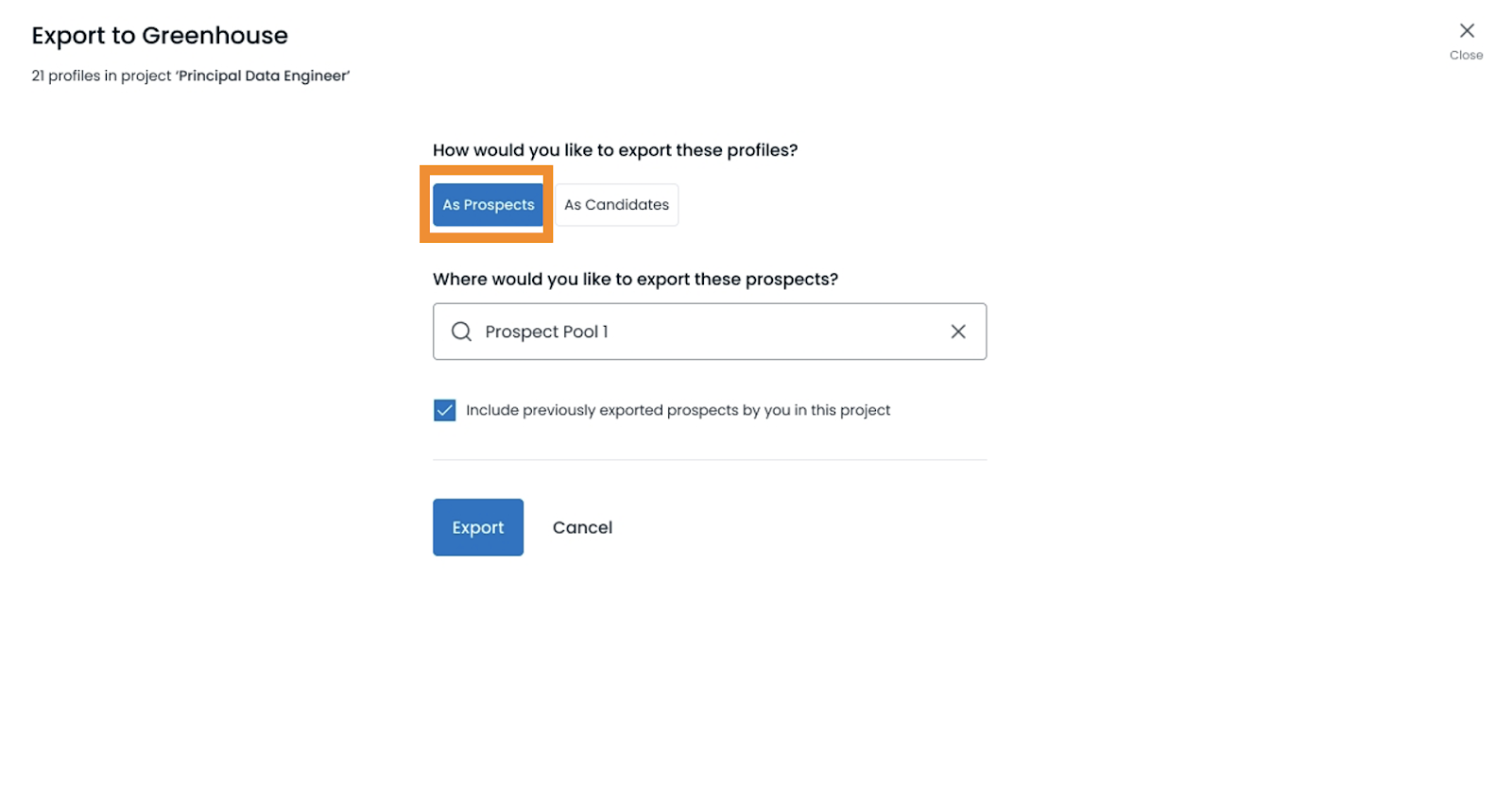 Candidates: You can search for jobs and select them for exporting the candidates. As you type in the search box, matching jobs are suggested. Please note that the modal notifies you to create a job if there isn't one already.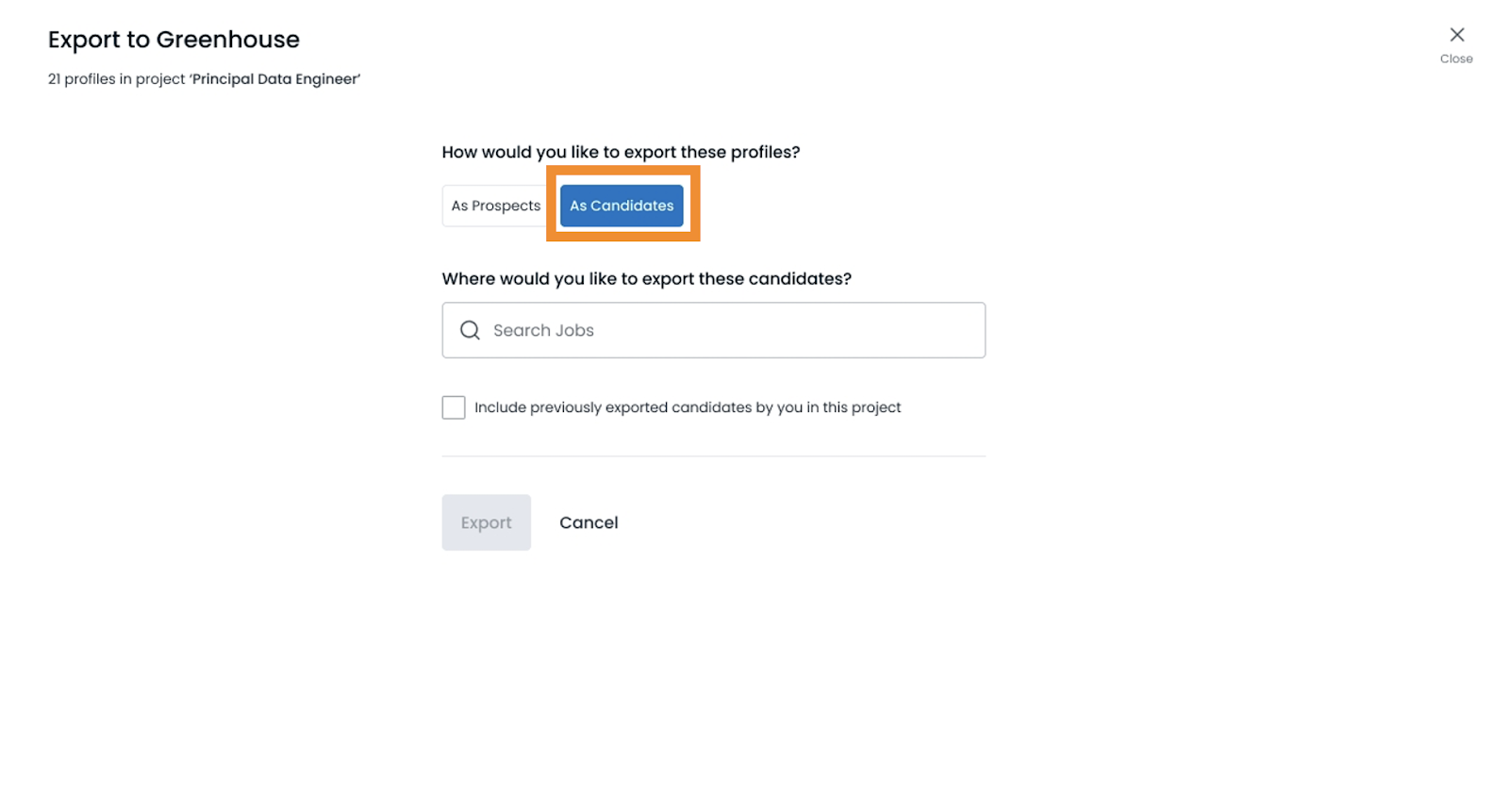 After exporting the profiles, the modal navigates you back to the project details page with a success notification on the export. Draup sends you an email on export completion.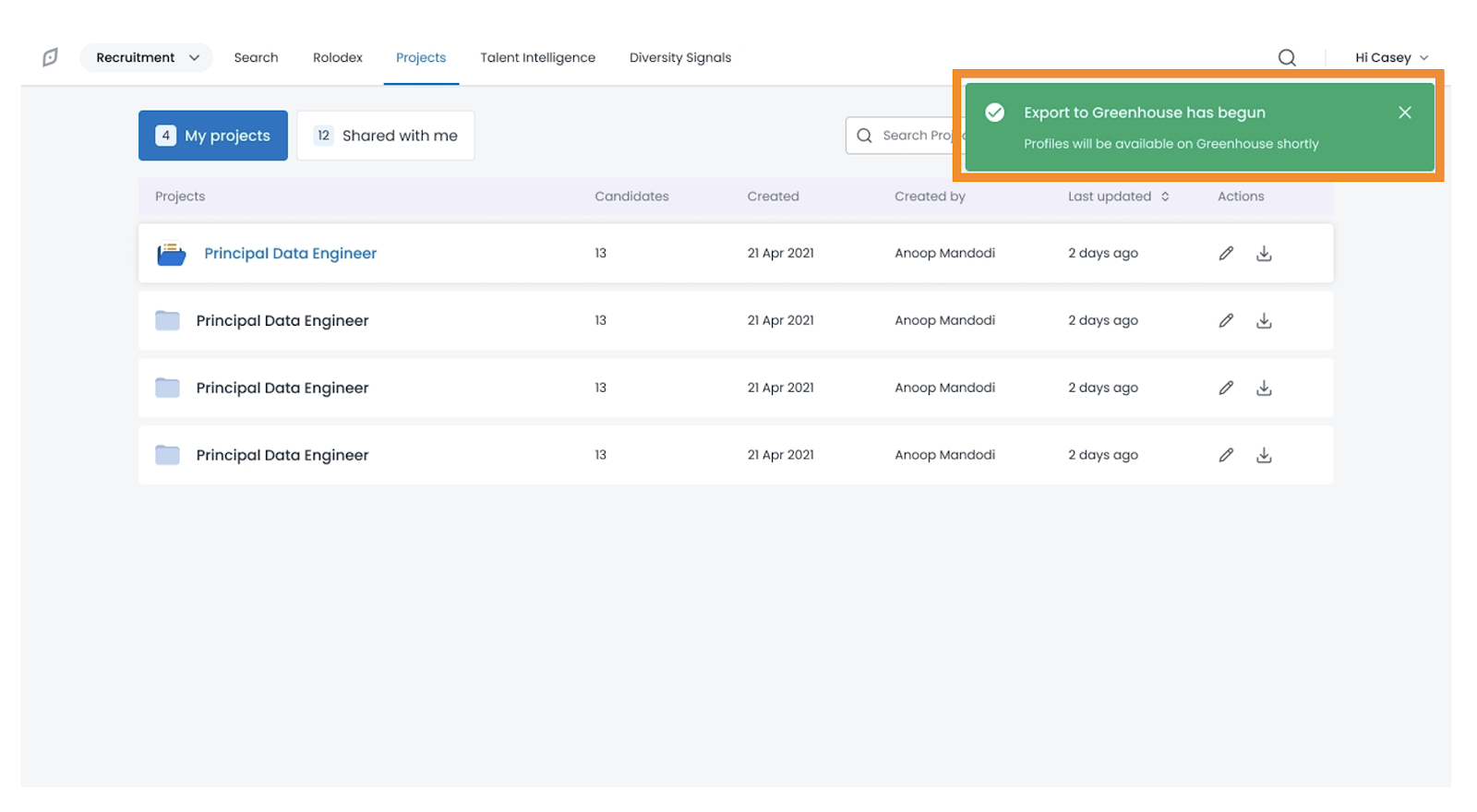 Additional resources
For additional information not covered here, contact support@draup.com or refer to our support page regarding Greenhouse Recruiting.