If you would like to share your job board through a marketing campaign and ensure that the source is tracked, you will need to generate a unique tracking link that will direct candidates to the job board. There are two options available to you to create tracking links for job boards.
Note: A job board must be "live" before you can create a tracking link.
Option 1:
Navigate to the Configure tab from your Dashboard, and click on Job Board from the left-hand panel. From the Job Board page, locate the job board you would like to create a tracking link for and click on [Tracking Link].

Option 2:
Alternatively, you can also create a tracking link for your job board by clicking the Sourcing tab from your Dashboard, navigating to Manage Job Boards on the Overview page, and clicking the 

icon beside the Job Board name.

Get a Tracking Link
Whichever option you choose, you will access the Get a tracking link dialog box to create your tracking link. When the dialog box opens, you can configure the appropriate Who Gets Credit and Source fields.  When finished, click Create Link.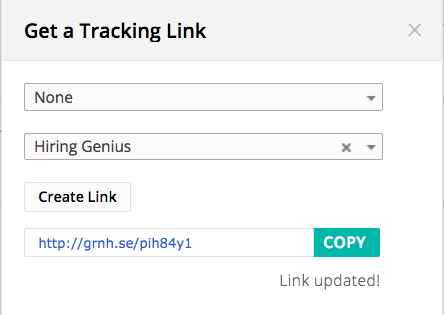 A tracking link will be generated that you can copy and use.  
Note: If you are generating the link for an external/third party job board -  paste the tracking link wherever you are providing instructions as to where candidates should go to apply. Many external job boards have a special field for links to the application, but some may only have a free text entry box where you'll need to write your own text and then paste the link.
If you would instead like to create a tracking link for a single job post, you can follow the steps here.
Keywords: /configure, configure, tracking link, job board