Messages sent through Greenhouse Recruiting may seem like they are coming from your normal email address, but they are actually sent on behalf of one of our third-party mail servers. Since spammers have been known to use a similar method to imitate legitimate email addresses, sometimes mail providers will start to mark these messages as spam or block them altogether. Verifying your domain lets mail providers know your company has given us permission to send emails on your behalf, which should drastically improve your overall deliverability rate.
Verify Email Domain
In order to send emails successfully through Greenhouse Recruiting, a Site Admin will need to work with your internal IT team to verify your domain. If you skip this step, there is a high probability that some or all of your messages could be flagged as spam or rejected before ever reaching their recipients. We recommend looping in your IT team as early as possible to avoid any emails being lost.
To verify your email, click the Configure icon in the upper right-hand corner and navigate to the Email Settings on the left-hand panel.

From the E-mail Verification page, enter your organization's email domain in the provided field. Your email domain is the part of your email address that appears after the @ sign.
Example: With the email address someone@ghexample.com, the email domain is ghexample.com.
When you have finished, click Register.
Note: Do not use your whole email address (someone@ghexample.com), and do not include the @ sign (@ghexample.com).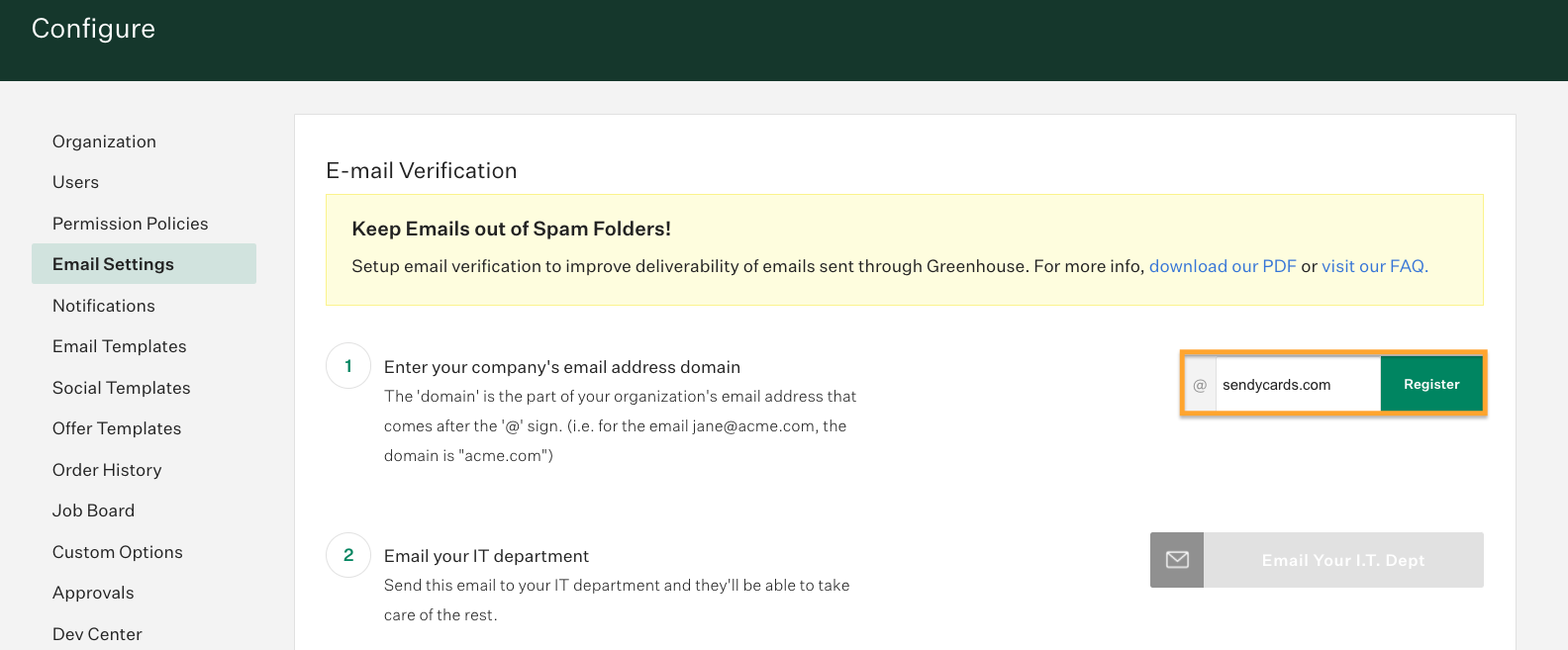 Once you have registered your company's email domain, Greenhouse Recruiting will generate SPF, DKIM, MX, and CNAME records. These records need to be added by whoever manages the DNS for your email domain. Most likely, you should be able to forward these records to someone in your IT department, and they should know what to do.
Click Email Your I.T. Dept to forward the records. For more information on how to add these DNS Records to your domain, click here.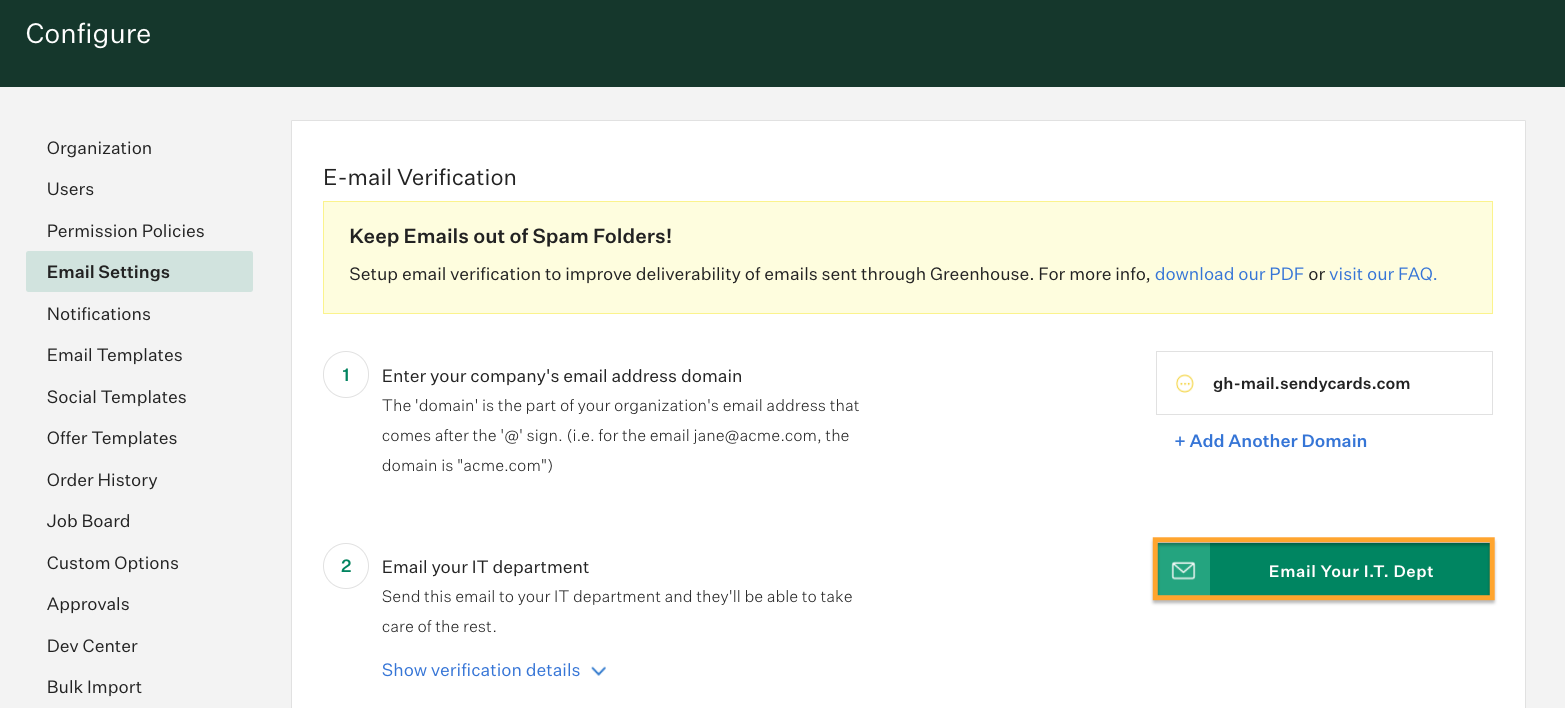 Note: For organizations using web hosting services with the domain implied (e.g. GoDaddy or SquareSpace), the Email your IT Department will need to be edited further to successfully verify your domain. Click here to learn more.
Once the records have been added by your IT team, check the E-mail Verification page to ensure the domain has been verified. Click Show verification details, and then click Check DNS Records Now to receive an up-to-date status of your domain's verification progress.
Note: It may take up to 48 hours for DNS changes to propagate online. If your new domain does not show as Verified right away, try checking back in a couple of hours.
Gh-mail Subdomain
When registering a new domain, you will see the subdomain gh-mail is appended automatically. We add this prefix because you may not be able to register your root domain with Greenhouse Recruiting for a few reasons:
Your IT team may have strict policies on adding new DNS records to your root domain

Your root domain may already have been registered with our email provider (Mailgun)

Your root domain's SPF record may already generate the maximum of 10 DNS Lookups
With the gh-mail subdomain, your users will be able to continue sending and receiving email from their normal email addresses in Greenhouse Recruiting. If you have any questions about the gh-mail subdomain, please click here to connect with the Greenhouse Support team.
**If you have other requirements that are not covered here, you may be able to use one of our options that sends email using your own email infrastructure. These are paid options that will require someone from your IT team to work with one of our solutions engineers on a custom SMTP setup. Please reach out to your Account Manager or Support contact for more information.
MX Record
When a new gh-mail subdomain is created, one of the records that is added is the MX record. While MX records are generally used to have emails delivered to your team's address, most email clients will check for the presence of MX records when receiving an email as a part of spam filtering. Since the gh-mail subdomain will not yet have any MX records, we provide the records so they can be added to the subdomain and improve the deliverability of the emails originating from Greenhouse Recruiting.
Please note the gh-mail subdomain will only be used in the envelope of the email being sent. The From address will still be set to your team's root domain, and therefore any replies will be sent using the MX records added to your team's root domain.
CNAME Record
Adding the optional CNAME record helps the Greenhouse Support team better monitor and troubleshoot email deliverability issues for messages sent from Greenhouse Recruiting. When a CNAME record is added, Greenhouse Support has the ability to track if a given message was opened or not by the recipient.
Note: Only the Greenhouse Support team has access to check if an email was opened or not. This tracking is not accessible to Greenhouse Recruiting users.