There are several different ways to integrate jobs in Greenhouse into your careers page. Ideally, you'll want Greenhouse to power the careers page on your organization's website, so candidates can apply easily online. Once integrated, all options provide comprehensive source/referral tracking, support for custom fields, and the ability to upload a company logo.
Before you start
Before you can start integrating, you'll need to create your first job board. This starts the flow of information from your Greenhouse Recruiting to the internet and ensures that any live job posts can be found by candidates.
Remember - make a job board live is not the same thing as making job posts live. No candidates can apply for jobs until the job posts are made live.
Click here for steps on creating a job board.
Dev Center resources
Based on the integration you choose below, your developers may need access to additional information to create the job board in the Dev Center.
To give your developers access, make sure they have the Developer Permission Can manage Job Board related API credentials.
Click here for more information on assigning permissions.
Choosing an integration
There are several integration options available, ranging in levels of customization and complexity. When making a decision, you'll want to consider your available web developer resources, your plan for the "look and feel" of the job board, and your implementation timeline.
Remember, since the job board integration is controlled by your web development team, you can start with one option and change it any time you'd like.
There are detailed descriptions in the application under Configure > Dev Center > Careers Page Integration Options.
Your web developers can click the How to integrate link to get more detailed instructions on how to set up each option.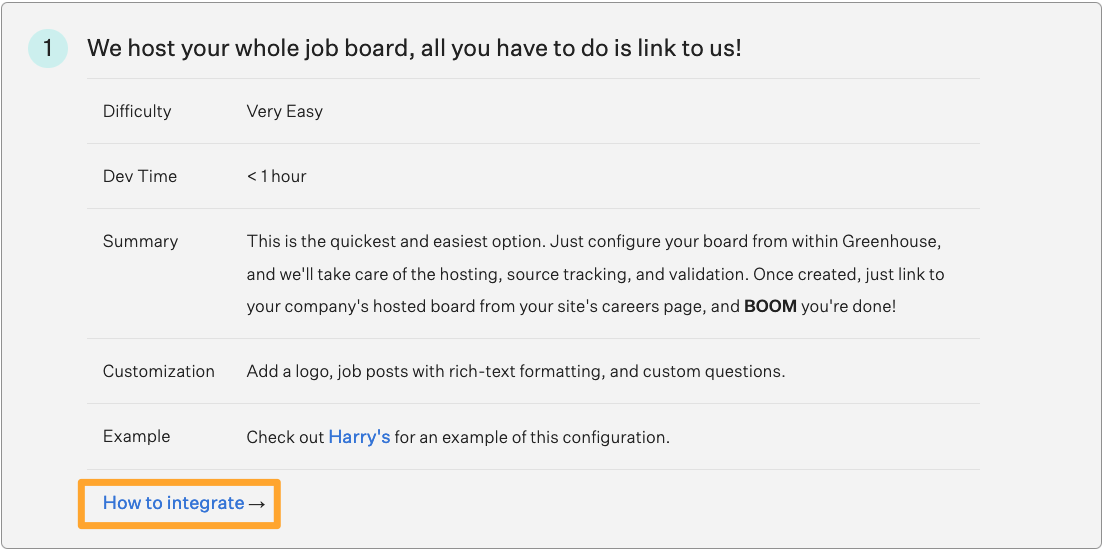 Click here for clickable samples for each integration.
If you don't have time to check in the application, see the images below.
Job Board Hosted by Greenhouse
The most simple integration allows Greenhouse to host the website for your job board. In this integration, you can customize the options available on the job board page, but can't configure anything more than what is displayed on the page.
When candidates apply using this integration, they will be linked to the jobs.greenhouse.io URL.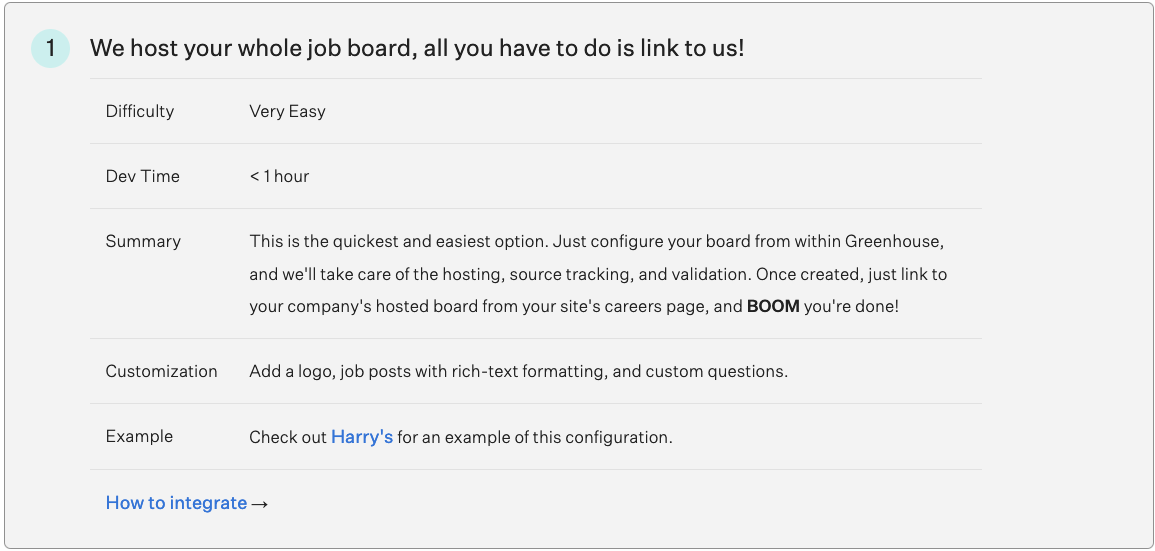 Embed Greenhouse Job Board in your Site
Embedding your Greenhouse Recruiting job board on your organization's site makes it feel like part of the overall organization's career page. This integration means that candidates do not have to go to another link to apply. Additionally, web developers can change the appearance of the job board using CSS.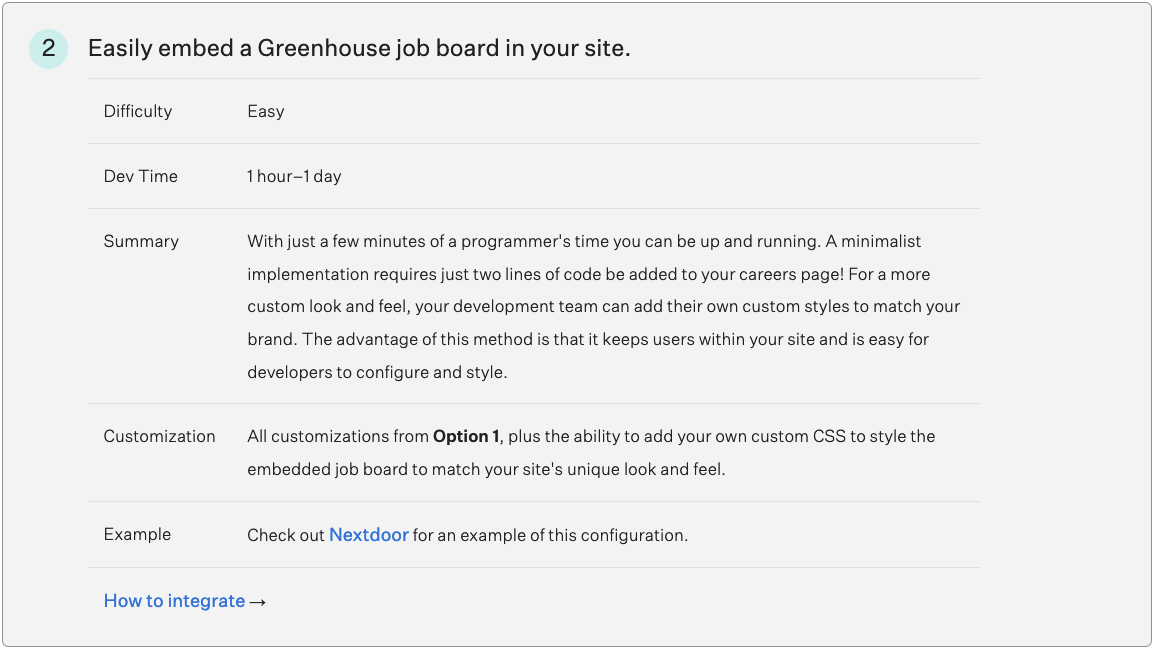 API-Driven Job Board on your Site with Job Applications Hosted by Greenhouse
In an API-driven board, the look-and-feel (or "styling") is controlled by your web developers, but the actual web page is controlled by Greenhouse. However, with this integration, the application form (the fields candidates have to complete) are still hosted by Greenhouse and will be listed under a jobs.greenhouse.io URL.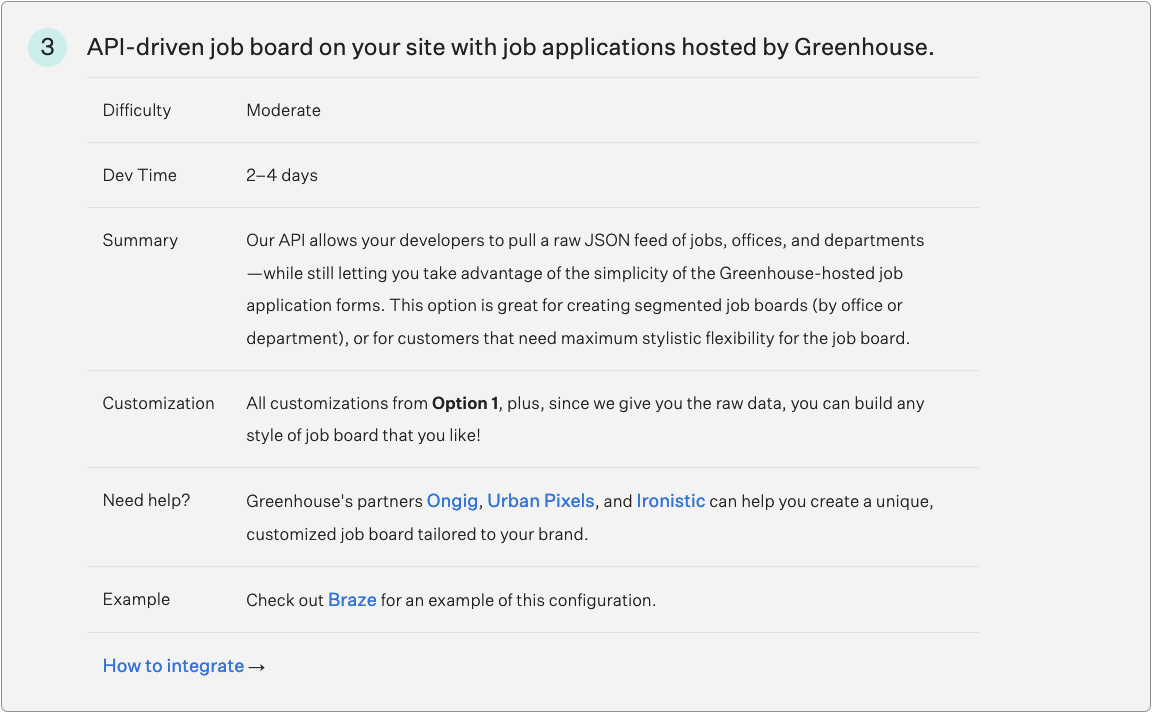 API-Driven Job Board with an Application Form Embedded on your Site
This integration option contains all the benefits of the previous option, but candidates will also be able to apply directly on your organization's site. If needed, this option can be configured to have the application fields and the job posting display on the same page.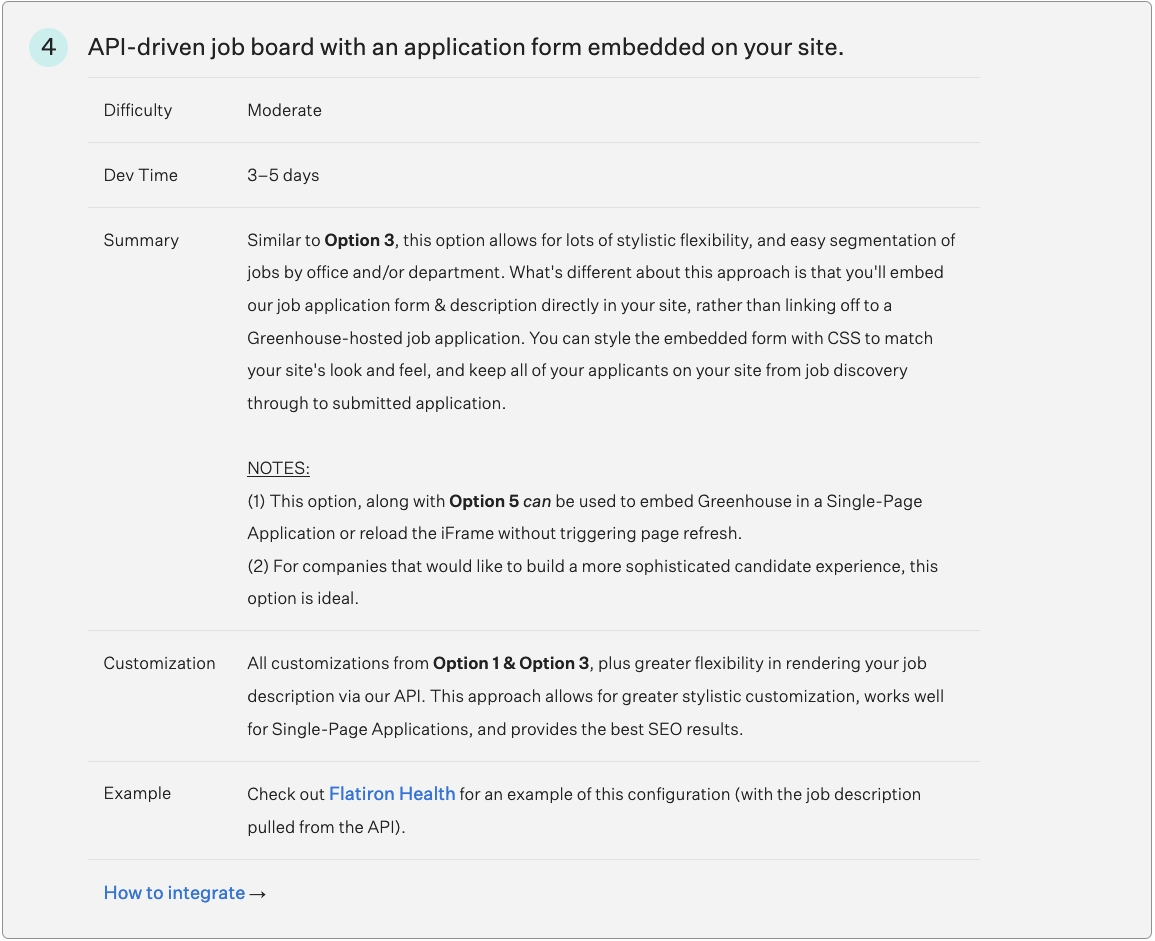 100% API-Driven
In a completely API-driven approach, your web development team has complete control to configure a fully customized application experience. This option is only recommended to customers who want to create and maintain a custom job board.
Remember - since the job board is completely custom, things like error handling, spam prevention, and source tracking must be configured by your web developers.