An agency will need at least one agency recruiter in order to submit candidates through Greenhouse Recruiting's agency portal. In the this article, we will cover how to invite an agency recruiter so they can submit candidates via Greenhouse Recruiting's agency portal.
Note: While the agency recruiter is a single profile in Greenhouse Recruiting, multiple agency recruiters can use the profile to submit candidates and/or prospects if a shared email is used when creating the invitation.
Click the ellipsis

on the navigation bar and select Sourcing from the dropdown menu.

Select Agencies on the left-hand panel and navigate to Add Recruiter.

Use the subsequent dialog box to select an existing agency from the dropdown menu. Alternatively, click Create New Agency if the agency recruiter's agency is not yet in your system.
Input a name and email address for the recruiter in the appropriate fields.
Note: If the agency recruiter invitation is intended to be shared by multiple agency recruiters, input a shared email address.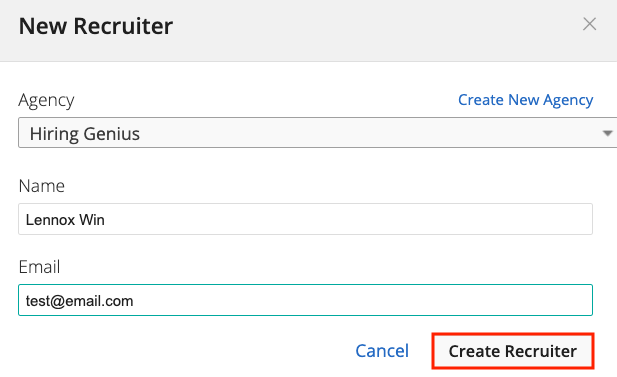 Click Create Recruiter when finished.
An invitation email to join Greenhouse Recruiting's Agency Portal will be sent to the email address listed for the agency recruiter.

When agency recruiters submit candidates, the Source of the candidates will be the agency, and the recruiter will be listed as the Referrer.