Permissions: Site Admin, and Job Admin who can invite and deactivate agency recruiters
Product tier: Available for all subscription tiers
When you invite a new agency recruiter to submit candidates for your open jobs, you may run into the following error message:
Your organization has already invited that email address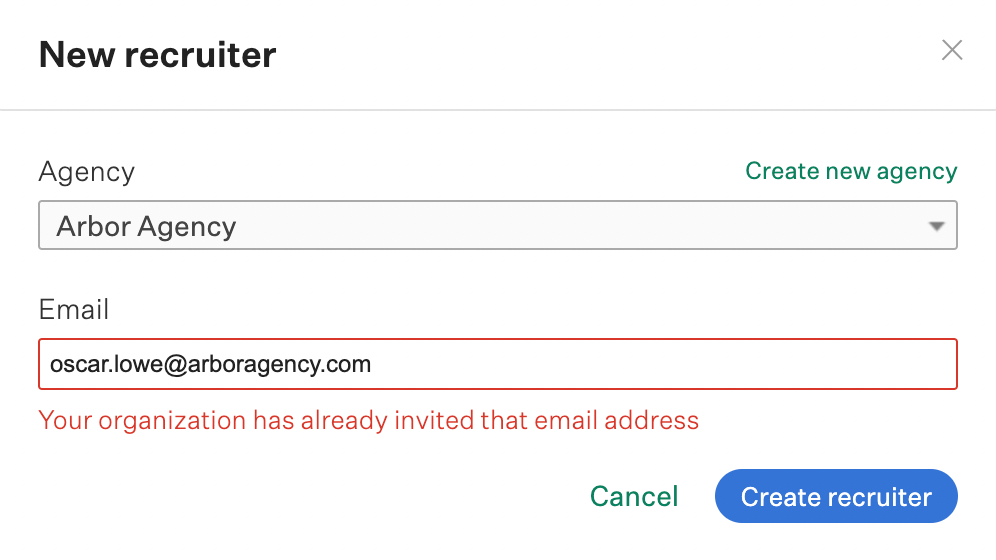 If you receive this error, it's most likely that the agency recruiter's provided email address has already been added to your organization's account or another Greenhouse customer's account as a full user.
Note: We don't recommend granting external recruiters access to your organization's Greenhouse Recruiting account as a full user. However, we recognize that external recruiters may need full user access to consult on your organization's specific requirements or overall systems.
To resolve this error, ask the agency recruiter to provide an alternate email address for their profile, since the address they've provided already exists in the Greenhouse Recruiting system. An email address can be used only once across the entire Greenhouse Recruiting database, whether as a full user or as an agency recruiter.