Note: This feature is only available to Enterprise customers.
Greenhouse Recruiting has powerful APIs that allow you to use an HRIS or other system of record to create and edit jobs that perfectly match what you've configured in your other tools. Perfection can be fleeting, however, and it's always possible that a user might accidentally adjust one of your perfect jobs after it was created, which can lead to mismatches and errors when sending hired candidates back to your HRIS. To combat this problem, we've created a new setting that stops users from editing certain types of Job custom fields from within Greenhouse.
As a Site Admin, navigate to the Configure > Custom Fields > Jobs page and create or edit a custom field. At the bottom of the pop-up, a new option will appear for This field can only be changed via the Harvest API.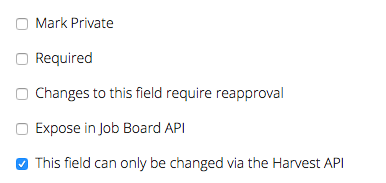 When it's checked, the pencils on the Job Setup > Job Info page will be removed and replaced with a lock icon that lets users know this field can only be changed for jobs through the Harvest API, allowing you to breathe easy knowing your perfect jobs will stay perfect indefinitely. 

Please note: Because these custom fields will also be hidden from the Job Creation flow, it isn't possible to make a Job custom field both Required and Harvest-only.