Permissions: Job Admin and above
Product tier: Available for all subscription tiers
For job posts that receive a high volume of applicants, you might want to bulk review a subset of applications from the candidate pool based on relevant filters or tags. By knowing that you're looking at a subset of applications that fit certain criteria (such as willingness to relocate or other custom fields), you can streamline your recruiting process and avoid mental stress. 
Bulk Application Review can only be performed on Candidates for a single job in a review stage type in the hiring process (i.e. Application review, Hiring Manager review). If a candidate is selected but not in a reviewable stage, they will not be included in the process.
Note: You will still need to individually review, move, or reject each application while using this process. However, it limits the applications in the Application Review to only the selected candidates.
Select candidates for bulk review
Navigate to a specific job and select the Candidates tab. You'll see a list of all current candidates for the job.

Choose Candidates only in the Application Type filter on the left side of the page.

Define any other filters for your list and select Bulk Actions on the right side of the page. 

Select the checkboxes for each candidate you want to include.

Select Edit Selected. 

Click Application Review in the Bulk Action dialog box.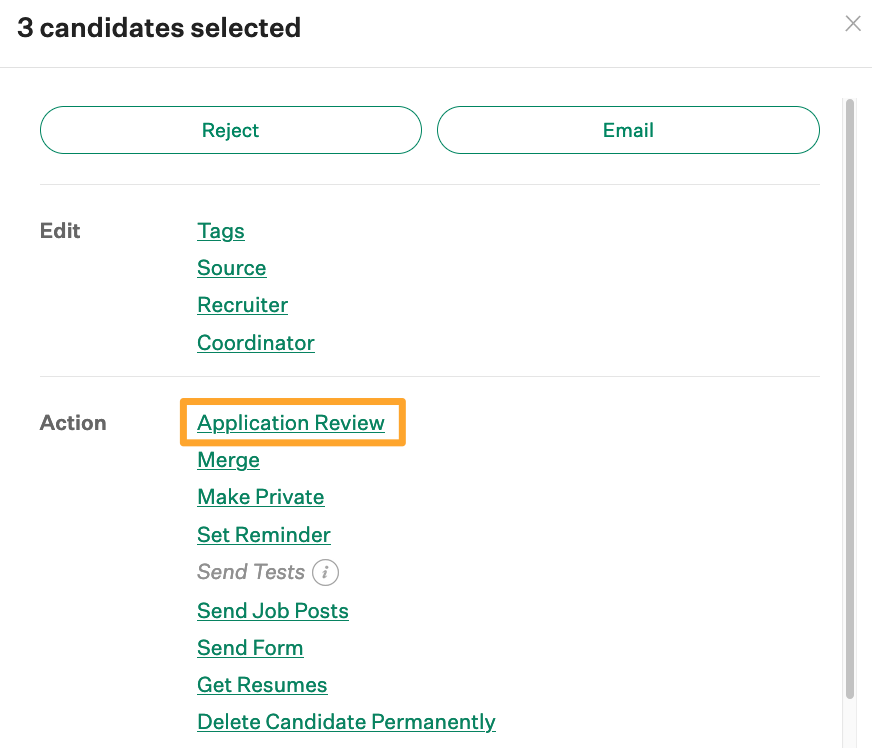 The selected applications will open inside the application review workflow where you can quickly process them. Click here for more information on completing the application review.