For job posts that receive a high volume of applicants, you might want to bulk review a subset of applications from the candidate pool based on relevant filters or tags. Bulk Application Review can only be performed on Candidates for a single job in a review stage type in the hiring process (i.e. Application review, Hiring Manager review). 
Note: Any candidates included in the bulk application review who have not reached a reviewable stage will be skipped by the action.
To filter by a single job, navigate to the Candidates tab from the Dashboard and navigate to the left-hand filter panel. Click on the Filter By Jobs button under the Jobs header. Select one job to filter and click Apply Filter when you have finished.
Pro tip: You can always see what filters are applied to your list from the banner at the top of the page. To quickly remove a filter, click on the "x" beside the filter's name. 

(210 total candidates)
From the same page, use the left-hand filter panel to filter by Candidates Only under Application Type and a review stage under Jobs>Stage.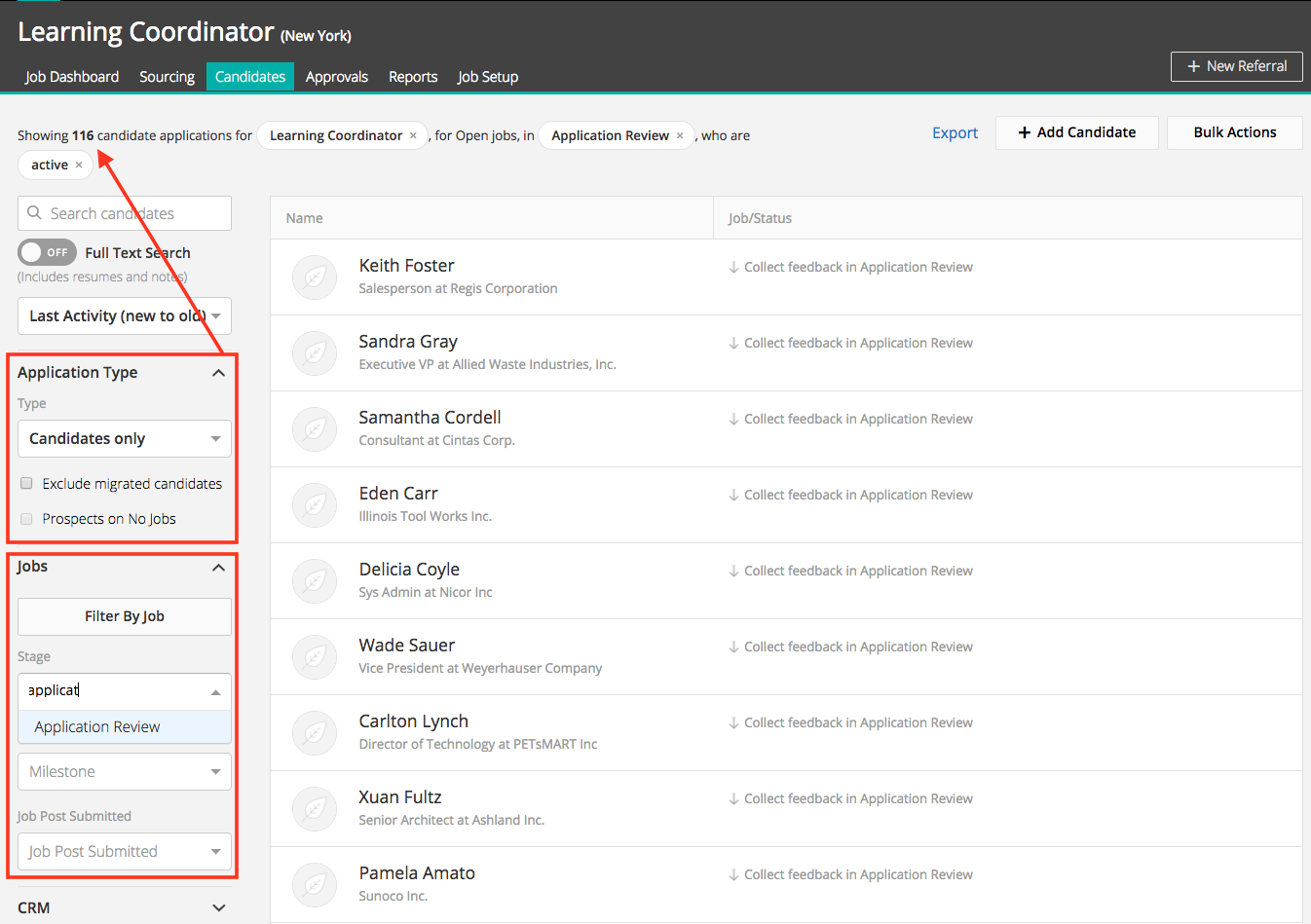 (116 candidates in filtered subset)
If you would like to further filter your applicants into a more defined subset, simply apply an additional filter from the left-hand panel. For our example, we would like to bulk review applications who responded Yes to the application question Are you willing to relocate?

(21 candidates in filtered subset who answered Yes to Are you willing to relocate?)
With the filtered subset defined, we are ready to perform the bulk application review. Click on the Bulk Actions button and select all the Candidates you would like to include in the bulk application review by selecting the check box beside their name. In our example, we have narrowed down our subset enough to use the Select All button.
Once all relevant candidates have been selected for the bulk action, click on Edit Selected.

Click on Application Review from the Bulk Action dialog box. If your filters have not been properly applied this action will not be available.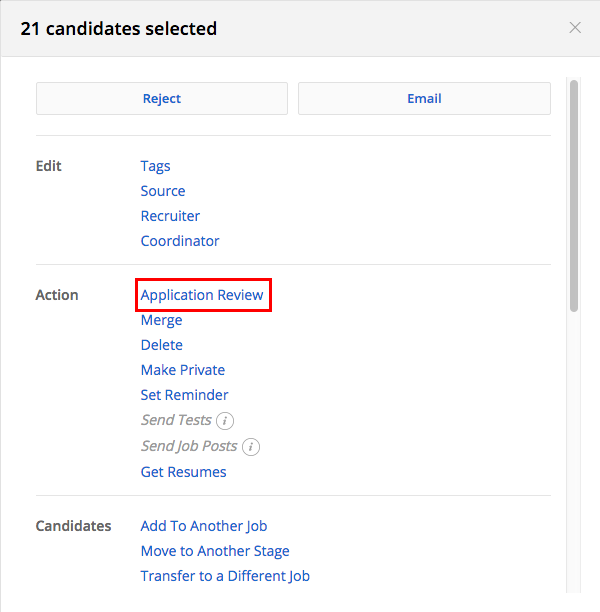 Your selected applications will be aggregated for bulk review. If you have Basic Job Admin permission levels you will be able to review and provide feedback on applications. A Job Admin with permissions to advance, reject, and email candidates/prospects will be to advance or reject candidates. For more information on permission levels, click here.
Note: The Applications ticker in the top right hand corner reflects the total number of applications in the subset.