eSkill provides organizations with a web-based skill testing service. Specifically, the eSkill application lets hiring and training managers configure tests from their extensive subject library to match their hiring and training needs and reduce the risk of hiring failures and discrimination litigation. Greenhouse Recruiting's integration with eSkill allows your organization to add an eSkill assessment to a job's interview plan. In this article, we will cover how to:
Enable Greenhouse/eSkill Integration
To start, contact your eSkill representative to receive your API key. Once you have received your API key, fill out the form at www.greenhouse.io/asksupport or click here to open a ticket.
Note: Do not send the API key in this initial email.
The Greenhouse Support Team will respond with a SendSafely link for you to enter your API key. A notification will be sent to the Greenhouse Support Team after you have entered your API key and they will email you to confirm that your API key has been set up in your account and your integration is enabled.
Note: To verify your identity, the Greenhouse Support Team might request you provide a Support Verification Code before adding the API key to your organization's account.
Add eSkill Assessment to Job's Interview Plan
Once the Greenhouse/eSkill integration is enabled for your organization, you will be able to add an eSkill assessment as an Interview stage.
To do this for an existing job, navigate to a job (All Jobs>Job Name) and click Job Setup from the Job navigation bar.

From the Job Setup page, navigate to Interview Plan on the left-hand panel. Scroll down the page and click + Add a Stage.

From the Add Stage dialog box, select the eSkill stage. When finished, click Add to apply the stage to the job's interview plan.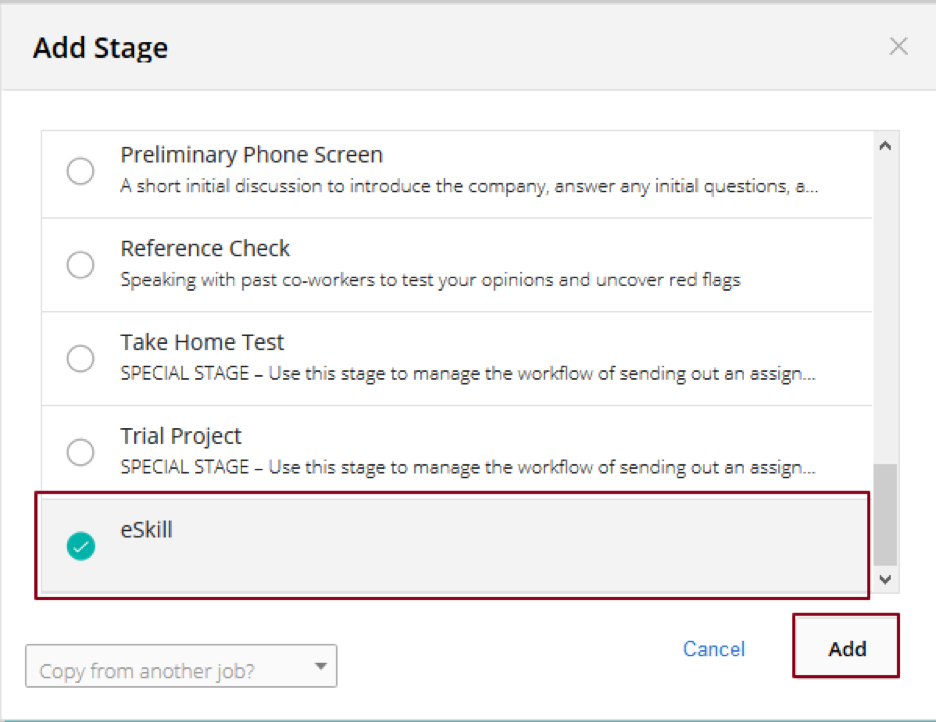 Configure eSkill Assessment
Once the stage has been added to the job's interview plan, click Edit Take Home Test. Use the provided dropdown menu to choose assessments that you have previously set up in eSkill.
Select the appropriate assessment and assign at least one Greenhouse user to grade/review submitted assessments. When finished, click Save.
Note: Keep in the mind that all configuration of the assessment itself, as well as the email template, will need to be done in eSkill.
Send and Review the Test
The integration between Greenhouse and the eSkill application is designed to automate the testing stage of the hiring process. The integration is able to:
Invite the candidate to take an eSkill assessment from the Greenhouse recruiting flow via email.
View the eSkill assessment results in the Greenhouse interface.
When candidates are moved into the eSkill Interview stage, Greenhouse will display a Send Test link.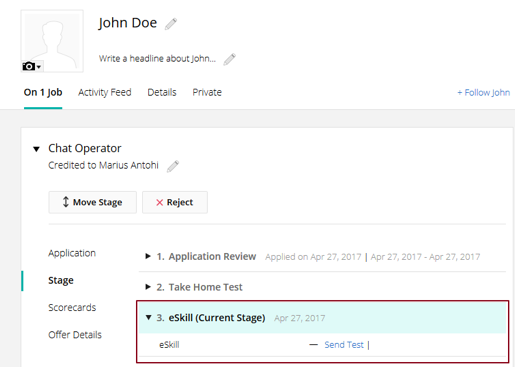 Use the subsequent dialog box to select a Test and click Send Test.

The status of the assessment will be viewable in Greenhouse:
Take Home Test to be sent.
Waiting for candidate to submit test
Scorecard due from <DESIGNATED_GRADER>
The candidate will receive the following email:
Subject: Assessment Invitation - Test 1 for ABC Inc.
Once again, thank you for your application to ABC Inc.
As part of our commitment to quality in our employees, we require you to complete one or more hiring assessments: Test 1.
Please visit the following link:
https://es.eskill.com/es/quiz/?evalId=c6982ae0b81e7343
The test will begin only after you have logged in and read the instructions.
Please complete all assessments at your earliest convenience to ensure that your application can be further considered by ABC Inc.
Thanks!
ABC Inc.
Once candidates finish their assessments, the score will be available in Greenhouse and a link to view their test results in eSkill will be accessible through the Interview Kit in Greenhouse.
Note: It might take up to 1 hour before the results are available in Greenhouse.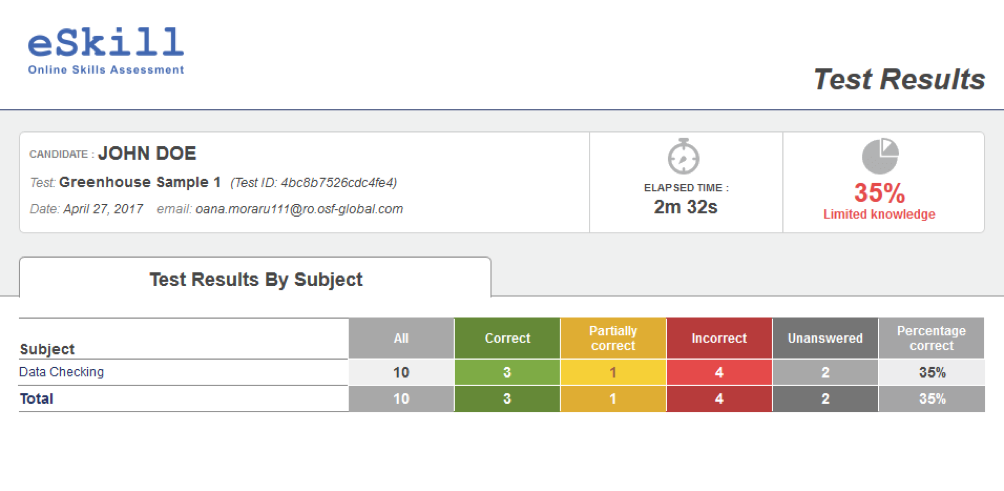 FAQs
What happens if I send a test directly from my Test Center? Will the integration still work?
If you send a test directly from your Test Center, the integration won't work because the information will not be sent to Greenhouse. You will only be able to see the results in your Test Center.
Do I need to add tests or update my tests in Greenhouse?
When a test is created in eSkill, it should be automatically added to Greenhouse. When a test is deleted, renamed, or deactivated, it will be automatically removed from the Assessments List.
Can I customize the email that goes to candidates?
The email can be customized. Please contact the eSkill Account Manager for instructions.
What is the meaning of the assessment status in the Greenhouse interface?
Each assessment viewable in Greenhouse will have one of the following statuses:
Take Home Test to be sent – The candidate is in the eSkill stage, but the test hasn't been sent yet.
Waiting for candidate to submit test – The test has been sent to the candidate.
Scorecard due from <DESIGNATED_GRADER> — The test results have been recorded and are available in Greenhouse.
What should I do if I have a technical issue?
For an eSkill-related issue (test not sent, results not available, issue while taking the test, etc.), please send an email to support@eskill.com.
For questions or technical issues related to a functionality in Greenhouse, please contact the Greenhouse support team.