Greenhouse Recruiting's structured education fields are comprised of the following fields:
School Name
Degree
Discipline
Start Year
Start Month
End Year
End Month
For your convenience, Greenhouse Recruiting provides a default list of School Names that candidates can select from when applying for a job. Your organization can add new School Names and/or edit the existing entries on this list. In this article, we will cover how to add a new School Name to this list of schools so that it appears for candidates.
Click the Configure icon

in the upper right-hand corner and select Custom Options from the left-hand panel.

Click Candidates under the Company Custom Fields section.

On the Custom Fields: Candidates page, click the School Name field to edit.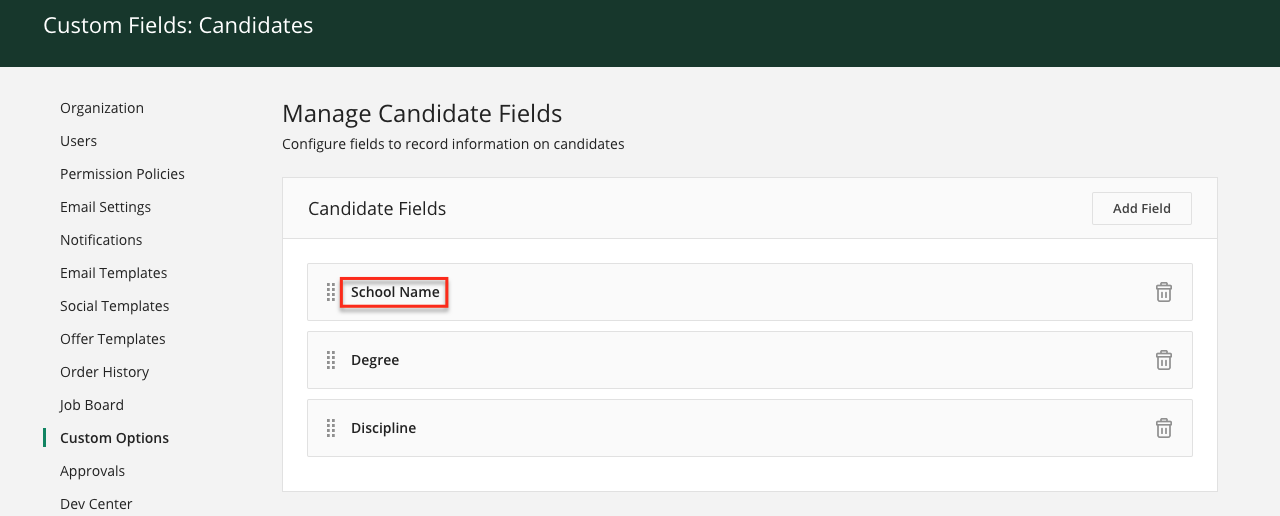 The Edit Candidate Field page will list all of the school names in alphabetical order in the Options field. Each school name is represented on its own line.
Navigate down the list of default schools and insert your custom school in the appropriate position.
Click Save when finished.
Note: Additionally, your organization can add Other as a school name to represent any schools not listed in the options.
Your new custom school name will appear for candidates when applying for jobs.