Greenhouse Recruiting's integration with Interviewing.io allows users to source, access, engage, and track candidates from Interviewing.io.
Set up the Greenhouse Recruiting/Interviewing.io integration
To integrate Greenhouse Recruiting with Interviewing.io, you'll need to create an Ingestion API key and provide it to Interviewing.io.
Follow the steps in this article for more information on creating an Ingestion API Key. Once the key is created, open Interviewing.io and navigate to the Settings panel of your Company Admin account to submit the key.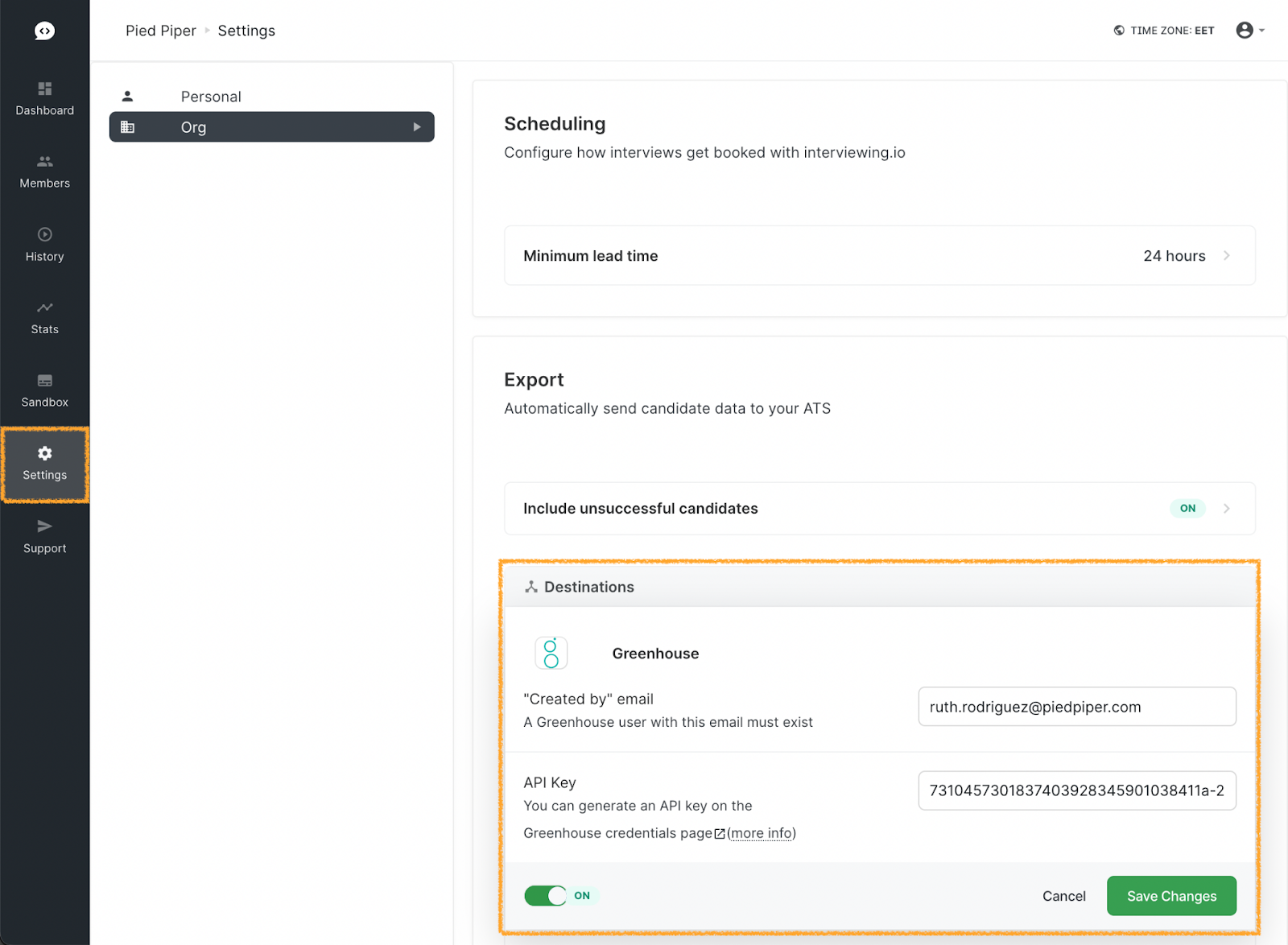 Use the Interviewing.io integration with Greenhouse Recruiting
Candidates and their contact information are added to Greenhouse Recruiting at the end of every successful Interviewing.io interview.
For an interview to be considered successful, an interviewer must click Yes to the question Would you advance this person to the next round (e.g. onsite)? in the Feedback By Me section.

The candidate, in turn, must also specify that they want to continue the process.
Candidate information imported
When a candidate is imported to Greenhouse Recruiting, the following information is included:
Their full name
Their email address
Their LinkedIn profile URL
Interview scores
Any interview feedback left by the interviewer is provided in the following format:
Interviewed on interviewing.io by Interviewer Name on 9/28/17:
Technical skills: 4
Communication skills: 3
Problem-solving ability: 3
Freeform feedback: "Really good overall!"
Note: Scores range from 1 to 4, where 4 is best.
Additional resources
For additional information not covered here, reach out to the Interviewing.io Account Management team.