Permissions: Site Admin who can see EEOC and demographic reports
Product tier: Available for all subscription tiers
The standard demographic question set from Greenhouse Recruiting includes standardized candidate questions about race, gender, sexual orientation, disability status, and veteran status. You can read more about standard demographic questions here: U.S. standard demographic questions.
The standard demographic data report allows your organization to view an anonymized report of this data to see how many total applicants and hired candidates fall into each demographic.
Note: All candidate demographic data is anonymized for compliance purposes and to reduce unconscious bias in the hiring process. Your organization's Greenhouse Recruiting users can only view anonymized candidate demographic data. In addition, Greenhouse Support cannot access candidate demographic data unless given explicit consent by your organization.
Standard demographic data report
To create a standard demographic data report, click Reports on your navigation bar.

Click Essential reports on the left.

Scroll to the Run Your Own Analysis section and click Standard Demographic Data.

The standard demographic data report will generate.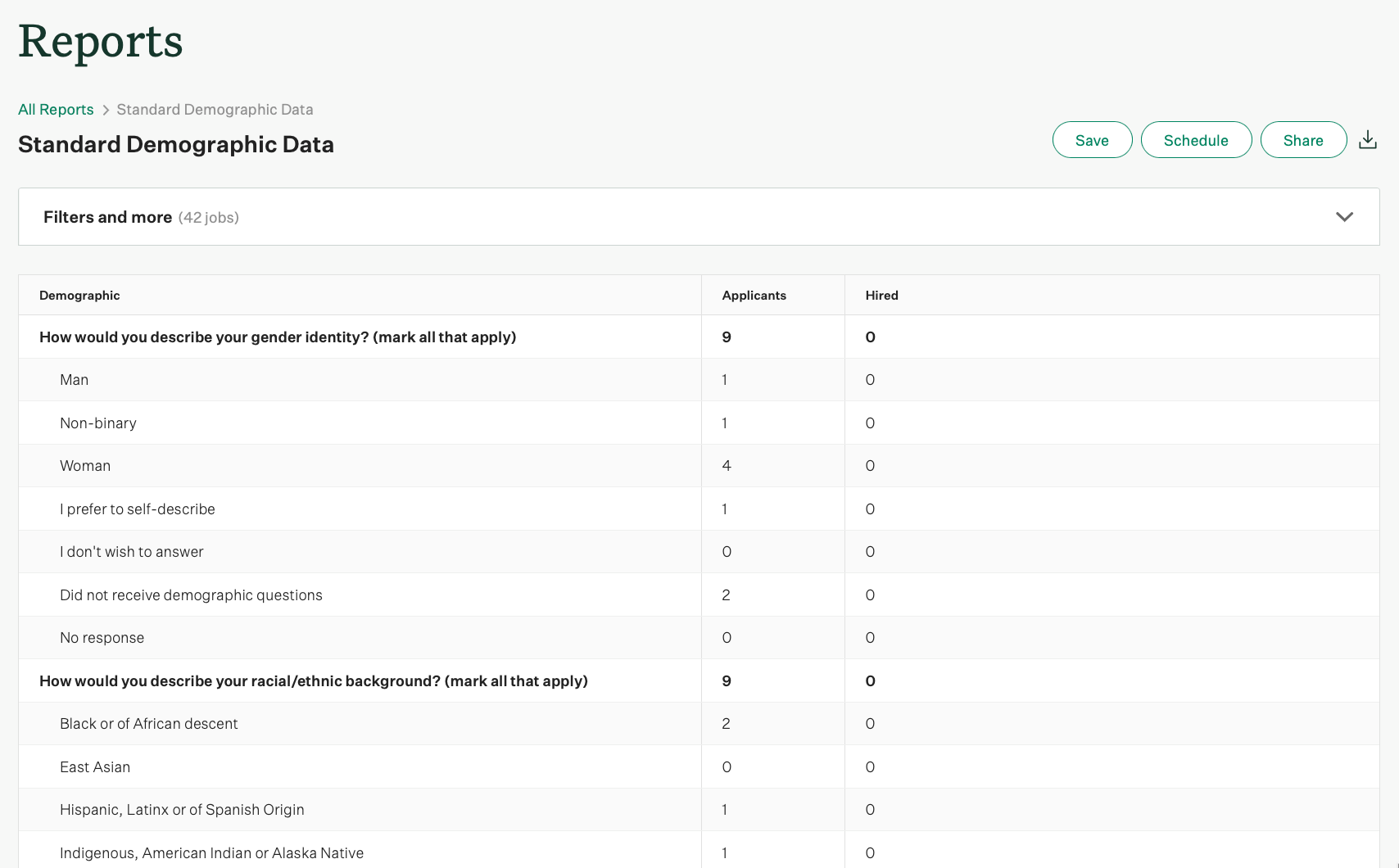 The standard demographic data report will display information for the following:
Demographic
Total applicants per demographic
Total hires per demographic
Note: To protect candidate anonymity, in demographic categories where less than five candidates have been hired, the standard demographic data report will show <5 instead of an exact number.
Standard demographic data report filters
Click Filters and more to apply filters to further refine your report.

The standard demographic data report can be filtered by the following:
Job
Job status
Department
Office
User
Hiring team role
Custom job field
Date applied
Include migrated candidates
Note: By default, the date applied filter is set to the current year.
Click Apply after applying any filters.