Greenhouse Software regularly releases new product features, updates, and improvements. Stay up to date with what's new at Greenhouse by Following our release notes.
Find our releases for this week below:
Greenhouse Recruiting
Updates to EEOC language on Greenhouse-hosted job boards: To remain consistent with legal best practices regarding EEOC matters, we've made the following updates to the U.S. Equal Opportunity Employment information section on all Greenhouse-hosted job boards:
Removed the Hispanic/Latino option from the Please identify your race dropdown menu.
Updated the language in the Voluntary Self-Identification section description.
The changes will be displayed to any candidates completing new applications. Previous selections on past or current candidates will not be affected by this change.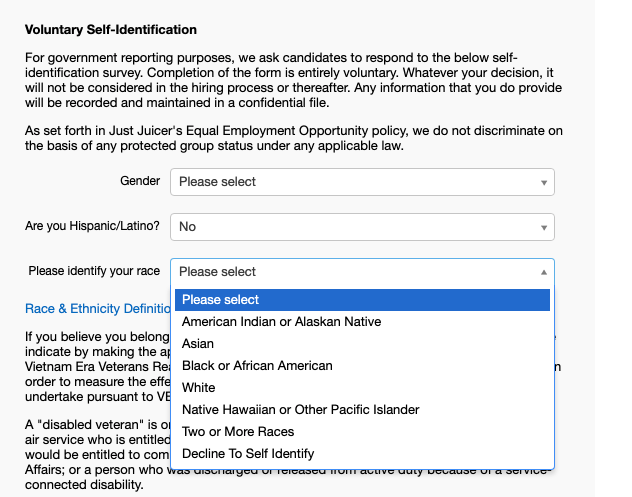 Adding Start Date in Report Builder: An offer's Start Date can now be used as a filter when building offer reports in the Report Builder.

HRIS Link
Click here for updates to HRIS Link.
Bug fixes
Fixed an issue where the Add Category button wasn't working when bulk editing scorecards.
Fixed an issue where delayed send automated emails were not being processed at the correct time.
Fixed an issue where a rejection template text was not updating when choosing a new option during application review.
Fixed an issue where the Configure Workday®️ Integration section of the Dev Center was not displaying if the user only had been assigned the Configure Workday®️ Integration permission.
Fixed an issue where the Dev Center wasn't displaying if a user only had the Manage and Configure BIC permission.
Fixed an issue where a job couldn't be deleted if the job had notification preferences disabled.
Fixed an issue where organizations couldn't connect to Redshift with the self-service BI Connector setup.
Fixed issue where hiring managers could not see their new hires in Greenhouse Onboarding if they did not have administrator permissions.
Fixed issue where users could not unlock their Greenhouse Onboarding accounts from their email.
Note: Greenhouse Recruiting is not sponsored by, endorsed by, or affiliated with Workday®️.