Permissions: —
Product tier: Available for Expert subscription tier with HRIS Link add-on
How HRIS Link works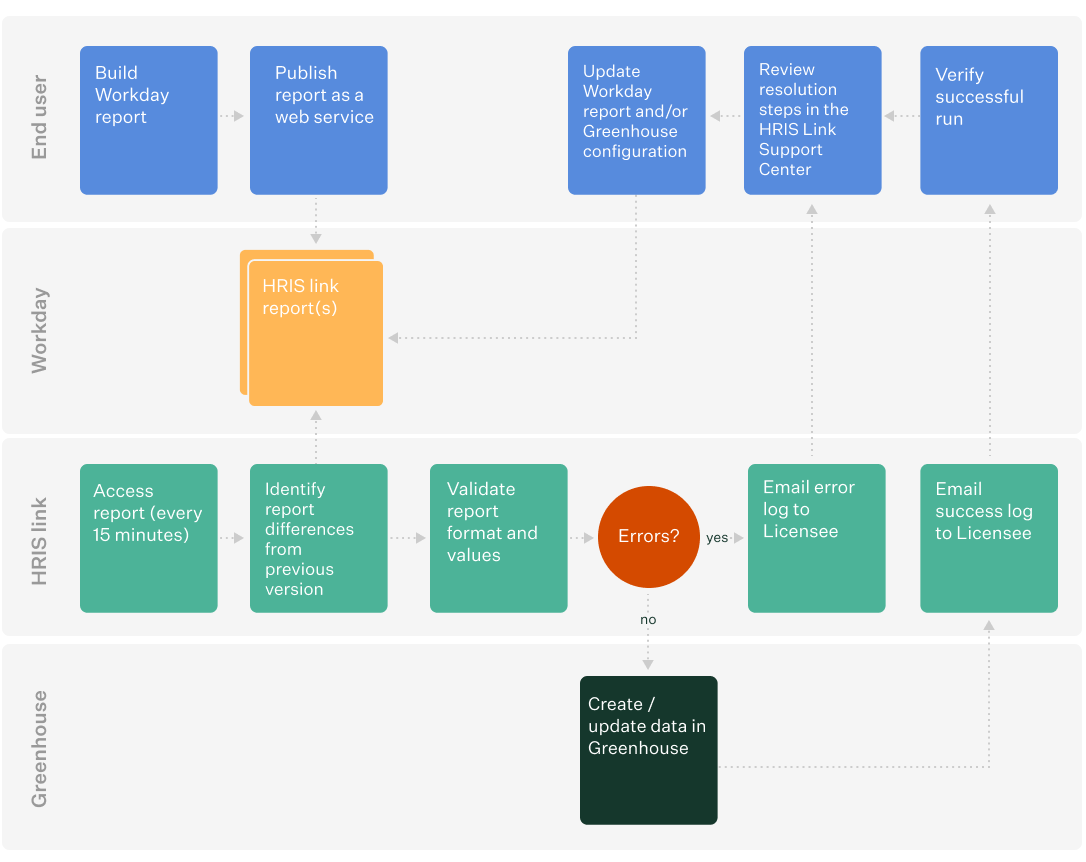 Greenhouse can assist in the diagnosis of errors that occur in HRIS Link as outlined by the workflow detailed above.
Problem diagnosis and resolution support
Greenhouse Support will provide priority end-user support for the licensee's HRIS Link integration via ticket. Click here to reach Greenhouse Support via ticket.
Greenhouse Support offers a 2-hour initial response email turnaround time for Enterprise tier customers during standard normal support hours, which are Monday– Friday 9am - 9pm EST, excluding U.S. holidays. If an issue is reported outside support hours, Greenhouse Support will action your ticket on the next business day.
Issue response and resolution time
:
In cases where an error within Greenhouse's control (an "issue") manifests inside Greenhouse Recruiting or a platform stage of HRIS Link as outlined in the 'How HRIS Link works' figure above, target resolution times will be determined according to the issue's priority:
| | |
| --- | --- |
| Priority | Definition |
| 0 | Due to an issue in a production environment, all critical functions of the Platform are unavailable. |
| 1 | Due to an issue in a production environment, the Platform operation is severely restricted. For example, required fields are no longer successfully transferring to the target system. |
| 2 | Due to an issue in a production environment, the Platform operates with limitations or restrictions that are not critical to overall operation. For example, a non-required field is no longer successfully transferring to the target system. |
| 3 | Due to an issue in a production environment, the Platform operates in a way that causes minor inconvenience to a user. For example, the formatting of a field may be incorrect in a way that does not cause field-level validations to fail. |