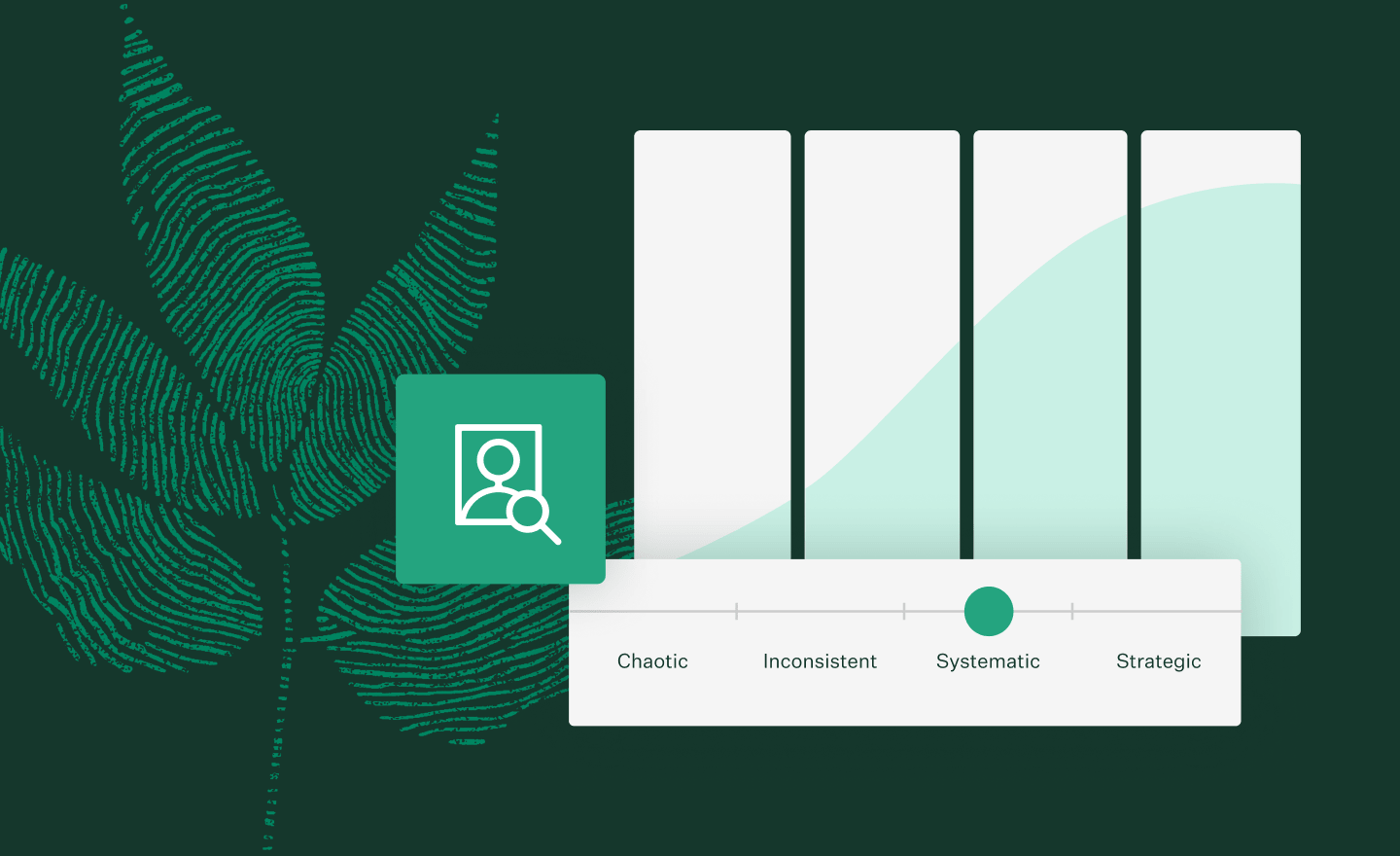 Climbing the Greenhouse Hiring Maturity™ curve
Once you've understood the Greenhouse Hiring Maturity™ curve and taken the assessment to see where your team currently sits, what happens next? This is the time to start taking action. The great news is that no matter where you fall on the Hiring Maturity curve, there are changes you can make now to start improving your hiring process. This article outlines many actions you can take – remember to start small and pick just one or two focus areas as you start driving significant change in your hiring efforts.
We've identified four important competencies within hiring to work on as you move up the Hiring Maturity curve:
Identifying and attracting the best talent for your organization
Owning every moment of your hiring experience
Making confident, informed hiring decisions
Using data to drive operational excellence and improve over time
These four competencies represent the foundation of excellent hiring. By focusing on these specific areas, you'll be honing in on the essential skills and behaviors that your team needs to develop to become more strategic at hiring.
This article focuses on identifying and attracting the best talent for your organization. We've outlined recommendations to help your team move the needle and become more sophisticated in this particular area of hiring. Your company may not progress up the curve from Chaotic up to Strategic in a linear way, and that's completely okay. Read through each section and take the most relevant next step based on your organization – every small step is a move toward hiring excellence and achieving your business goals that much faster.
Identify and attract
What does it mean to identify and attract the best talent for your organization? Why should you focus on it?
Candidates make decisions about job opportunities at a company from the moment they land on your career page. How your company communicates your brand, culture and available opportunities impacts the reach of your organization and the quality of your candidate pool. Creating a seamless application process means that the right candidates can easily apply. Once in your pipeline, a well-structured hiring process and a clear line of communication will ensure that your candidates develop a good first impression of your company.
As companies climb the Hiring Maturity curve, we see them start to focus on a few key behaviors to improve their ability to identify and attract top talent.
Use your Hiring Maturity assessment results and company insights to assess where you currently sit – these corresponding suggested actions will help you get better over time.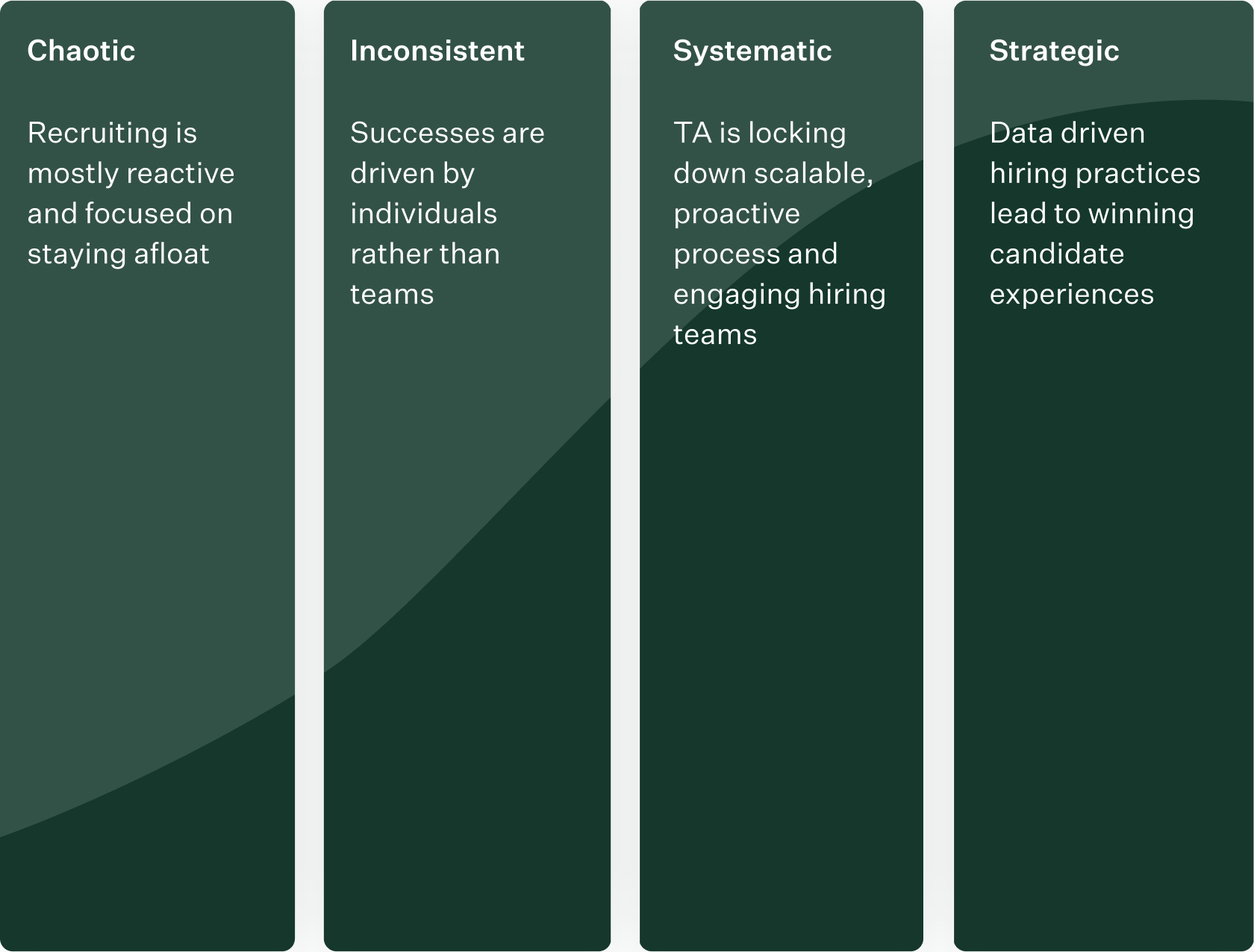 Company branding and application experience
Chaotic:

Invest in your career page. Even a light lift, like making sure that candidates don't have to leave your website to apply, can greatly improve the experience for job seekers. Get inspiration from these

awesome career pages

.

Inconsistent:

Improve your branded career page by making the application process as simple as possible. Don't ask candidates to create an account to submit an application and avoid having them retype everything that's on their resume. Instead, ask the most important questions and make it easy for the best talent to apply. Make sure your talent acquisition platform supports the type of application experience you want – easy resume upload, easy customization, multiple job posts (different languages/locations) and even multiple job boards.

Systematic:

Start thinking about branding the full application experience. What does the thank-you email look like after a candidate applies? How about when a candidate receives a confirmation for an interview? Align all elements of the process with your company's brand and be sure to incorporate and highlight your values to truly attract the best talent. Report on candidate quality by source to understand the diversity and success of your sources and better target your strategy.

Strategic:

Formalize best practices on your recruiting team – internal SLAs for candidate communication and keeping candidates informed of their progress throughout the interview process. This will pay dividends in the long run as you see a higher offer acceptance rate and positive Glassdoor reviews that will attract new talent.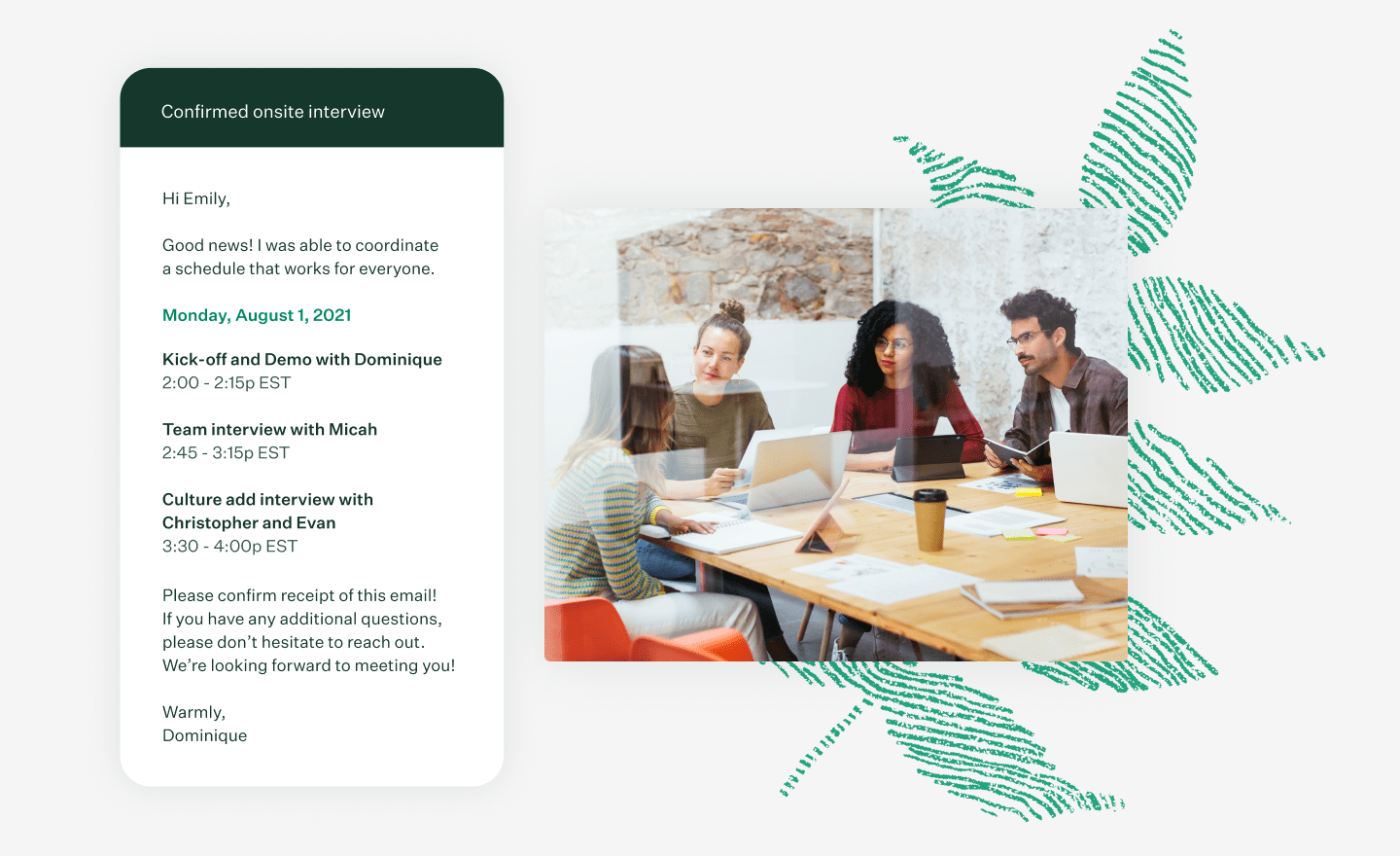 Employee engagement in the recruiting process
Chaotic:

Document a

referral submission process

so everyone can easily participate and track the referrals they submit. This is most accessible with software that allows all users to simply upload a resume and then automatically sends the referral to the recruiting team for review and evaluation.

Inconsistent:

Offer incentives for

referrals and reward engagement

as well as results, such as a cash bonus, company-branded gear or a fun raffle every quarter. Having an incentive, even a seemingly small one, in place can help to keep referrals top of mind for your employees and build the team's hiring mentality.

Systematic:

Encourage internal mobility. As you continue to grow, make sure any opportunities that can be filled internally are shared with current employees, along with a clear process for internal role change. It will help you keep the great talent you already have for the long term.

Strategic: Your company is now a recruiting engine! Formalize KPIs that you want to measure around the talent being brought in by referrals and internal movement. Carve out a space to celebrate these metrics in a quarterly report or all-hands meeting.

The more varied your candidate sources are, the stronger your talent pipeline will be. Strive to have no single source make up more than 60% of your pipeline for a solid mix.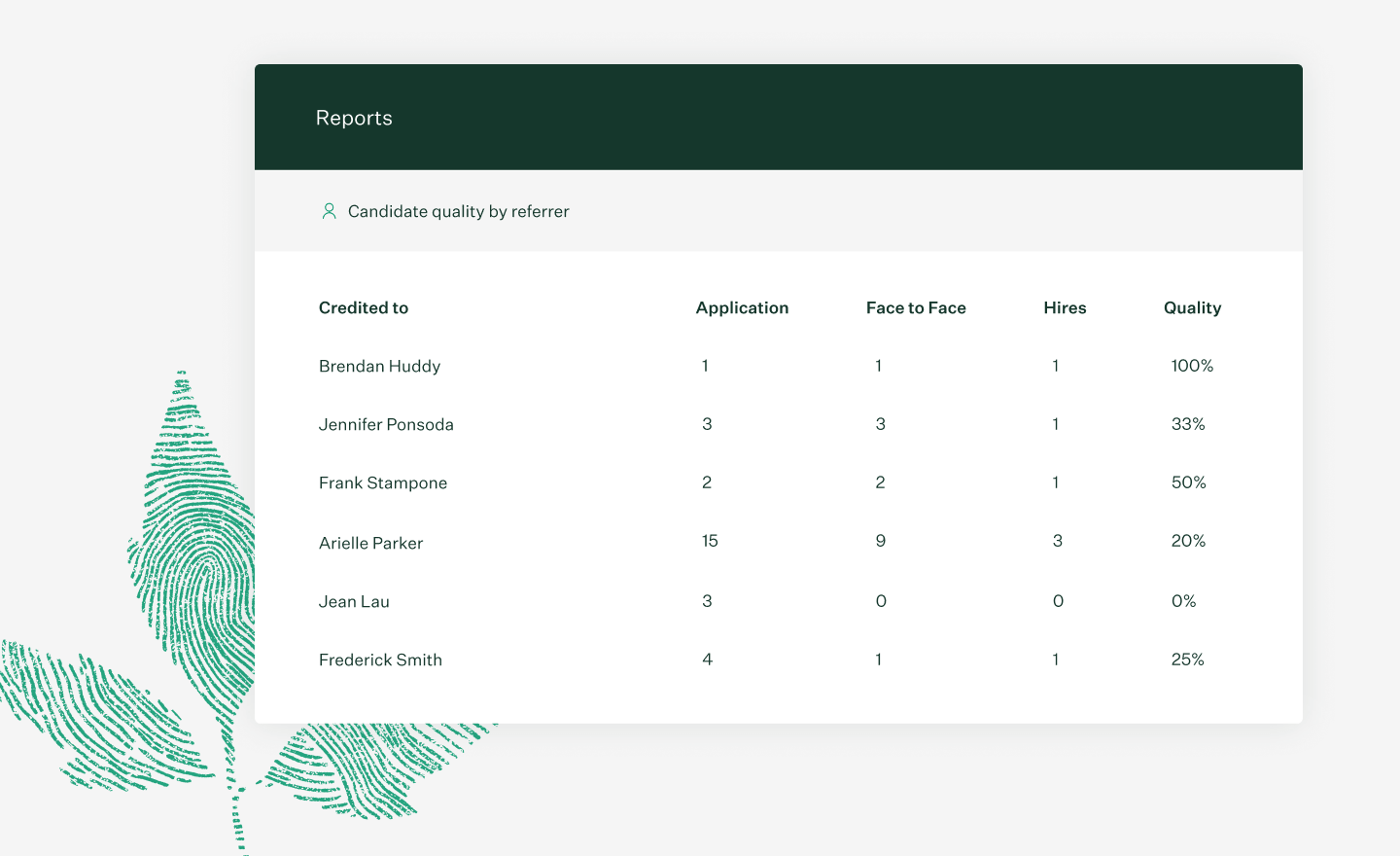 Attracting job seekers and passive candidates/sourcing tech stack
Chaotic:Be proactive by directly sourcing hard-to-fill roles. Don't wait for great candidates to come to you – go out and find them yourself.


Post to free and premium job boards to get the word out about your openings. Leverage Indeed, Glassdoor and LinkedIn. Consider a tool like ZipRecruiter to truly amplify your reach.

Inconsistent:

Set up a strategy that consistently organizes your

existing talent base so you can easily tap into that pool for any new openings. This means reconsidering past applicants, reviewing prospects who never applied and nurturing relationships with passive candidates over time.

Start prospecting and sourcing for every role, not just the hard-to-fill ones. This will help you build a consistent process to attract top passive talent.
Systematic: Ensure your entire tech stack is working well together. Evaluate whether all your key sourcing tools (LinkedIn, Glassdoor, Hired, etc.) can fully integrate with your talent acquisition platform.
Make sure your in-person or virtual event brand reflects your employer brand with well-designed materials and a consistent, easy method to collect info. Tools like a recruiting events mobile app can differentiate your organization at in-person events.

Strategic:

Collect applications from candidates who might not be interested in any open roles. Building on the foundation of your talent base, add opportunities to your career page for job seekers who don't see a current role that aligns with their experience and goals.

This will allow passive and active candidates to join your talent pool, whether for near-term opportunities or as part of your candidate network for future roles. The right tool will allow you to collect the data you need to review them and reach out when the right opportunity opens!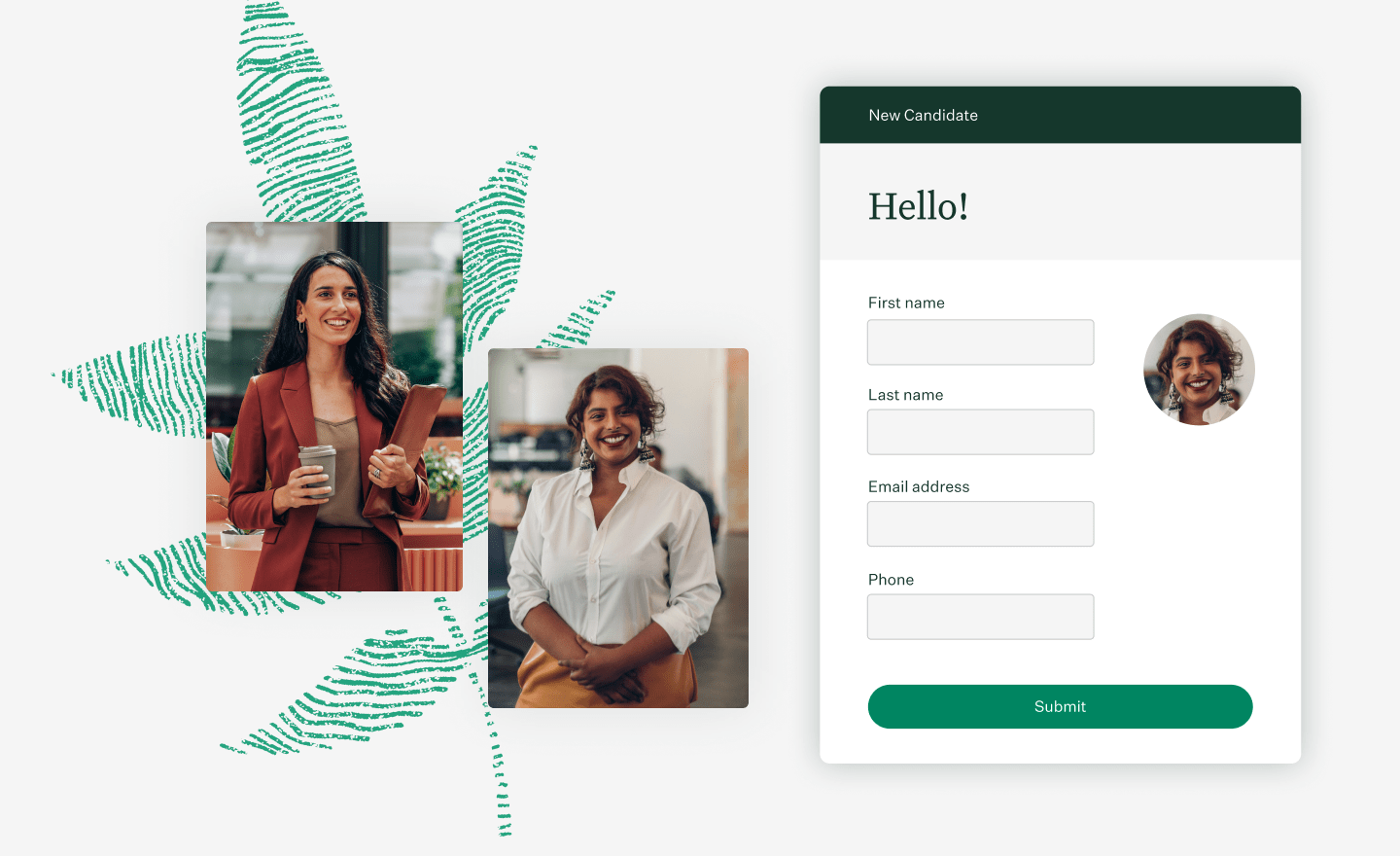 Diversity, equity and inclusion
Chaotic:

Start by identifying an executive sponsor to help define and map out your company's

DE&I strategy

.

DE&I is a journey

and requires ongoing commitment, and this will help lay the groundwork as you move forward.

Inconsistent:

It's time to systematize your DE&I goals and efforts.

Consider investing in a tool

that can help you share your DE&I commitment and keep the right behaviors at the forefront for everyone, especially within your recruiting process.



Systematic: Build a DE&I recruiting strategy in which you discuss DE&I frequently and thoughtfully, start employee resource groups (ERGs) and set specific goals around what diversity should look like at your organization. Your recruiting team needs to play an extremely active role in building a network in the areas where you hire. Reach out to local groups and hold events.
Strategic: Report on your progress toward your goals in a consistent, company-wide forum. The work in this area is continuous. Unlike some of the other Hiring Maturity recommendations, this is not a box to check.

The most strategic companies commit to constantly reflecting, changing and moving the needle, with full buy-in all the way up to the executive level. Share your progress on DE&I metrics/goals consistently, clearly and widely.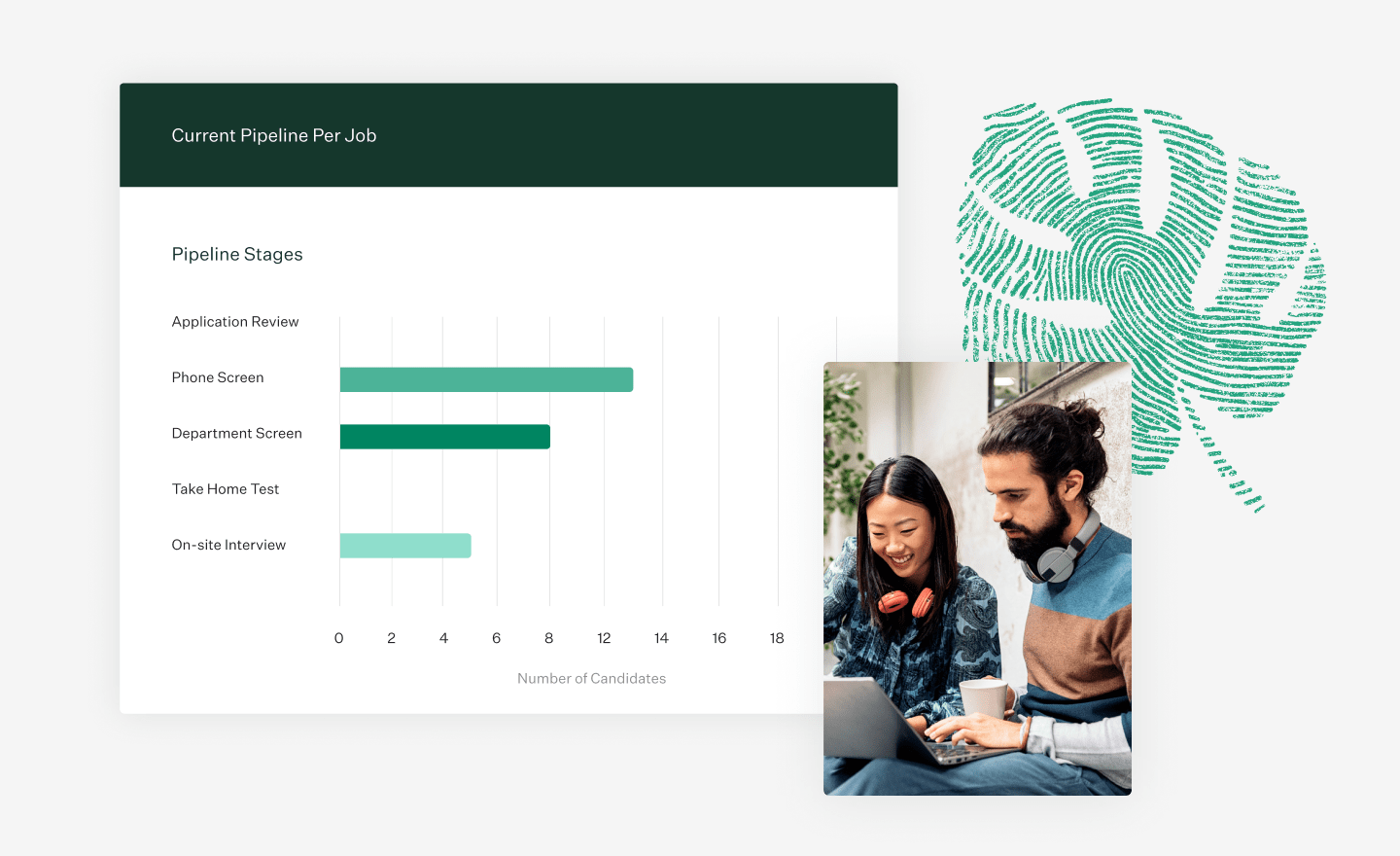 Before you hit the ground running with the above recommendations, be sure to take the time to reflect on whether identifying and attracting high-quality talent is the area your team needs to focus on right now. If it is, pick one or two of the recommendations and get started. Set goals, check in on any progress and don't forget to celebrate the small and big milestones you achieve along the way.
Check out our on-demand webinar for an in-depth tutorial on the Greenhouse Hiring Maturity curve methodology.