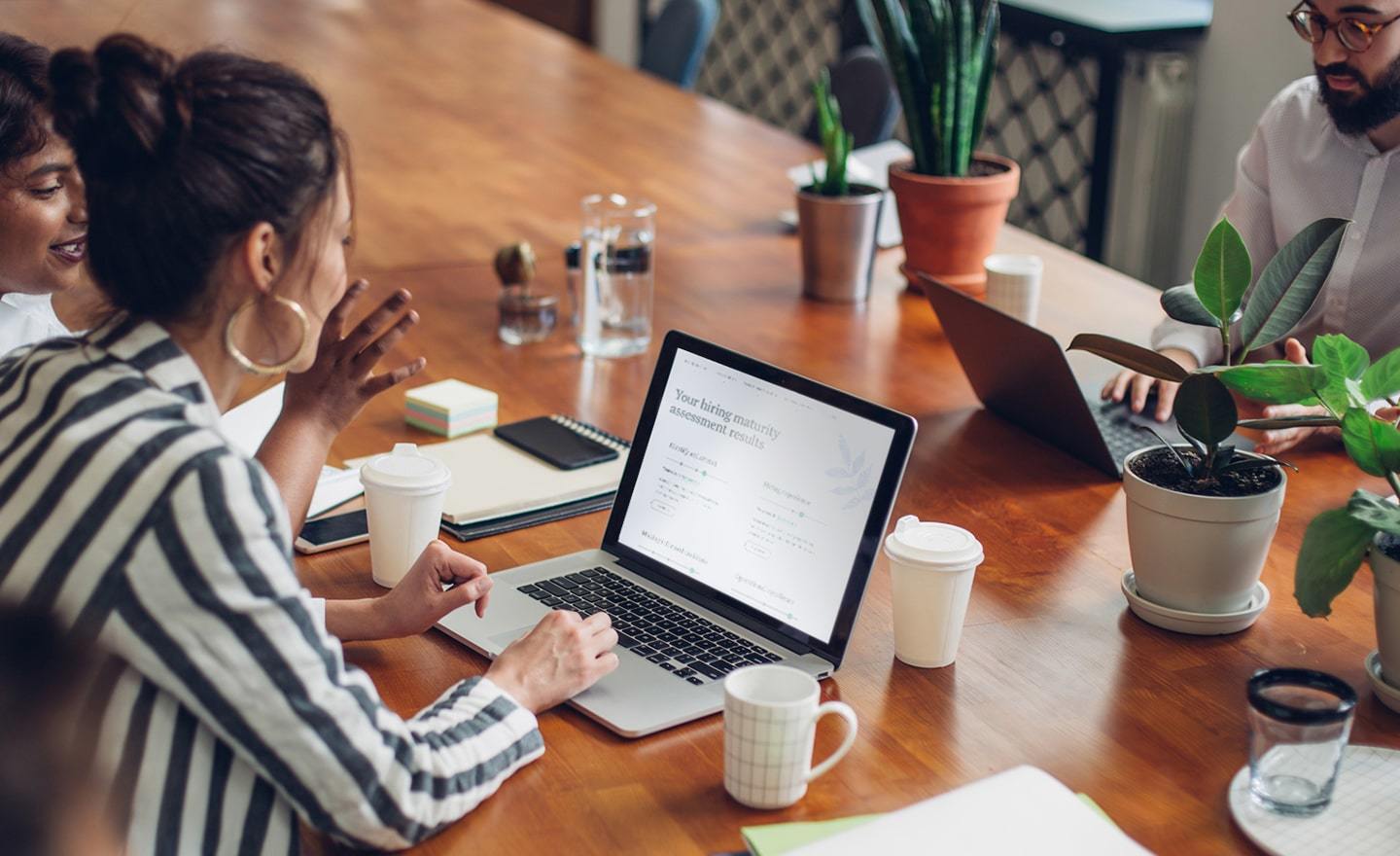 There's a curve that companies climb as they improve their hiring process – we call it the Greenhouse Hiring Maturity curve. This curve answers the questions we hear most frequently in working with thousands of companies, including:
How are we doing?
What are we doing that's better or worse than everyone else?
What could we do to get better?
There's no easy way for talent teams to compare themselves to their peers, so they mostly have only a vague idea of how they can improve.
We've observed so many teams get stuck in the weeds doing the tactical work of making today's hires. They're so busy executing on urgent activities that they don't have the time or capacity to create an effective process. Yet true, transformational success only comes when you take the time to step back and figure out how to build new, lasting capabilities.
To understand how to get better at hiring, it's worthwhile to see where your company currently exists on the Greenhouse Hiring Maturity curve. Even if you're not actively hiring right now, becoming great at hiring will help you bring in top talent tomorrow and beyond so you can better achieve your business goals.
In this post, we'll walk through the four stages we see companies go through with their hiring process and the characteristics of each one: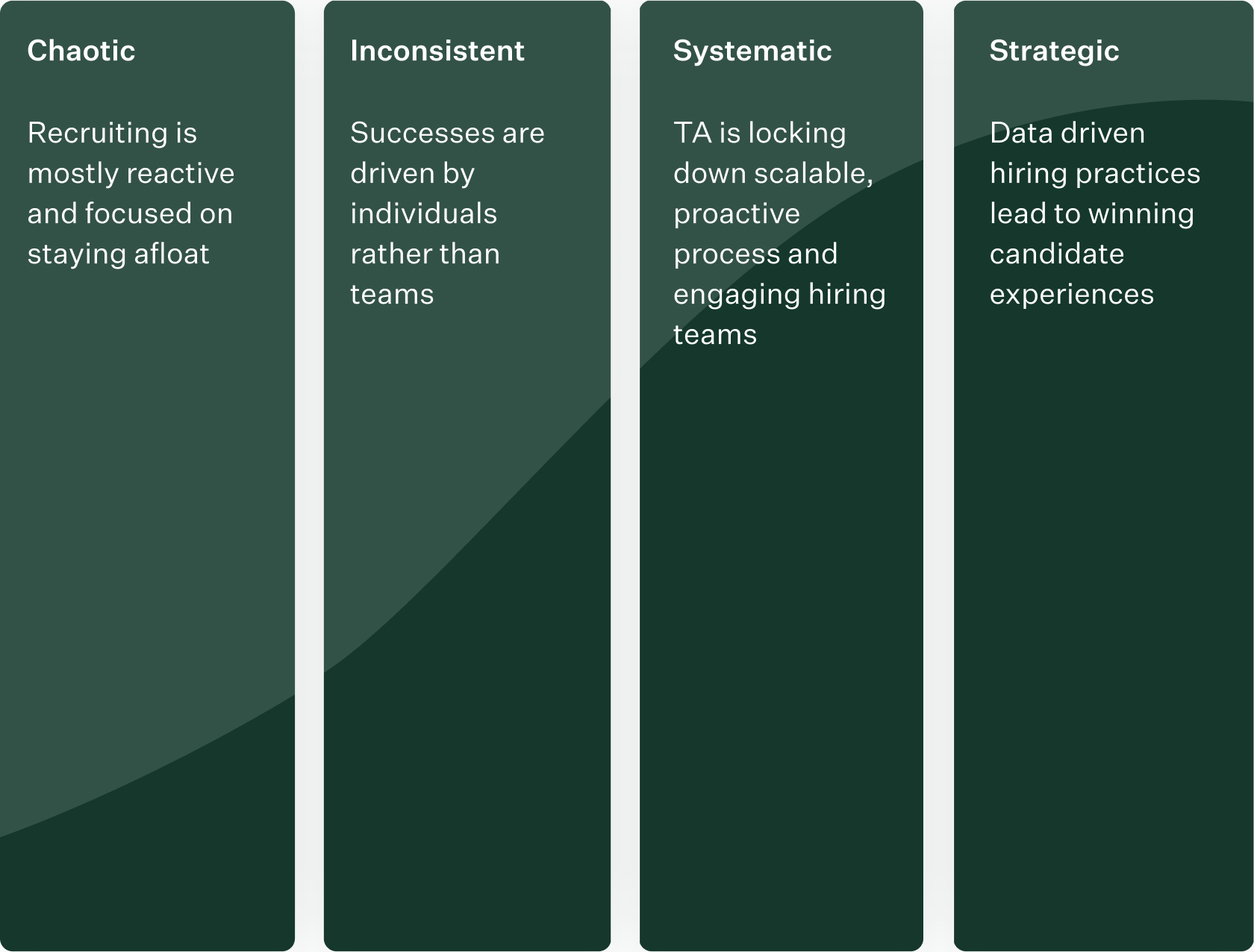 First, a caveat: Placing a company into one of these Hiring Maturity curve stages is just the beginning. The goal here is for the entire organization to become better and more effective at hiring over time. Different parts of an organization typically mature at different rates. It's also possible for an organization to be mature in one discipline, like candidate experience, while lagging in another, such as operational rigor. Keeping that in mind, here are general characteristics of the four different stages of the Hiring Maturity curve.
Chaotic
If you've worked at a few different companies, you've probably come across a chaotic hiring situation. It is most easily identified by a mistrust between the recruiters and their business partners. The recruiters feel they aren't getting the support they need and just get orders handed down to them from above. The hiring managers don't have confidence in the recruiters, so they work around the system, frequently bringing in their own agencies and finding their own candidates. There's usually a lot of the "blame game" going on as everyone points fingers at each other, and very little real or accurate data that speaks to the candidate pipeline or hiring performance. These organizations are the ones that pop up in horror stories on Glassdoor about terrible interviewing experiences. It's important to recognize that this state of affairs has nothing to do with the size of the company, or even whether a company has an ATS. It's all about how recruiting is viewed and supported within the business.
Inconsistent
The usual way a company gets out of the Chaotic stage is by lucking into a really great individual recruiter. Through force of will, such an individual is able to bend the organization to work together and actually make a bunch of hires. These recruiters are heroes and almost always greatly appreciated by their internal partners. BUT, it's a fragile situation. If – OK, when – that individual leaves the company (or even takes vacation), the whole thing collapses back into chaos. And when you try to scale, these folks inevitably get burned out. The truth is, there still isn't a repeatable, predictable hiring process and the Inconsistent stage is a vulnerable place to live. It's also the most common stage we see companies in when they are just starting to use Greenhouse. They've realized that the way forward isn't through more heroes but through the application of a consistent process.
Systematic
Companies often see the fragility of the Inconsistent stage and institute real processes to graduate to Systematic. In that stage, when new people join the company, they go through standard training in how to participate in the hiring process. The recruiting process is supported by technology that then generates high quality data that can be used to understand what's actually going on. Another characteristic of the Systematic stage is that consistency develops across the organization as each team is held accountable for working in the same way rather than just inventing processes on their own.
Strategic
Once a company reaches the Systematic state, for the first time, they can aspire to the Strategic level. That's where recruiting becomes a competitive advantage for the company. There is a differentiated candidate experience, data is used to drive continuous improvement, structured hiring is used to drive consistent, unbiased decisions, and pools of high quality candidates (internal, referrals, silver medallists, etc.) are leveraged over widespread and random outreach. Another key transition is when the relationship between hiring managers and recruiters can be characterized by true partnership, with collaboration around role kickoffs, mutual accountability and a shared understanding of progress.
While only a small proportion of companies actually make it all the way to the Strategic stage, they are the ones who write the best blog posts and make everyone else feel terribly insecure. The key is to figure out where you are today and what will get you to the next logical steps, even if you still have a ways to go to get to the very top.
Build a strong hiring process today to prepare for whatever tomorrow brings
Perhaps you're in a phase of low or slow hiring, or hiring isn't an immediate business priority. This time presents an opportunity to do the important foundational work to build a structured, repeatable and scalable hiring process. Also, you can focus on getting everyone in the company aligned on the importance of hiring. A low-volume hiring period is the perfect time to do the planning and developing work to prepare your business for an eventual hiring uptick.
By focusing on improving key areas of your hiring strategy now, you'll be ready to hit the ground running when the situation changes. Using our Hiring Maturity methodology, you can improve your hiring performance and identify areas of opportunity, no matter what phase of hiring you're in.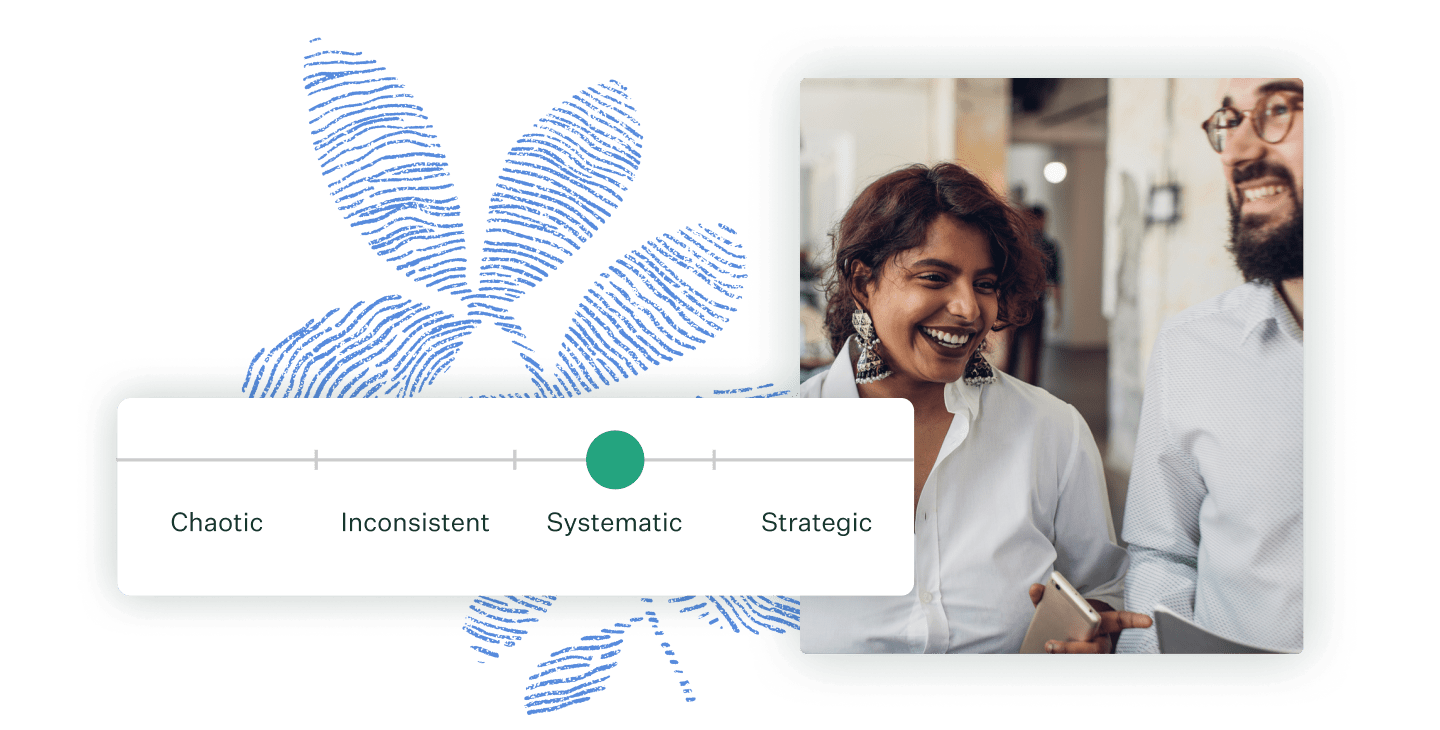 Take the Hiring Maturity assessment to see where you are on the curve – and how to move up.
---

This article was co-written by Jon Stross and Rosa Gandler.
Jon Stross is the President and Co-Founder of Greenhouse. At Greenhouse, Jon drives the product strategy and works closely with customers and partners to build a platform that improves recruiting performance. Before founding Greenhouse, Jon served as the GM for BabyCenter.com and was responsible for the global rollout of the business.
Rosa Gandler is a Senior Operations Manager at Greenhouse. Rosa has honed her expertise in the talent acquisition space, initially as a recruiter and then through direct work with hundreds of Greenhouse customers. Now, she focuses on making the customer success team as strategic as possible with streamlined, efficient processes.