If you work with agencies, Greenhouse Recruiting includes an agency portal where agencies can submit candidates in one convenient location. This portal is a simplified version of the Greenhouse Recruiting dashboard where the recruiter can see a limited list of their candidates and available jobs.
Agency and recruiter setup
Add an agency and assign a recruiter to a job
Agencies can be created on the Sourcing page.

When you're ready to create a new agency, scroll to the Agencies section and select Manage Agencies.

On the Agencies page, click Add Agency to create a new source.

Next, click Add Recruiter to register a new recruiter account. After you enter their name and email address, the recruiter will receive an enrollment email to create an account.

Click here for more information on creating an agency.
Assign job to a recruiter
After a recruiter account has been created, click Add/Remove Jobs to assign them to a job post.

Select the jobs that the recruiter should have access to. In the agency portal, recruiters will only be able to submit candidates to their assigned posts.

Disable the recruiter
If you need to remove a recruiter, select the Disable recruiter button on their recruiter profile.

Resend enrollment instructions
You can resend a recruiter's enrollment email by selecting the button next to their name.

If you need to modify the recruiter's information, select Edit

.
The agency portal
When recruiter logs into the agency portal, they will only be able to view whether candidates they referred for their assigned jobs is active, rejected, or hired.

Site Admins can allow recruiters to see the interview stage under Configure

> Permissions Policies. Giving recruiters access to this information will reduce the amount of communication required to keep agency recruiters up-to-date.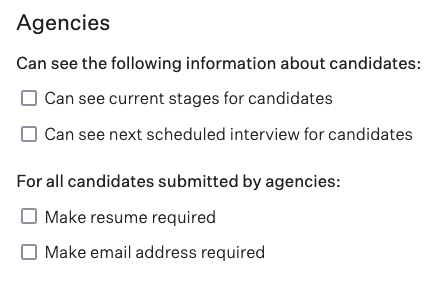 Identify an agency submission
During application review, an agency-referred candidate will be marked in the top right corner of their candidate profile.

Additionally, a list of available candidates can be found under the Sourcing tab.

Job Admins can configure additional notifications so that specific users receive emails when an agency recruiter submits a candidate for a job. This setup is completed on the Notifications tab on the Job Setup page.

Click here for more information.