Permissions: Site Admin
Product tier: Available for all subscription tiers
Pronouns are personal and profoundly important facets of our identity, and it's important for hiring teams to make sure they know the specific pronouns each candidate uses. Knowing and using a candidate's personal pronouns is a positive way to support them in your hiring process and demonstrate a company culture of Diversity, Equity, and Inclusion.
The candidate personal pronouns feature makes it easy for your company to invite candidates to share their pronouns at the appropriate stage in the hiring process, then displays a candidate's pronouns clearly to interviewers to help create a respectful, comfortable interviewing experience.
Enable candidate personal pronouns
To enable candidate personal pronouns, click the Configure icon

from your navigation bar. Click Inclusion Tools on the left.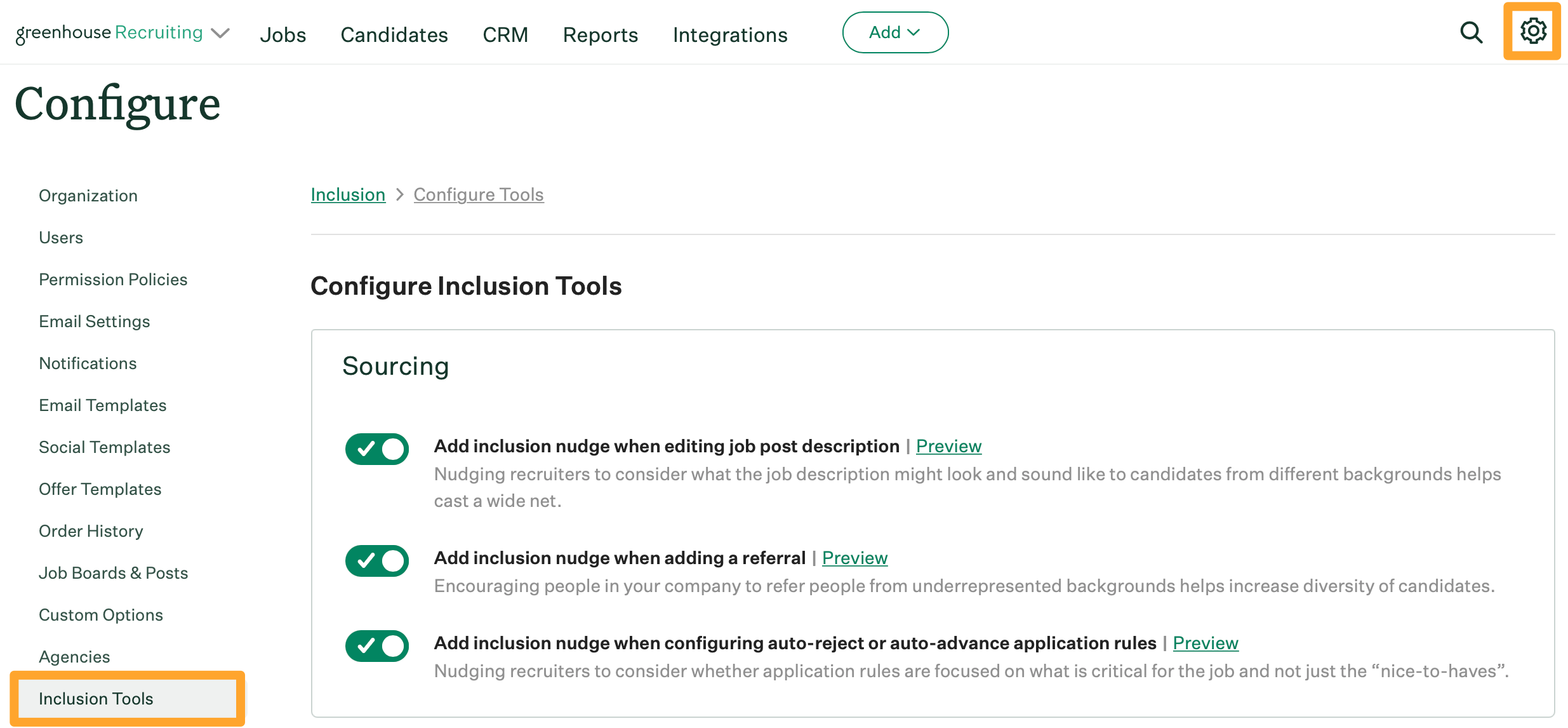 From the Inclusion Tools page, scroll down to the Interviewing panel and click the toggle inline with Prompt candidates to provide their personal pronouns so a checkmark appears.
Note: Once enabled, the candidate pronouns feature is turned on for every job. It is not possible to enable this feature for only select jobs or candidate availability requests.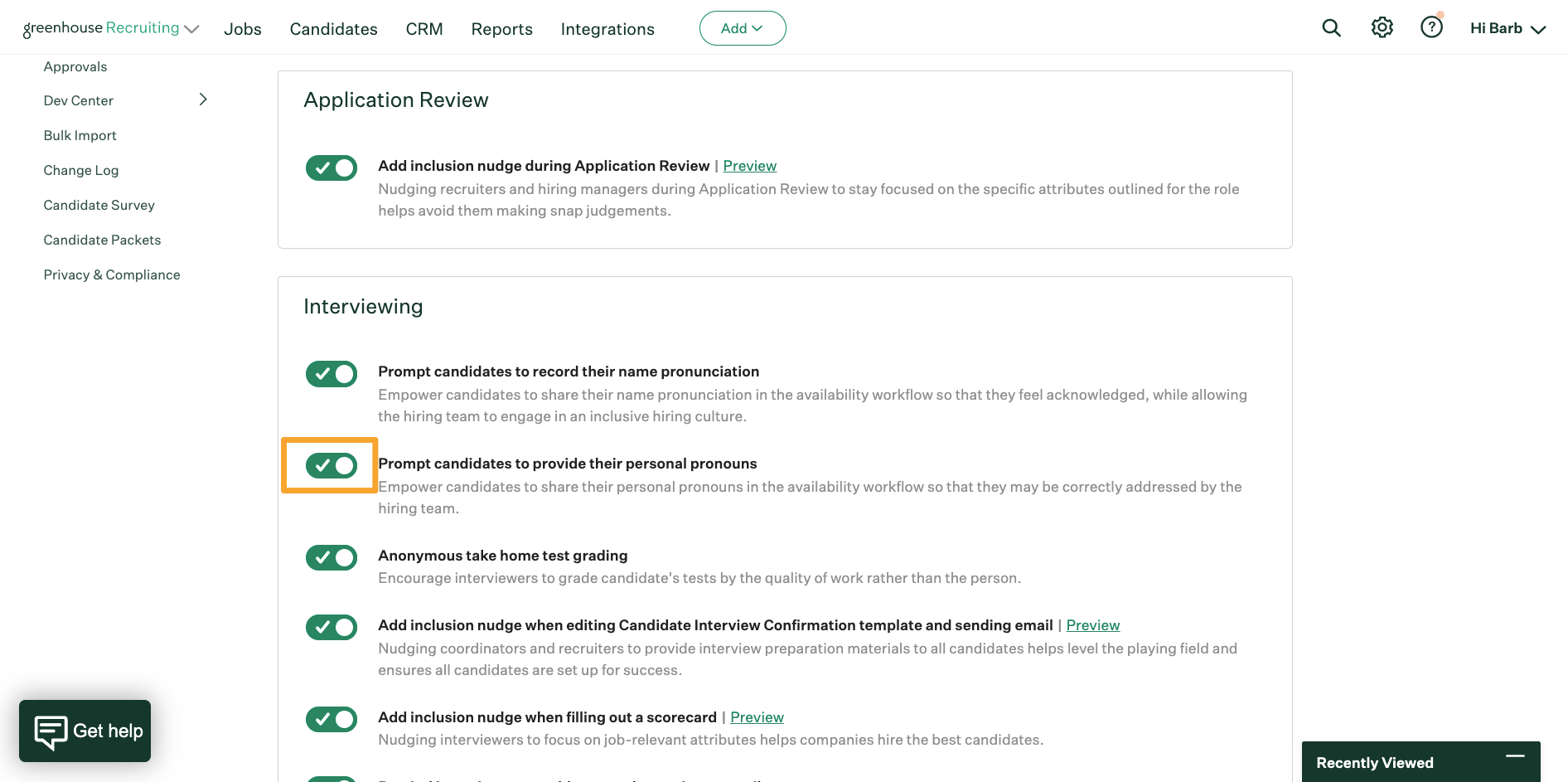 Moving forward, each candidate who receives an availability request email will see the option to provide their pronouns at the bottom of the Submit Availability page.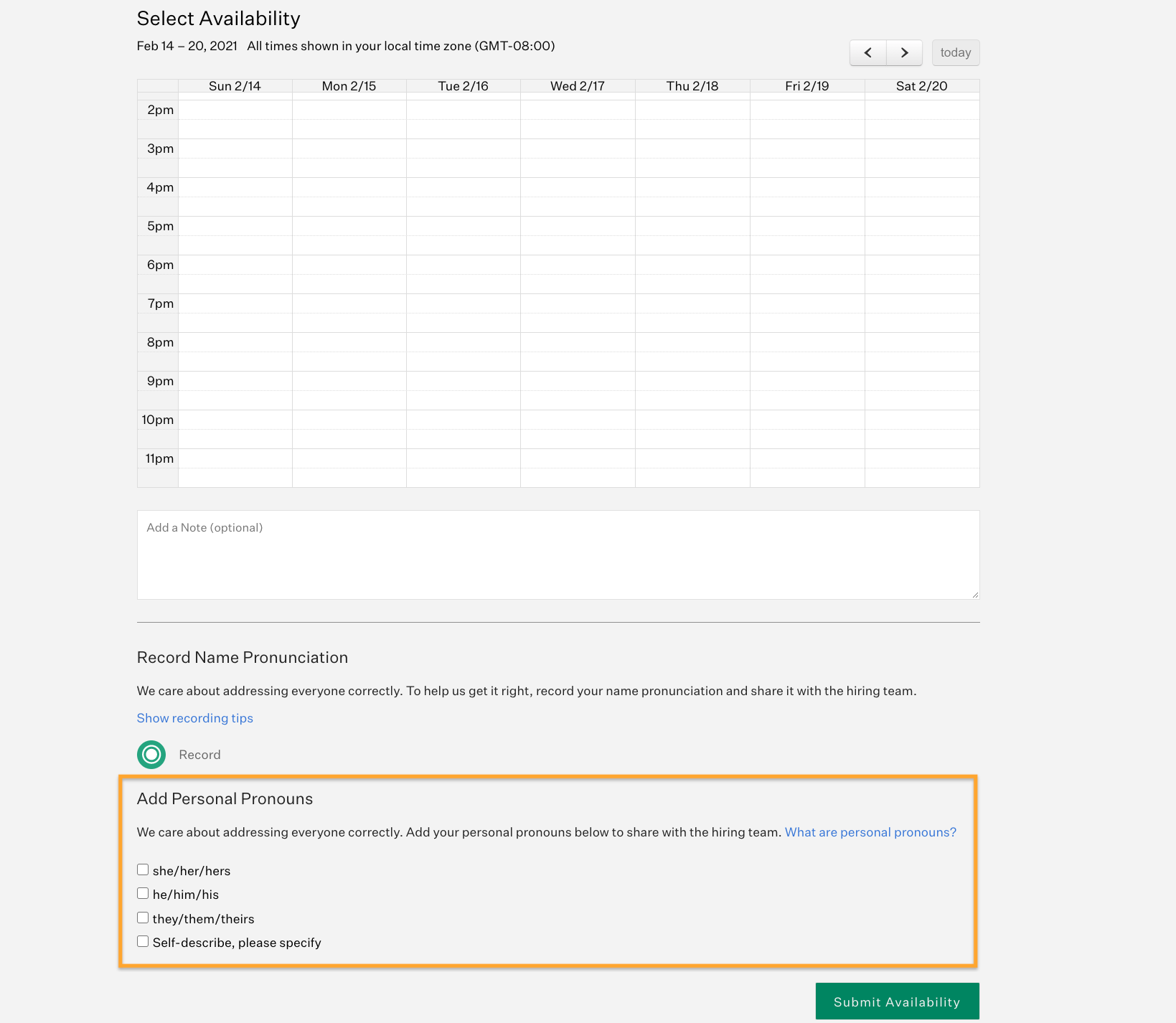 Candidates have the option to select one or more of the following choices:
she/her/hers
he/him/his
they/them/theirs
self-describe, please specify (when selected, this option presents a free-text field)
For candidates who might not be familiar with sharing their pronouns, clicking What are personal pronouns? provides more context.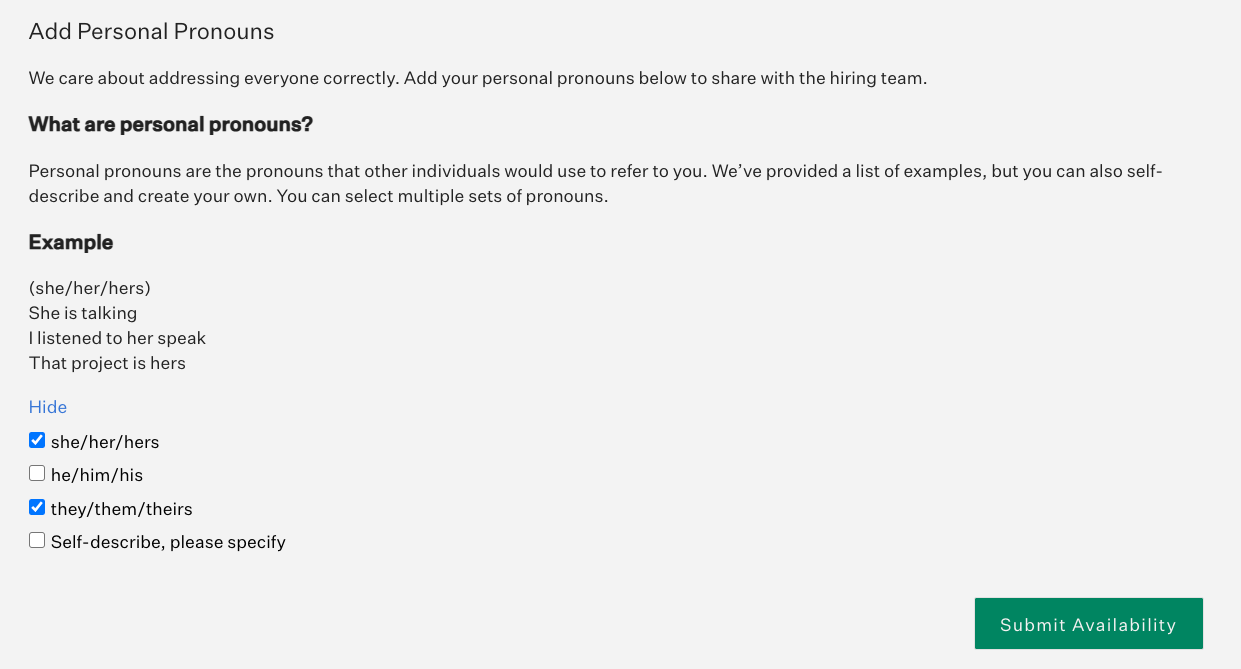 Candidates who provide their pronouns will not be prompted to provide them again if they are sent additional availability requests during their interview process.
View candidate personal pronouns
Submitted candidate pronouns are available in three locations:
At the top of the candidate's profile, below the candidate's name.

Within every interview kit for the candidate.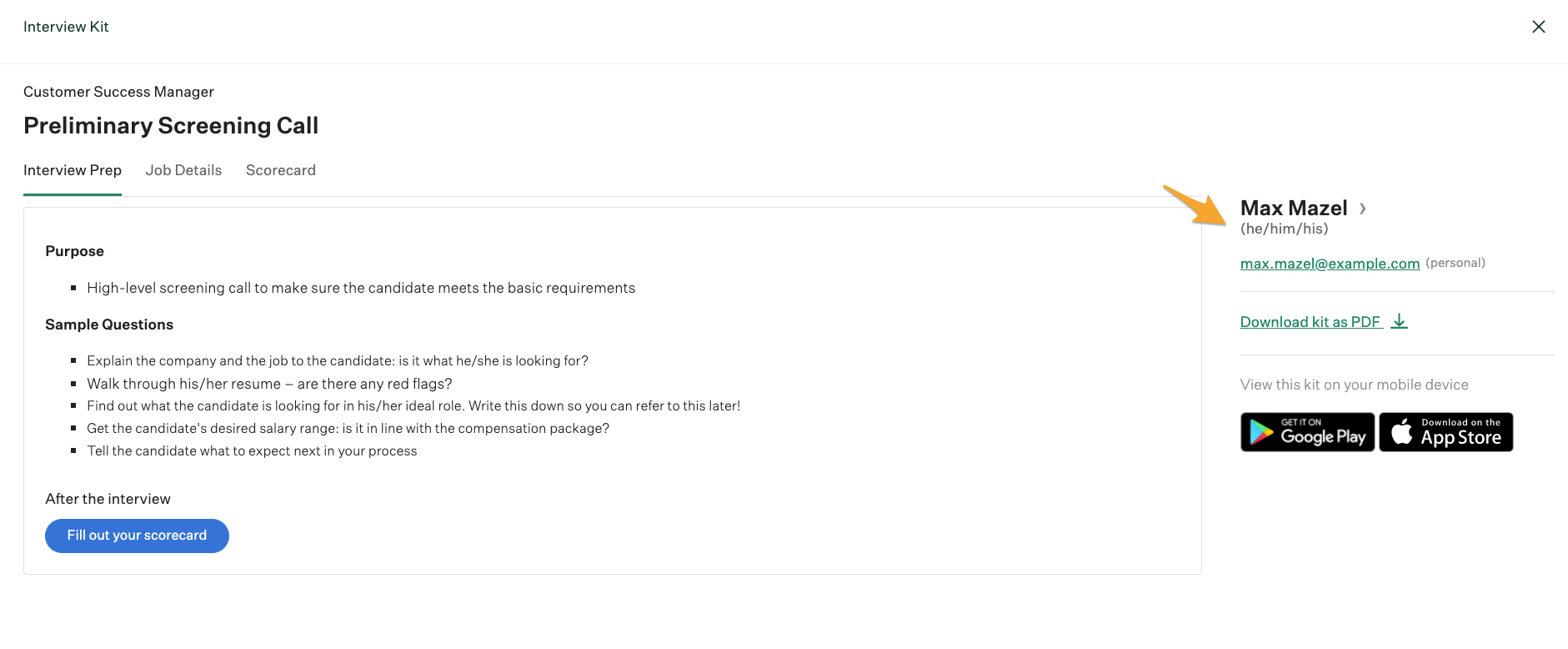 From the candidate's Details tab > Additional Details panel.

Surfacing a candidate's pronouns in these locations ensures all users who might interact with the candidate have appropriate access to this information.
To preserve candidate privacy, candidate pronouns are not exposed in any of the following:
Essential reports, including candidate reports
Integrations / third-party partners
Harvest API
BI Connector
Only users with permission to view a candidate can view the candidate's pronouns.
Delete candidate personal pronouns
Job Admin or Site Admin can delete a candidate's pronouns if necessary.
Note: Deleting candidate pronouns is a permanent action. This action cannot be undone.
To delete a candidate's pronouns, navigate to the candidate's profile and click the Details tab.
Navigate to the Additional Details panel and hover your cursor over the Personal Pronouns field. Click the Delete icon

.

In the subsequent dialog box, click Delete to confirm you wish to remove the candidate's pronouns permanently.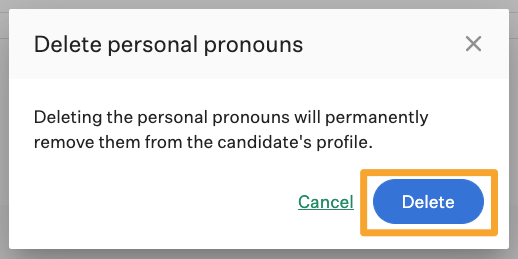 Organizations using GDPR or other data privacy configurations can delete candidate pronouns as part of the data anonymization process. Click here to learn more.