Idealist is a nonprofit organization that offers job and internship postings on its site. With a mission to help build a world where all people can lead free and dignified lives, the job board offers low-cost job listings for nonprofits, government agencies, social enterprises, and other social businesses.
Greenhouse Recruiting's integration with Idealist allows your organization to automatically post your jobs to the Idealist job board.
Find your job board token
To make your job posts available to Idealist, you'll need to send your job board URL / job board token to Idealist.
You can find your job board URL by navigating to Configure > Job Boards & Posts > Ellipsis icon next to your job board > Edit Board Settings, then scroll to the URL field.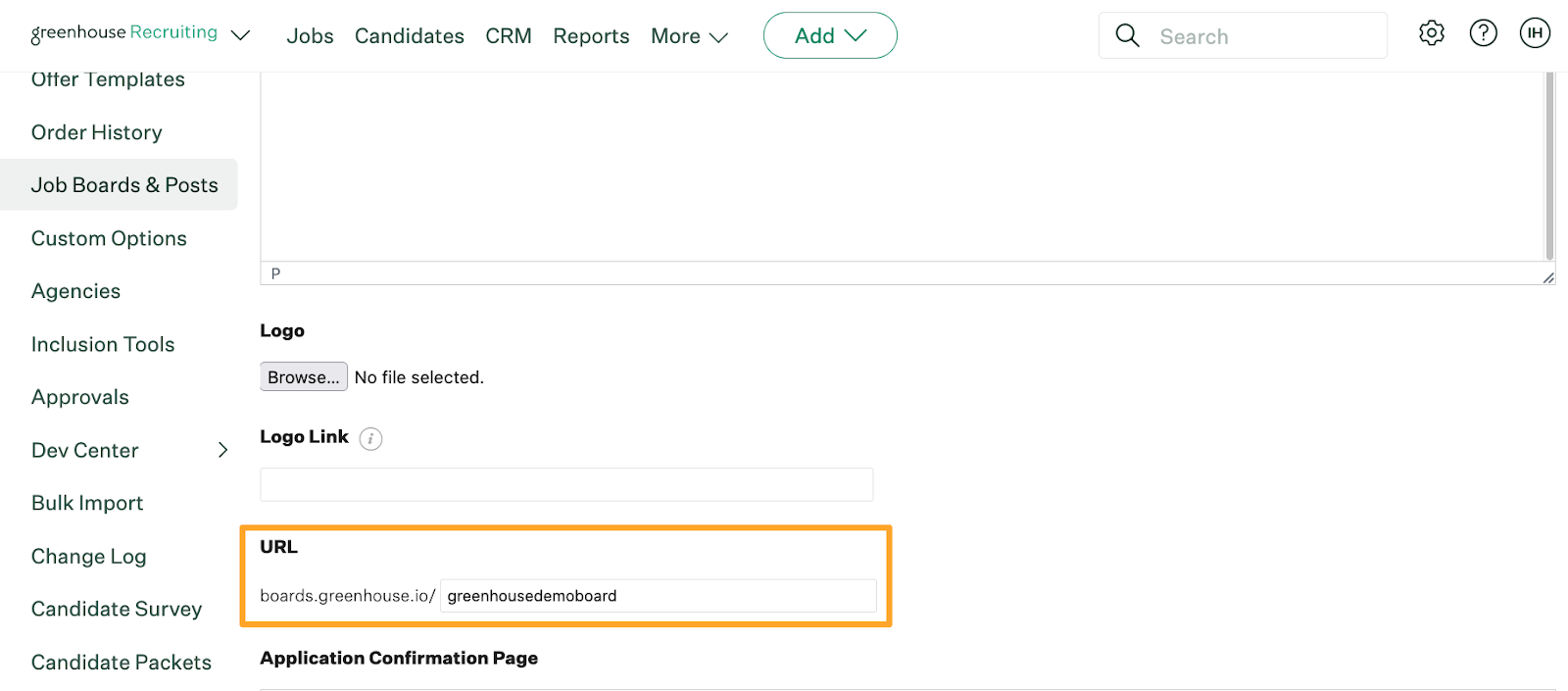 Once you have this URL, copy it to send to Idealist in the next step.
Click here for a more detailed walkthrough of locating your job board URL.
Enable the Idealist integration
Next, contact Idealist by visiting their Contact page or by emailing support@idealist.org to request they enable the Greenhouse Recruiting / Idealist integration with your organization's existing Idealist account.
Be sure to contact Idealist using an email address listed as an administrator on your organization's Idealist account.
Be sure to include your job board token in the message.
Once the Idealist team confirms the integration is complete, you'll be able to access the Greenhouse Recruiting menu within your organization's Idealist Dashboard!
Use the Idealist integration with Greenhouse Recruiting
From the Idealist Dashboard, log into your Administrator account and click Greenhouse on the left.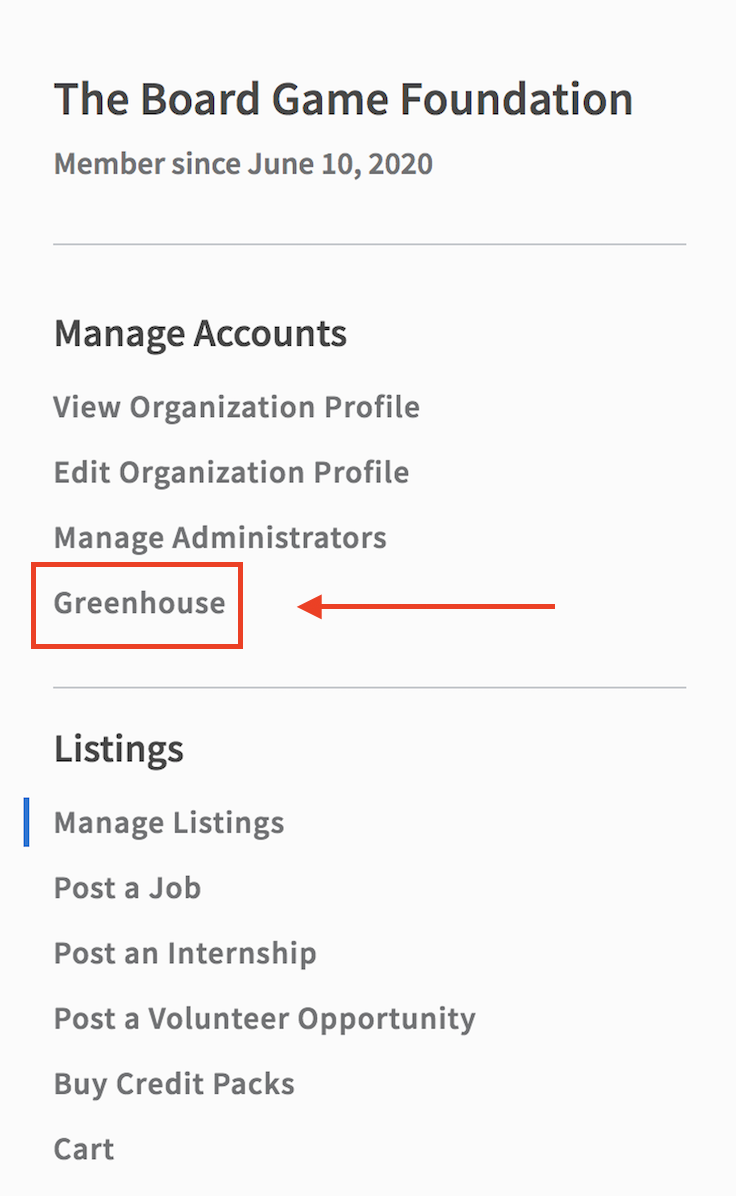 The Greenhouse Integration page allows you to manage how jobs are shared from your Greenhouse Recruiting job board with Idealist, as well as view all of your organization's jobs that are currently posted on Greenhouse Recruiting.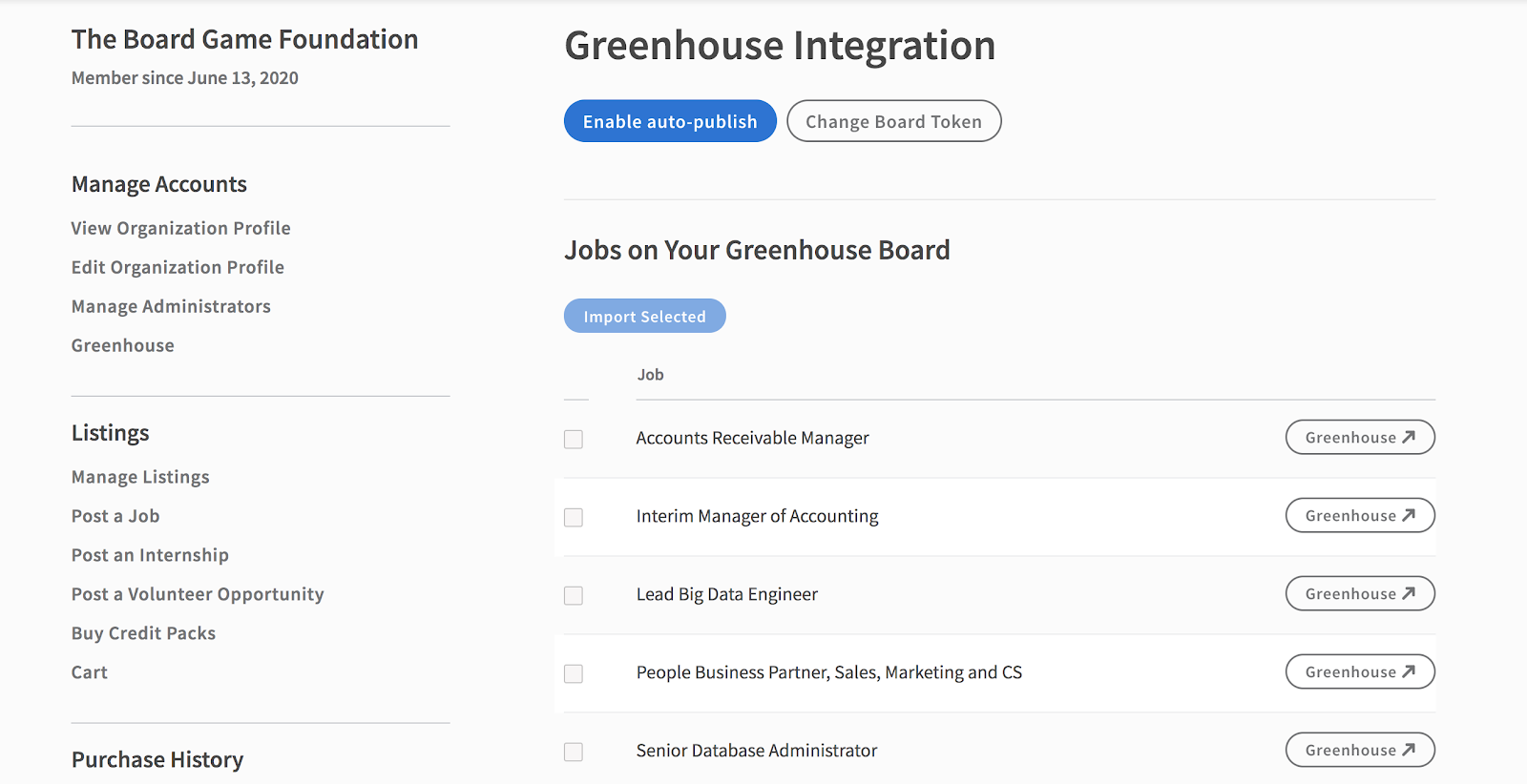 Click Enable auto-publish to post all job posts currently on your Greenhouse Recruiting job board to Idealist. Additionally, any future jobs you post to Greenhouse Recruiting will automatically be posted to Idealist.
Note: This option requires you to purchase Job Credit Packs from Idealist. Each job posted in this way will spend one (1) Credit.
To instead select which jobs you wish to import manually, do not enable the Auto-Publish option. Instead, click the checkbox next to the jobs you would like to import to Idealist and then click Import Selected. You will then input your invoice and payment information, and pay for these posts by credit card, check, or use of any Job Credits you have previously purchased.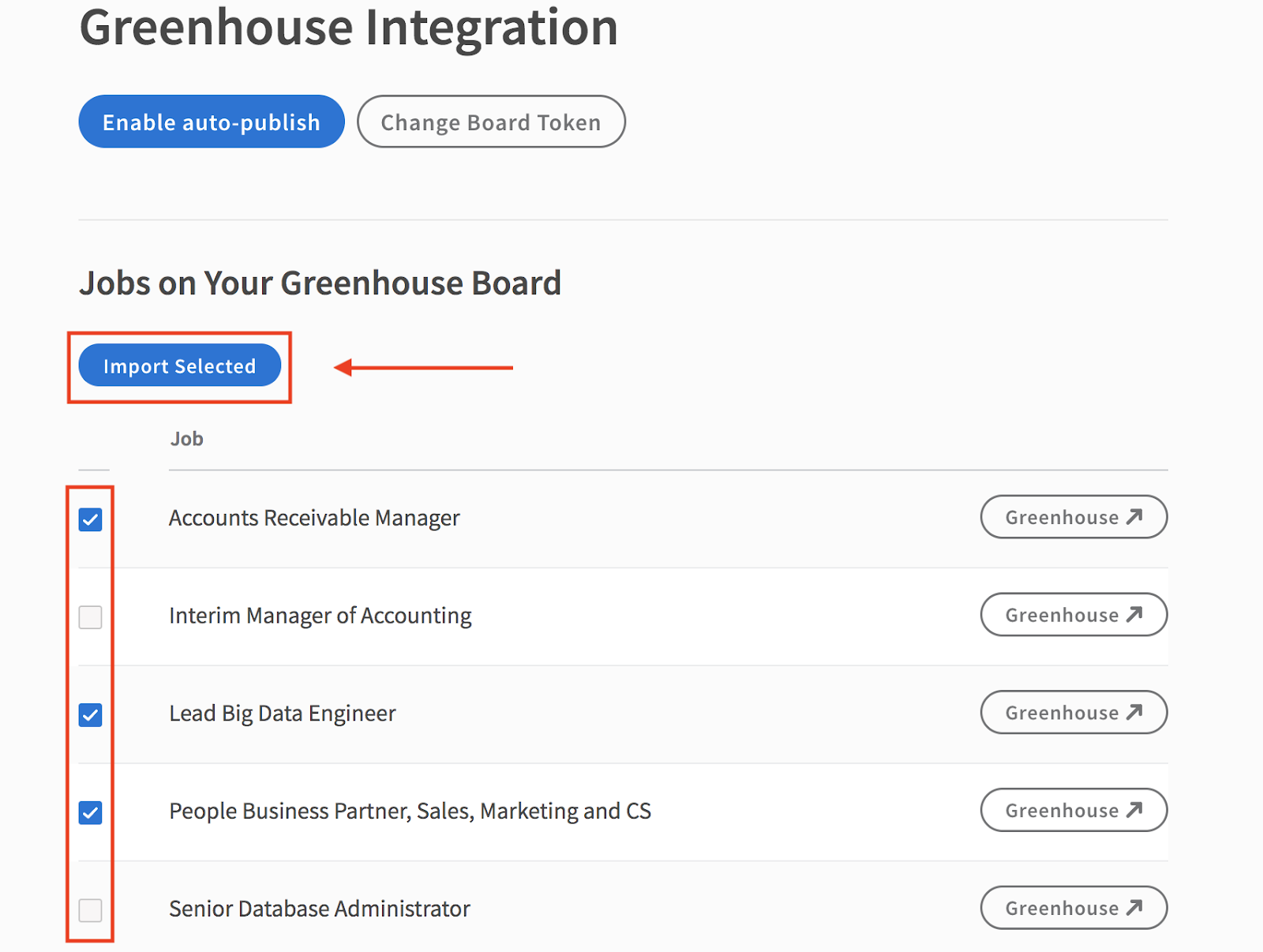 Once listings are live on the Idealist site, they cannot be edited via Greenhouse Recruiting. If you need to edit the listing on Idealist, please use the normal editing process for jobs on the Idealist website.
Note: Applicants for your jobs will be directed to the Greenhouse-hosted application to apply.