For over 25 years, idealist.org has been a trusted partner to over 135,000 social impact organizations—nonprofits, government agencies, social enterprises, and other social businesses—as they source the best talent who are passionate about building a better world. We offer job and internship posting on our site and through our Greenhouse integration, with easy-to-use technology that gets you on to your next task.

The Idealist community is made up of millions of users who come directly to the site and via daily email alerts. On average, they have eight or more years of work experience and previous experience in the nonprofit sector.

While fees associated with posting on other job boards might eat into your budget, as a nonprofit ourselves we value keeping costs low, with prices as low as $95 for single listings and discounts for bulk posting. Job and internship postings are also shared with a select group of external job sites at no additional charge to your organization, increasing visibility among the right audiences.
How to activate and use the Idealist integration with Greenhouse
Welcome to Idealist–we're so excited to get your jobs in front of our social action-oriented community! To get started with your Idealist integration in Greenhouse for the first time, please follow the below steps.

To be able to post your Greenhouse jobs on Idealist, we'll need your Job Board Token. This will be the unique part of your board's URL on Greenhouse. For example, Idealist's URL on Greenhouse is boards.greenhouse.io/idealist, so our Job Board Token is "idealist."

Idealist will use that token to pull all of the jobs you want to publish on our site. To learn more about Job Tokens on Greenhouse, please visit this Greenhouse Help Center article.



Contact us by visiting our

Contact page

or by emailing us at

support@idealist.org to request that we enable Greenhouse integration with your organization's existing account on Idealist. Please do the following to make sure we have the information needed to enable integration:

Contact us using an email address listed as an administrator of your organization's account on Idealist

Include your Job Board Token in your message to us


Once we confirm that the Idealist integration is complete, you'll be able to access your Greenhouse menu within your organization's Dashboard on

https://idealist.org.

Log in to your administrator account, then click "Greenhouse" on the menu to the left.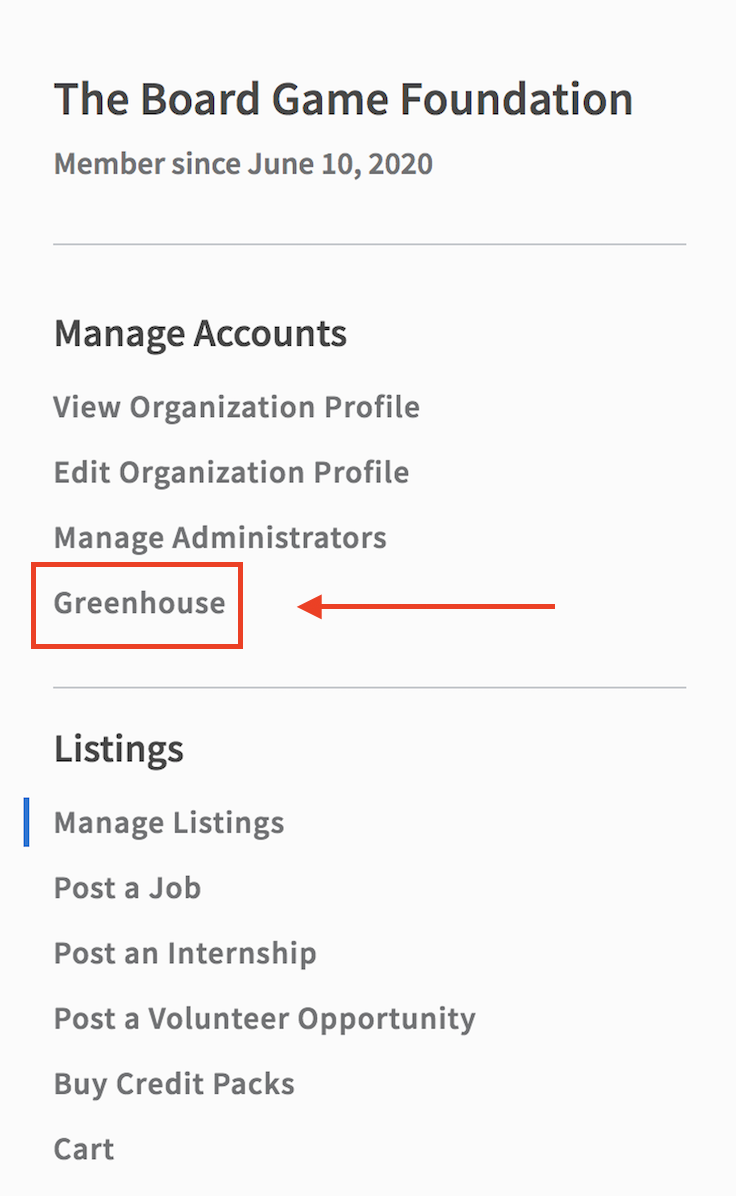 The Greenhouse Integration page allows you to manage how jobs are shared from your Greenhouse job board with Idealist, as well as view all of your organization's jobs that are currently posted on Greenhouse.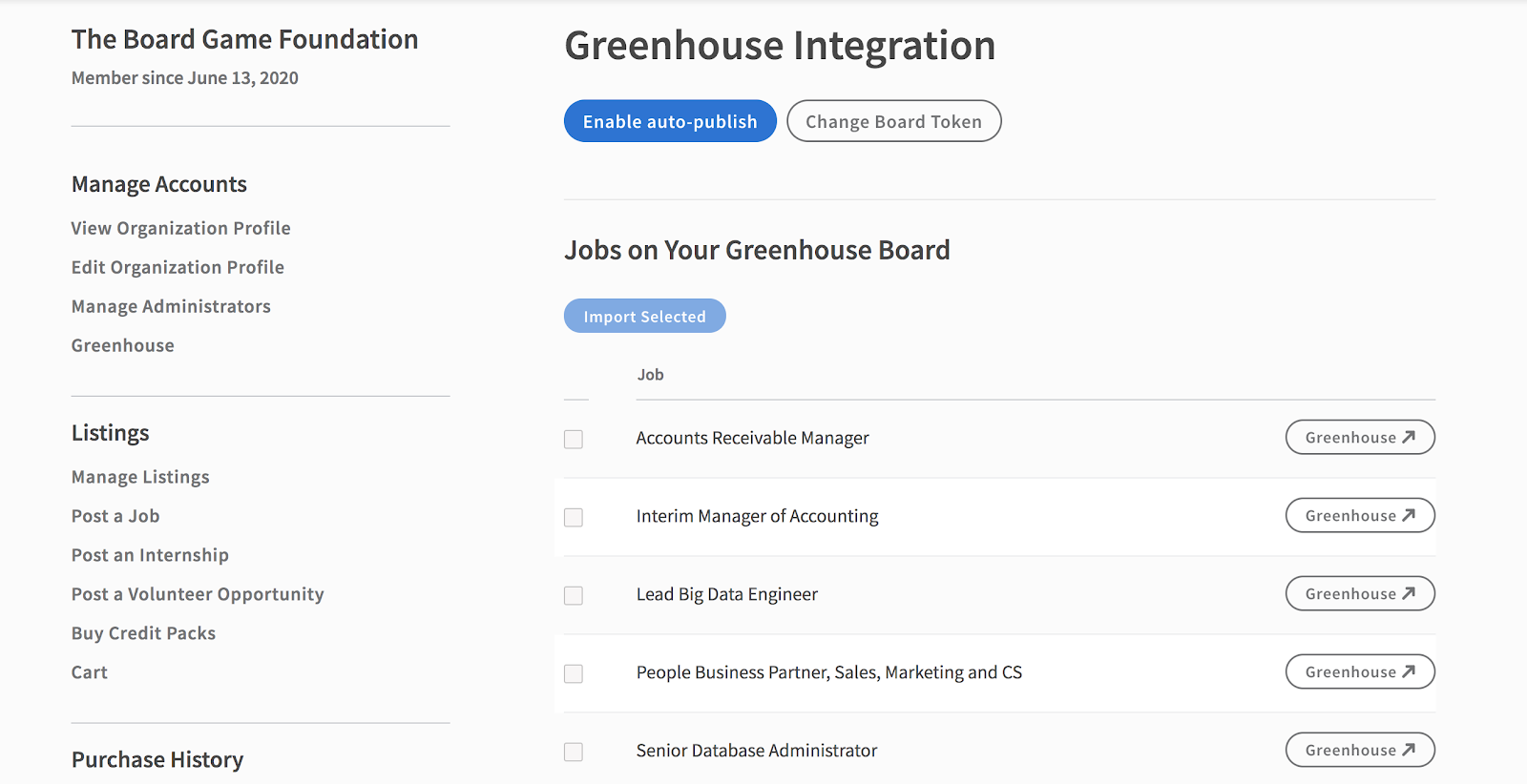 Clicking "Enable Auto-Publish" will post all jobs currently on your Greenhouse job board to be posted to Idealist. Additionally, any future jobs you post to Greenhouse will automatically be posted to Idealist.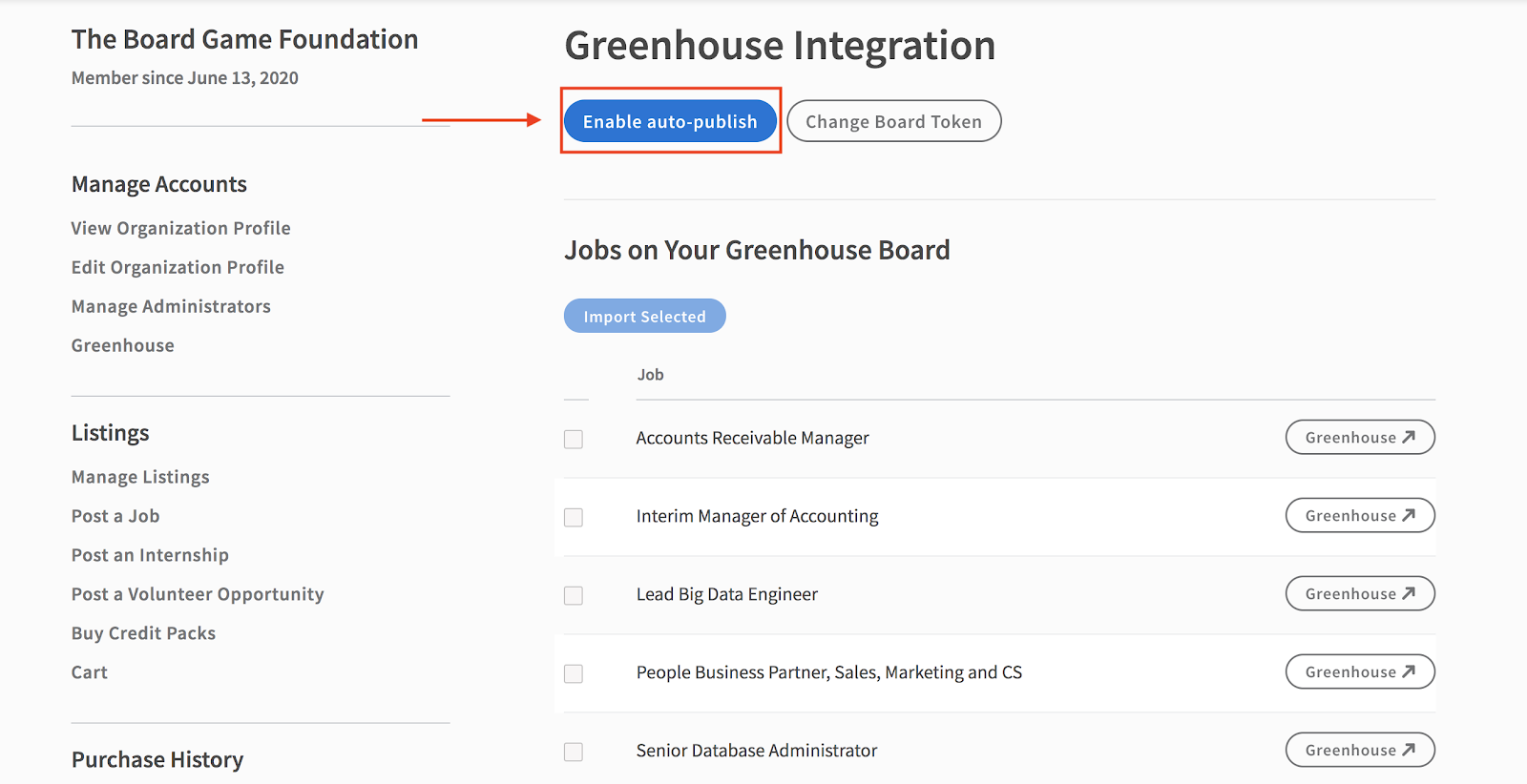 Please note that use of this option requires you to purchase Job Credit Packs. Each Job posted in this way will spend one (1) Credit.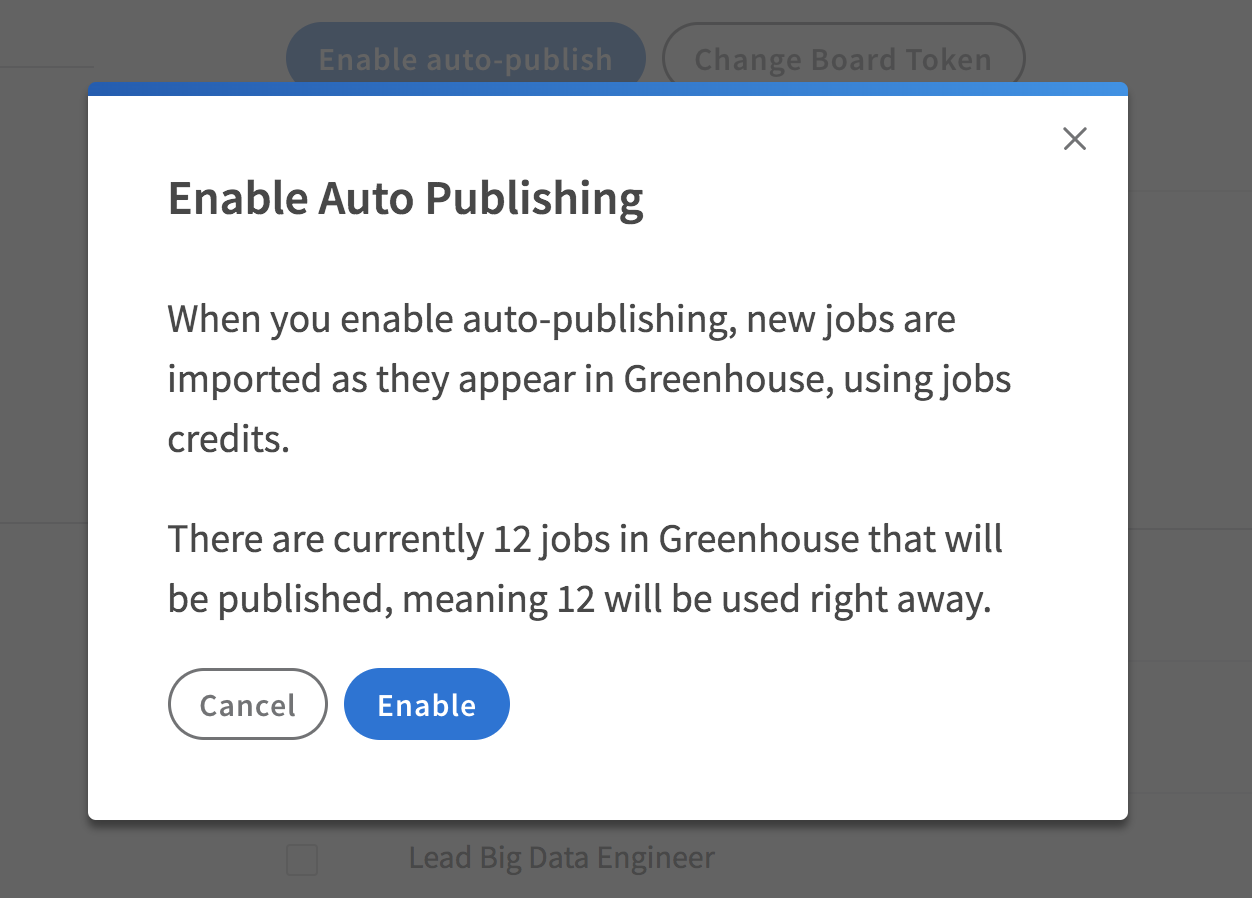 To instead select which jobs you'd like to import manually, do not enable the Auto-Publish option. Instead, click the checkbox next to the jobs you would like to import to Idealist and then click "Import Selected." You will then input your invoice and payment information and pay for these by credit card, indicate that you will be sending a check, or use any Job Credits you have purchased. Please note that

prices will vary depending on the type of organization you represent.





Once listings are live on the Idealist site, they cannot be edited via Greenhouse. If you need to edit the listing on Idealist, please use the normal editing process for jobs on the Idealist website.
Please note: applicants for your jobs will be directed to the Greenhouse-hosted application to apply.