StaffGeek helps your company identify which candidates are the right fit by creating a customized FitTechTM assessment around your company. Your FitTechTM assessment is based on your company's Distinct Native Attributes, or DNA. Your Company DNA will identify what is critical for success at your company. For every FitTechTM assessment that is filled out, a FitTechTM report will be generated demonstrating how that particular candidate scored relative to your Company DNA.
Greenhouse Recruiting's integration with StaffGeek allows you to seamlessly add StaffGeek's assessment to a job's interview plan. In this article, we will cover how to:
Enable Greenhouse Recruiting / StaffGeek Integration
To start, contact your StaffGeek representative at hello@staffgeek.com to receive your API key. Once you have received your API key, fill out the form at www.greenhouse.io/asksupport or click here to open a ticket.
Note: Do not send the API key in this initial email.
The Greenhouse Support Team will respond with a SendSafely link for you to enter your API key. A notification will be sent to the Greenhouse Support Team after you have entered your API key and they will email you to confirm that your API key has been set up in your account and your integration is enabled.
Once the Greenhouse Recruiting / StaffGeek integration is enabled for your organization, the StaffGeek stage with your assessments will be set up for you already.
Send and Review StaffGeek FitTechTM Survey
When a candidate is moved into the StaffGeek interview stage, Greenhouse Recruiting will display a Send Test link. Click the Send Test link to begin the process of sending a survey to a candidate.
Note: When you send a test from Greenhouse Recruiting, the interview instructions are actually sent by StaffGeek.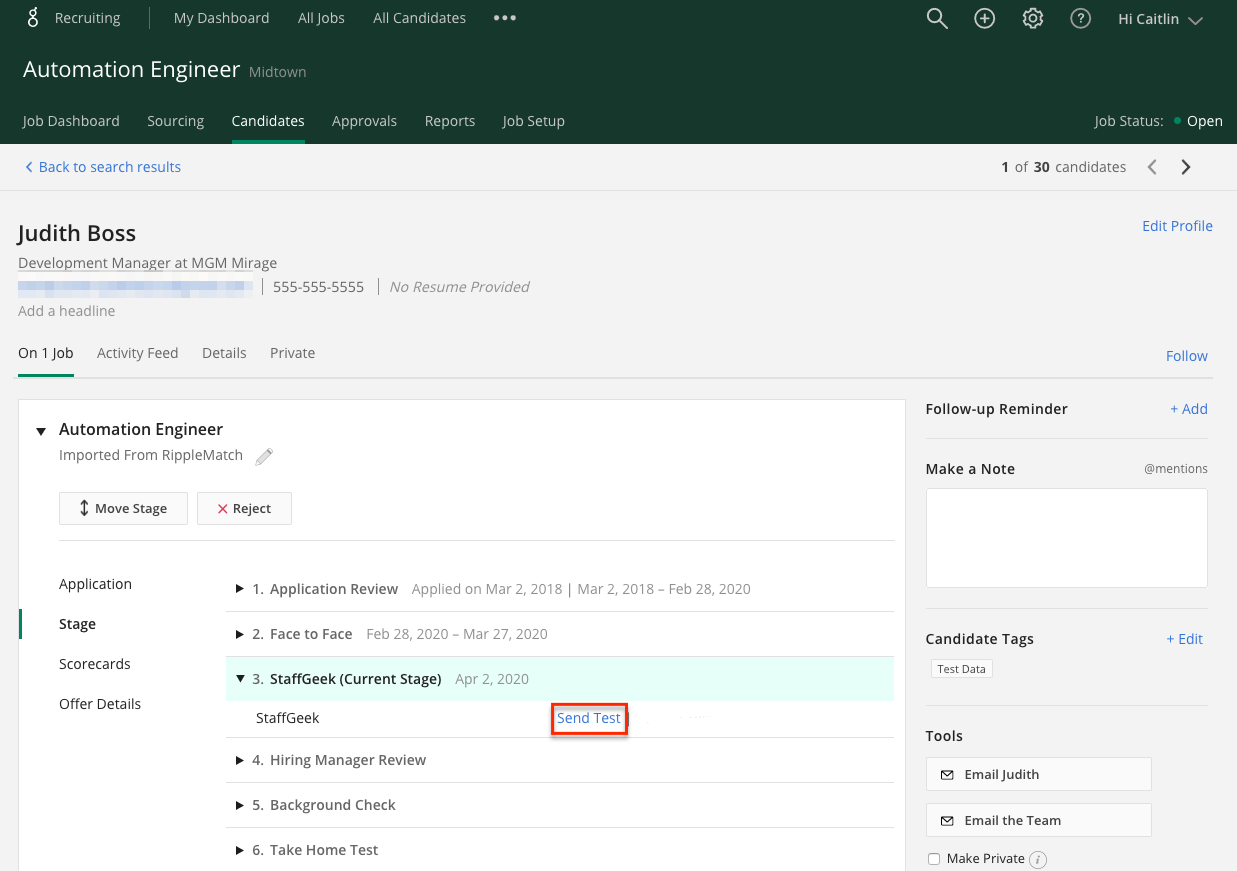 In the Send Test dialog window, click the Test dropdown to select your StaffGeek test, called FitTech [Company Name].

In the Who should grade it? field, enter the name of the user who should review the survey when completed by the candidate. When finished, click Send Test at the bottom right of the window. The candidate will receive an email with a link to the survey. When a candidate completes the survey, the user who was selected as the grader will receive an email notification with a link to the Survey Results PDF.
To view more details about a candidate's score, or add notes to the candidate's scorecard, navigate to the candidate's profile in Greenhouse Recruiting, then click on the StaffGeek scorecard as pictured below.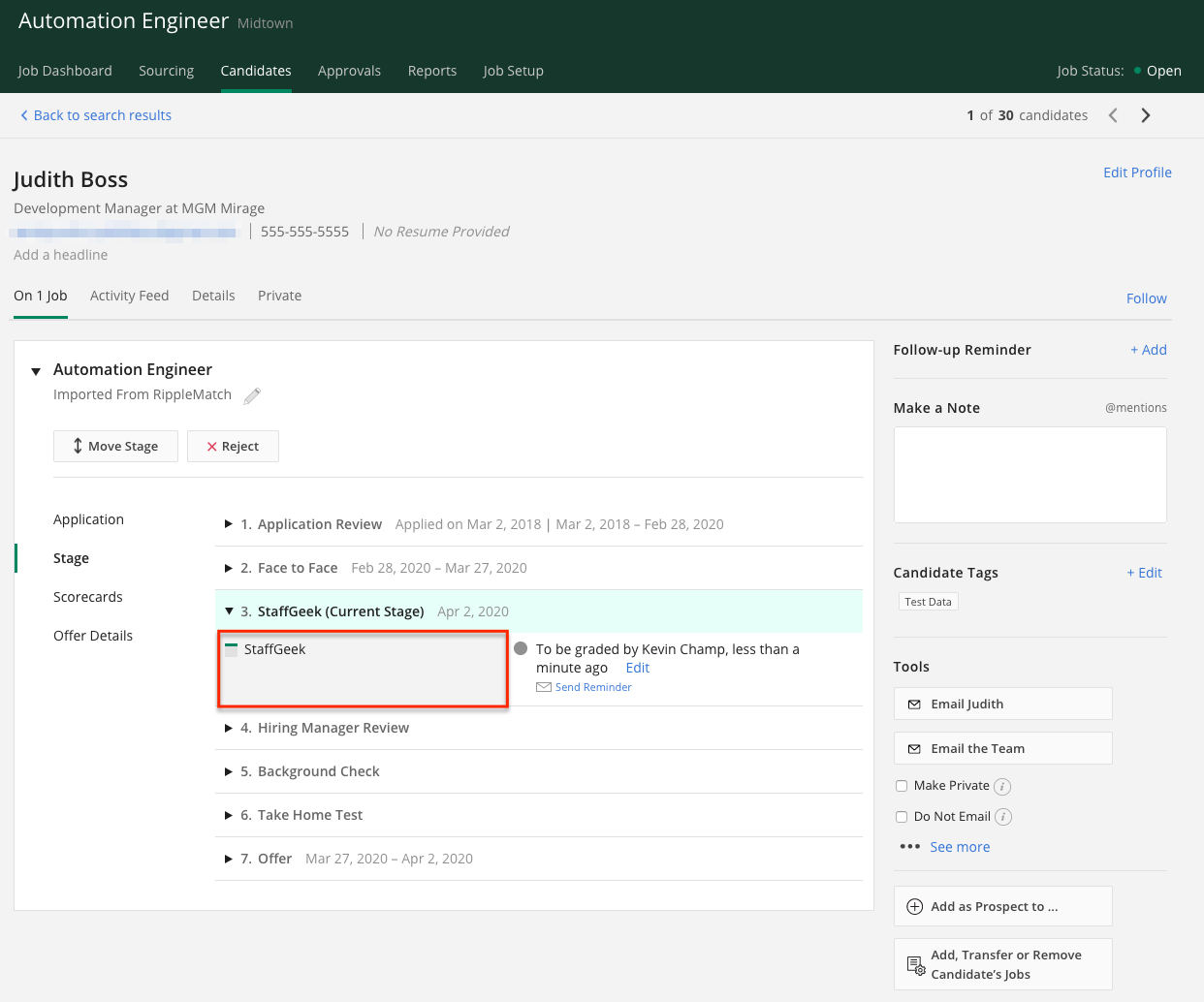 From the StaffGeek scorecard, the Grading Instructions tab will allow you to review notes about the candidate's score, as well as access the URL to the Survey Results PDF. The assigned grader can complete their scorecard feedback from the Scorecard tab on this page as well.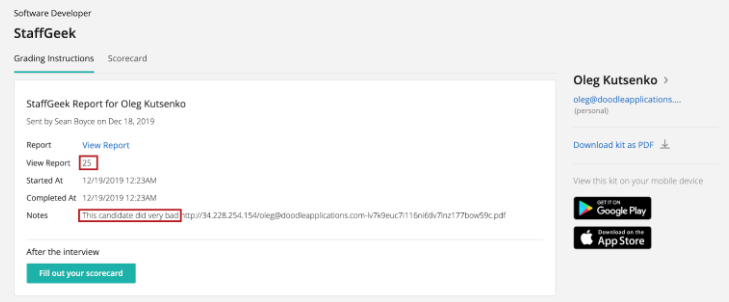 Get Help
For questions about the Greenhouse Recruiting / StaffGeek integration, email the StaffGeek team at support@staffgeek.com. Please contact support@staffgeek.com for troubleshooting assistance regarding the integration.