The StaffGeek product works by helping your company identify which candidates are the right fit by creating a customized FitTechTM assessment around your company. Your FitTechTM assessment is based on your company's Distinct Native Attributes or DNA. Your Company DNA will identify what is critical for success at your company. For every FitTechTM assessment that is filled out, a FitTechTM report will be generated demonstrating how that particular candidate scored relative to your Company's DNA.
Greenhouse Recruiting's integration with StaffGeek allows you to seamlessly add StaffGeek's assessment to a job's interview plan. In this article, we will cover how to:
Enable the Greenhouse/StaffGeek Integration

Send and Review the Test
The Greenhouse/StaffGeek Integration does the following for you:
Adds StaffGeek Stage to Job's Interview Plan

Configures the StaffGeek Stage

Adds the StaffGeek

FitTech

TM

Assessment to your StaffGeek Stage Send Test Options

Includes Link to FitTech

TM

Assessment Report in HR Assessment Confirmation Email
Enable the Greenhouse/StaffGeek Integration
To start, contact your StaffGeek representative (hello@staffgeek.com) to receive your API key. Your StaffGeek representative will send you your API key via SendSafely. Once you have received your API key, click here to open a ticket with Greenhouse and provide Greenhouse with your API key.
Note: Do not send the API key in this initial email. API Keys allow access to sensitive data and
must be kept secret. If an API Key is shared in an email and your email is intercepted by a
malicious third party or your email account is hacked, the hacker would be able to view and
access your API Key. For this reason, we require API Keys to be shared securely using
SendSafely, Greenhouse's secure data transfer platform.
The Greenhouse Support Team will respond with a SendSafely link for you to enter your API
key. A notification will be sent to the Greenhouse Support Team after you have entered your API
key and they will email you to confirm that your API key has been set up in your account and
your integration is enabled.
Enabling the Greenhouse/StaffGeek Integration Will Add a StaffGeek Stage to Your Job's Interview Plan
Once the Greenhouse/StaffGeek integration is enabled for your organization, it comes with the StaffGeek Stage with your assessment(s) already set up for you.
How to Send Your StaffGeek FitTech Survey and View The Results
When candidates are moved into the StaffGeek interview stage, Greenhouse will display a Send Test link.
Note: When you send a test from Greenhouse, the interview instructions are actually sent by StaffGeek.
Either create a new Candidate or open an existing Candidate's profile and change the stage to "StaffGeek".

Make sure that the candidate's email is in their profile under Info.

You should now see "Send Test" under the StaffGeek stage. Click "Send Test". This is where you will be sending the link to the FitTech Survey for your candidate to take.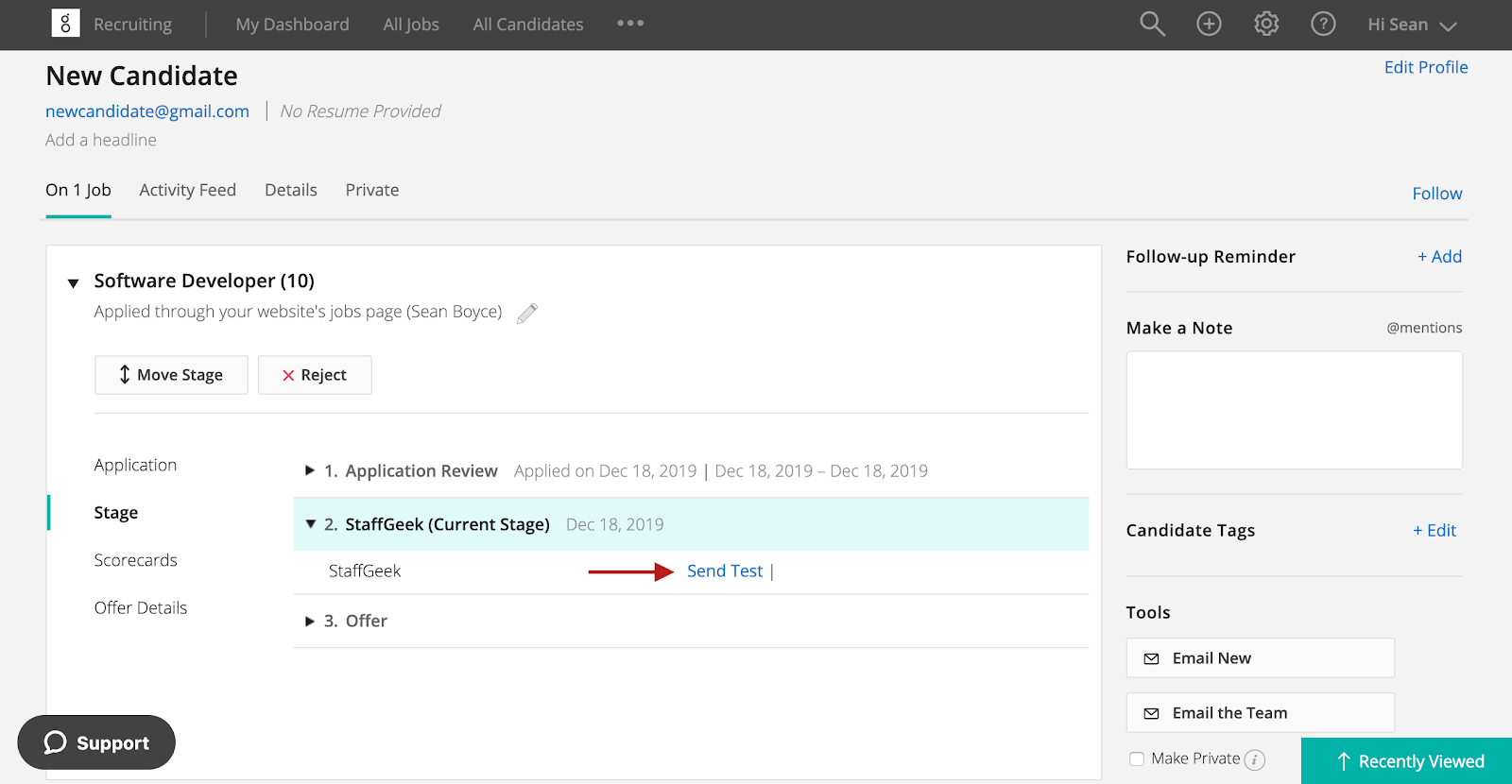 In the popup, the candidate's email address will auto populate in the "To" field. For the "Test" field, click the dropdown and select your "FitTech (Client)" survey that the candidates will be applying for. Your FitTech Survey will already be in the dropdown after StaffGeek set up your Integration.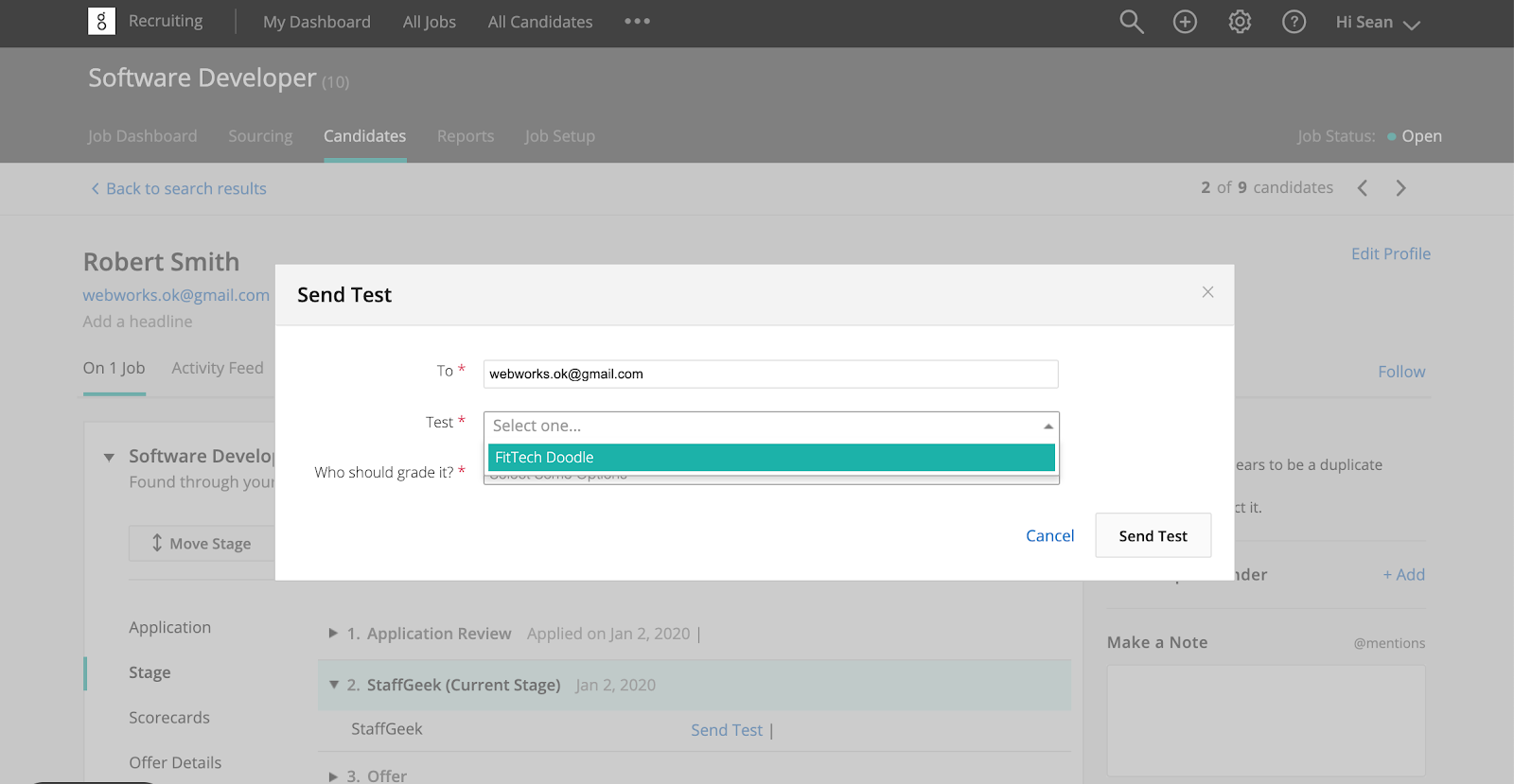 Select "Who should grade it?"

Then click "Send test".

The candidate will receive an email with a link to the survey.
You can view who has or hasn't taken the survey yet by going to All Candidates at the top of the dashboard (screenshot below documents where to click). On this page, you can see when the Survey was sent for those who haven't taken the survey yet and the scores for those who have taken it.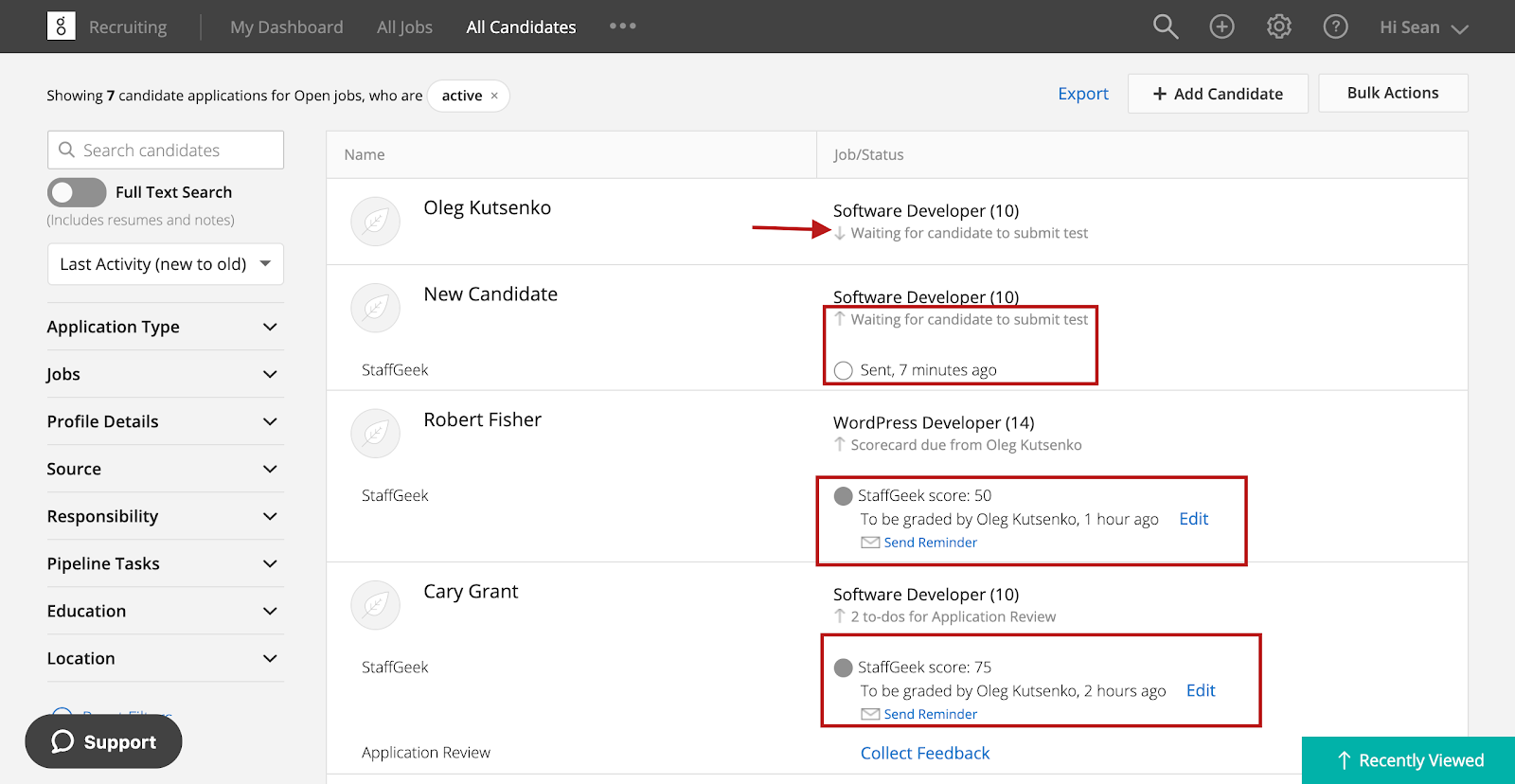 When the candidate completes the survey, the person who was selected to grade it will receive a notification/email with a link to the Survey Results PDF.

To view more details about their score or add notes to their interview scorecard click here:

Here you will see notes about their score as well as the URL to the Survey Results PDF (this note with the URL was sent in an email to the person selected to grade it as well).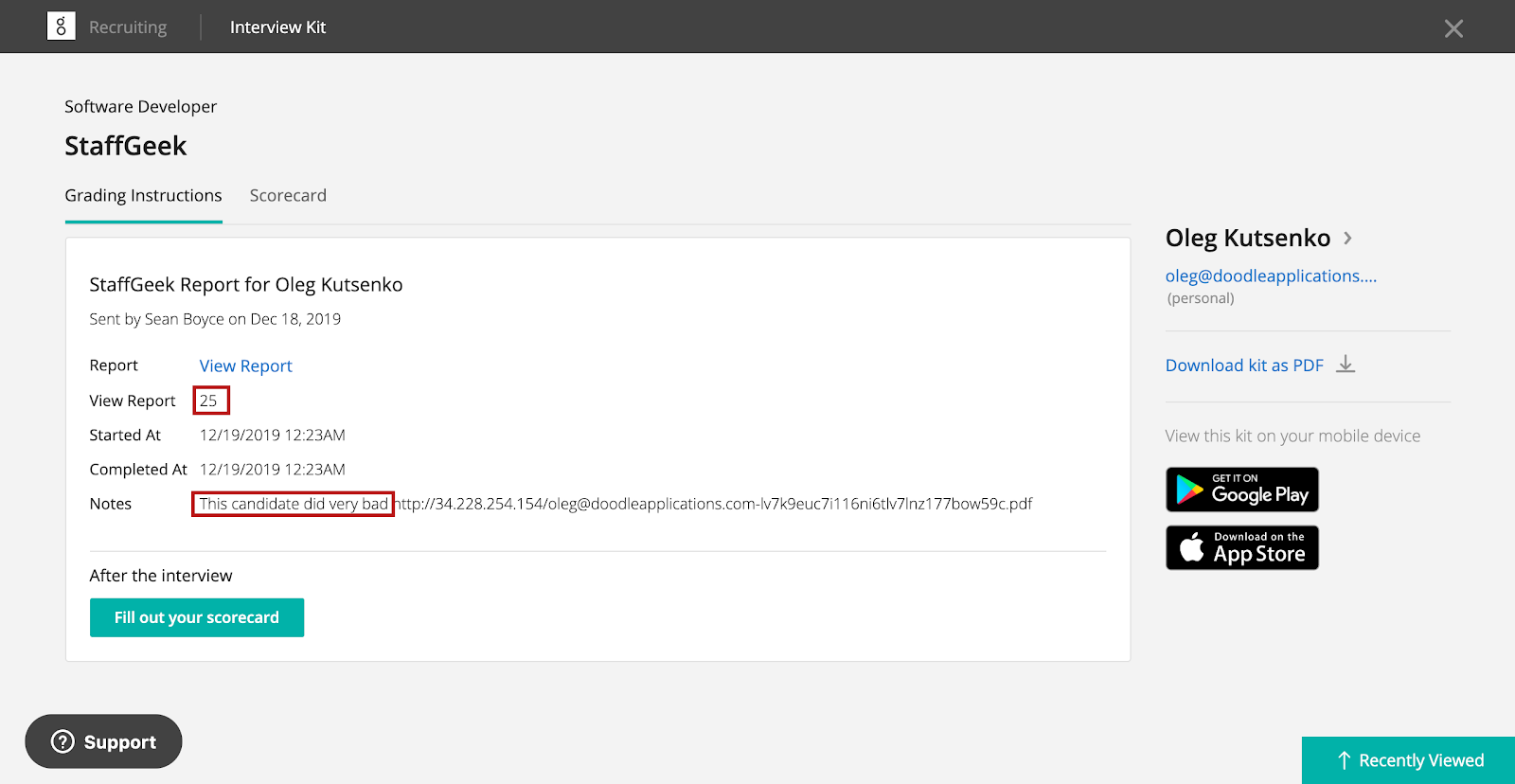 During or after the interview with the Candidate, HR can fill out their Scorecard with details about their interview.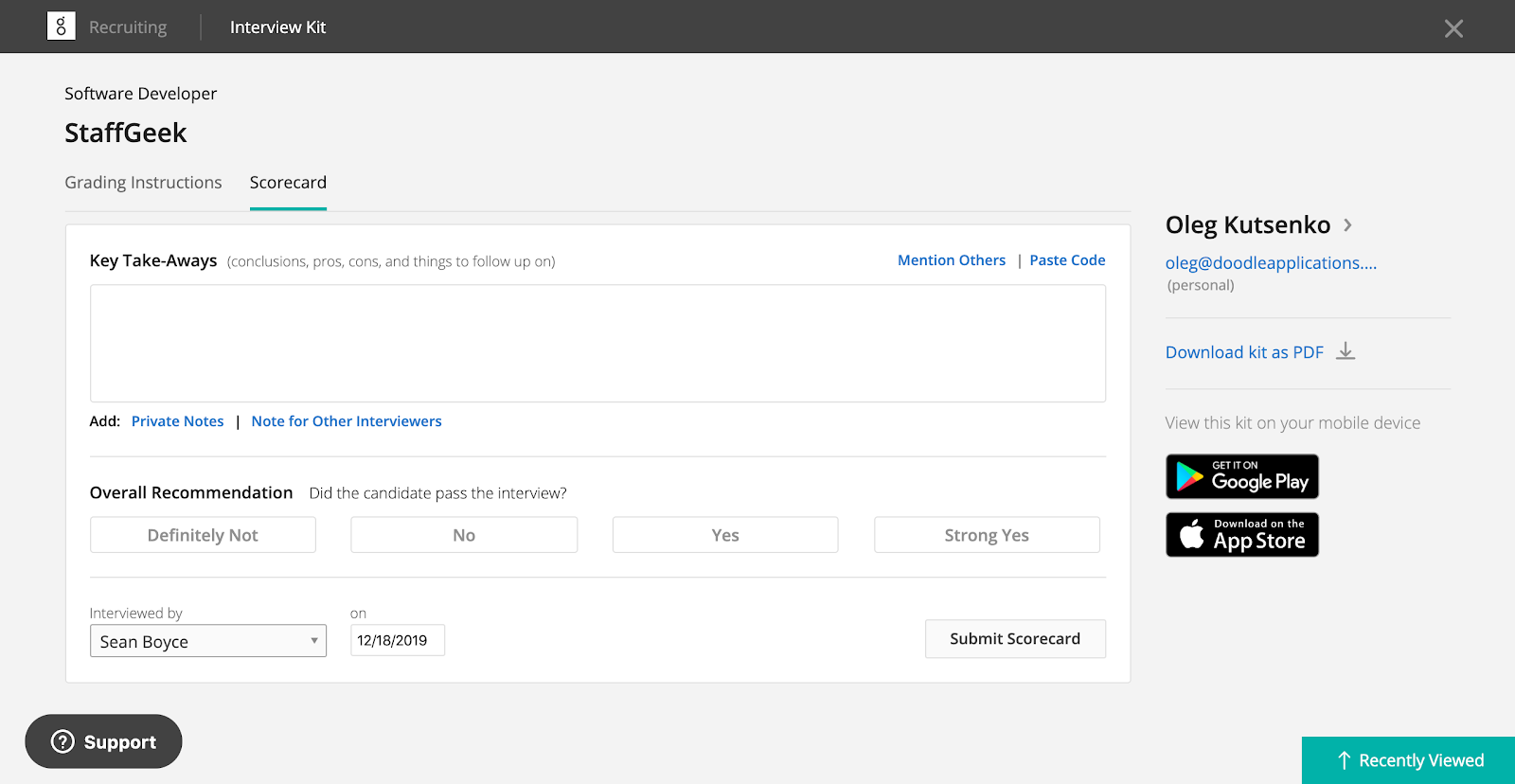 Need help?
If you have any questions about the StaffGeek integration with Greenhouse, email the StaffGeek team at support@staffgeek.com. Please contact support@staffgeek.com for troubleshooting assistance regarding the integration.