Offer section tokens allow you to dynamically display conditional language for a custom offer field in an offer template. Offer sections configured for a custom offer field will have a single offer section token. An offer section token is created by default. You can modify this token on the Offer Sections page.
Note: If no conditional language is configured for a custom offer field option, a blank will be inserted in the offer letter.
Click here for more information on offer sections.
Edit Offer Section Token
Note: Editing an existing offer section token that is already included in an offer template will require your organization to re-upload those templates with the edited name of the offer section token.
Navigate to the offer custom offer section (Configure

> Custom Options > Offers) and select Offer Sections at the top of the page.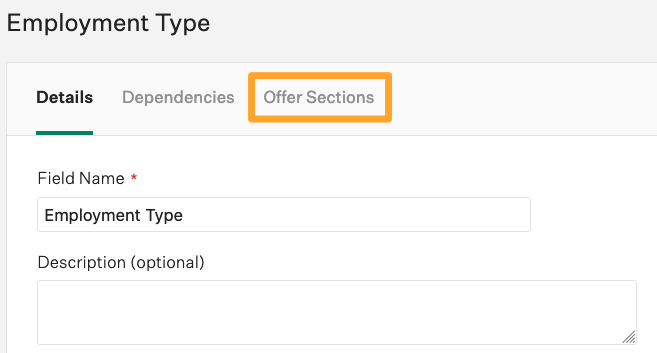 Scroll down and modify the offer section token in the text box.

Click Save. The token will be updated.