VONQ offers recruitment marketing technology to turn passive and active candidates into qualified applicants. Being the global gateway to attract applicants, our fully algorithm-powered recruitment marketing technology offers hiring teams access to all the media channels in the world (incl. generic and niche job boards, aggregators, online hubs & communities, social media channels, e-commerce, news sites, and even apps) and helps them select the most relevant channels for their jobs. To steer recruitment teams' success, we offer performance data analytics and job market insights.
Greenhouse Recruiting's integration with VONQ allows users to push active jobs to VONQ's platform to easily create advertisement campaigns and distribute their jobs to over 2000 channels. In this article, we will cover how to:
Configure the Job Board API to distribute your active jobs to VONQ from within the customer's account.

Create a Job Board API Key for the Greenhouse/VONQ Integration

Create a campaign on VONQ's platform.
Configuring VONQ as 'Job Board' inside Greenhouse
For VONQ to pull your open jobs, you will need to send them your job board token. Usually that's pretty simple (e.g. CompanyABC's board token is "companyabc" with the URL being https://api.greenhouse.io/v1/boards/companyabc/jobs)
To receive the job board token, complete the following steps:
Click on the Configure tab

Select Job Board

Click Edit

The job board token will be located in the URL field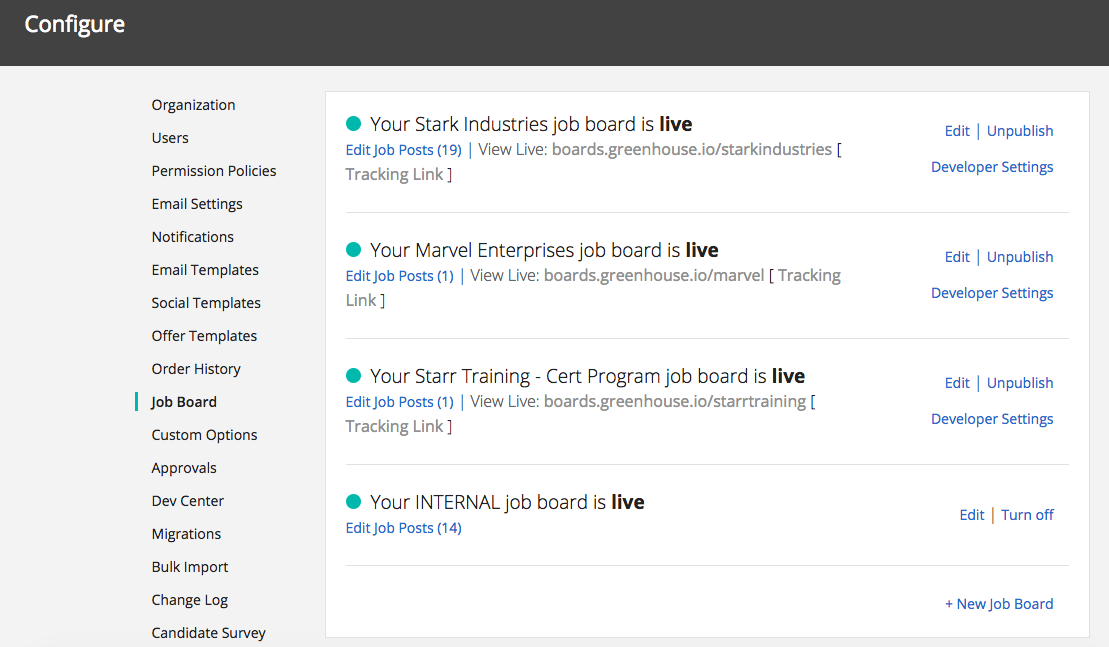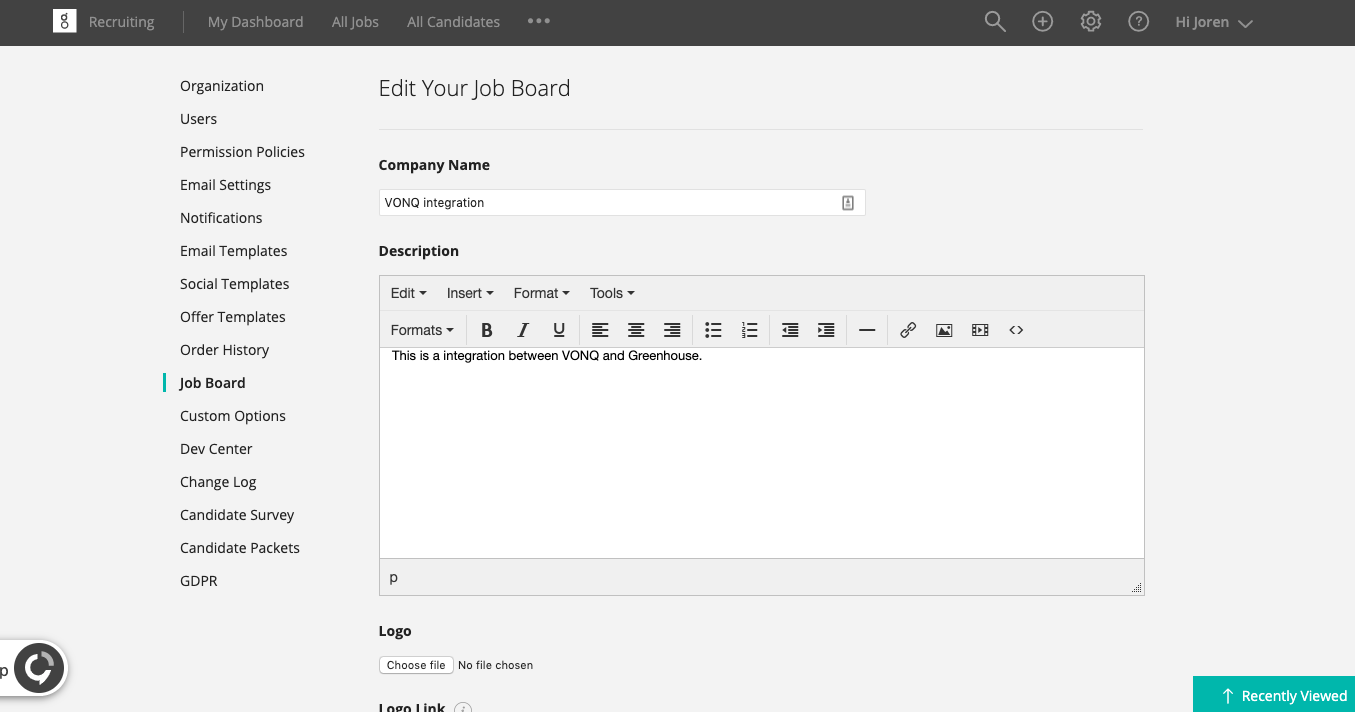 Generating Job Board API Key
Click on the Configure tab

Select Dev Center > API Credential Management

Click Create New API Key to generate the API key for VONQ

Select the API Key type as "Job Board"

Send the generated API key to VONQ via a secure method
How to use the VONQ Integration with Greenhouse
Every job in Greenhouse that is put on status OPEN will be sent to VONQ.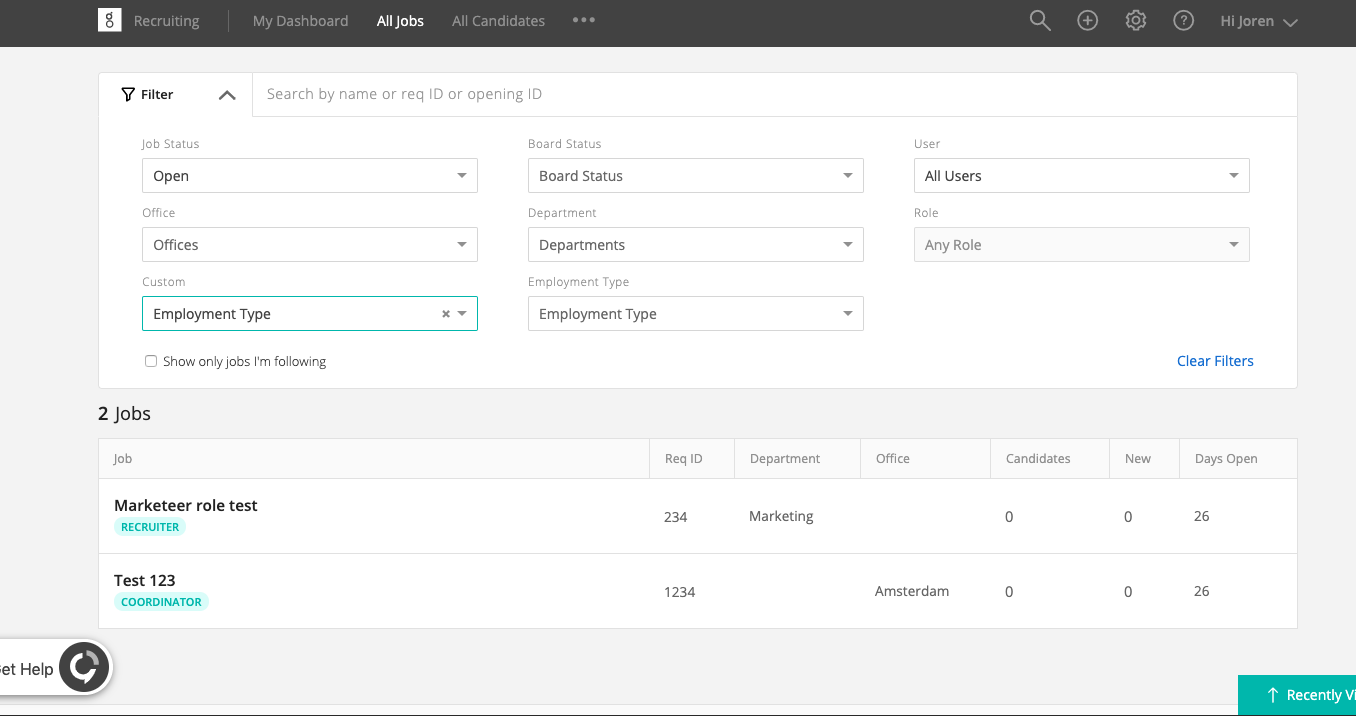 Log in to VONQ via:
Click on jobs in the VONQ menu and you will find your open jobs.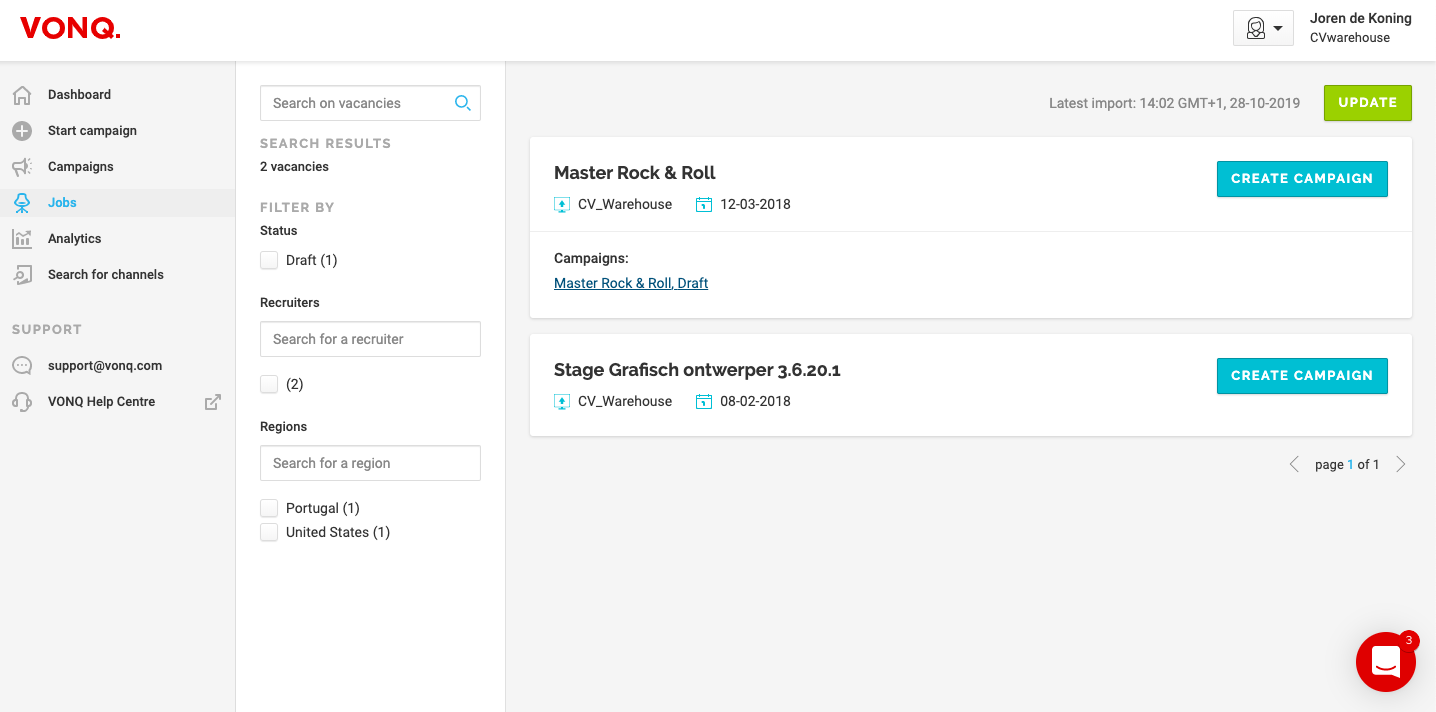 Click on create a campaign to start a campaign.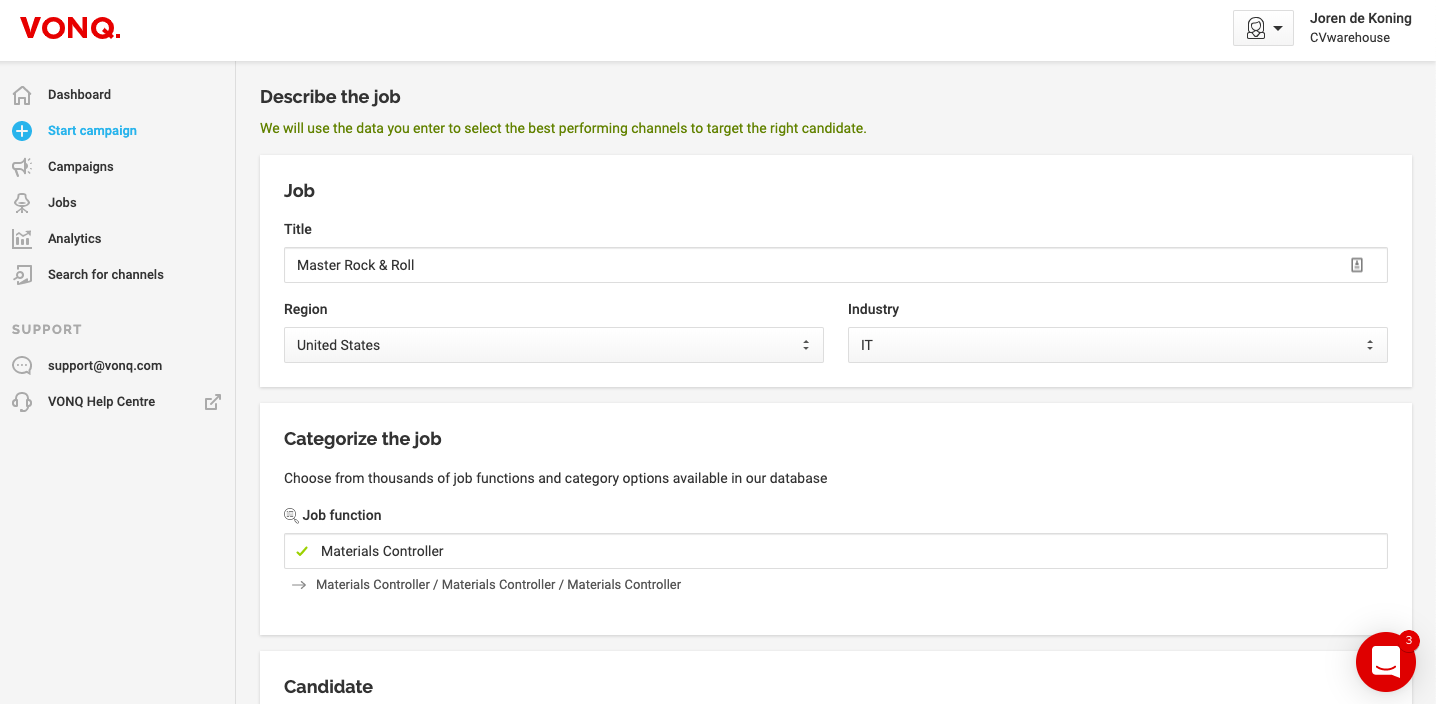 Get a media recommendation.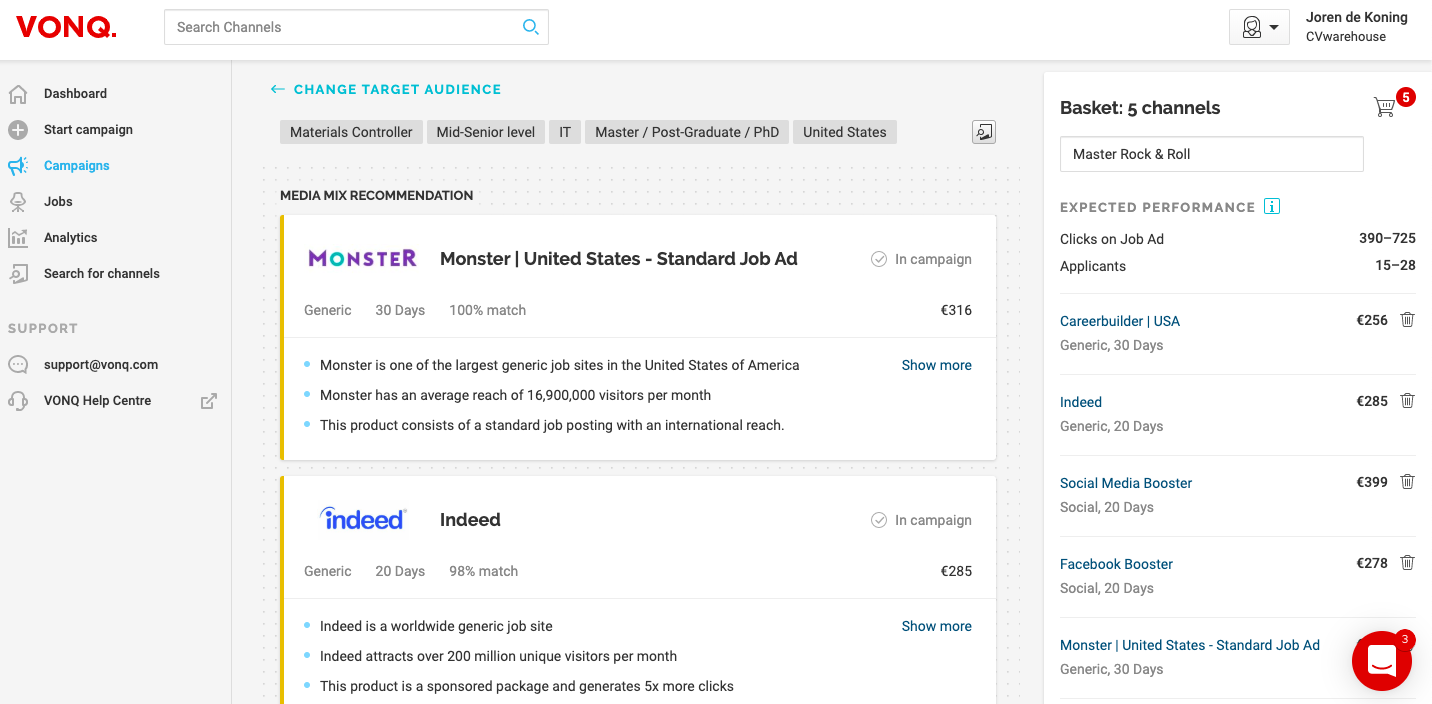 And from here on you can order a campaign.
As you can see most details are already prefilled by having the integration in place. Such as the job description and job page URL / apply URL.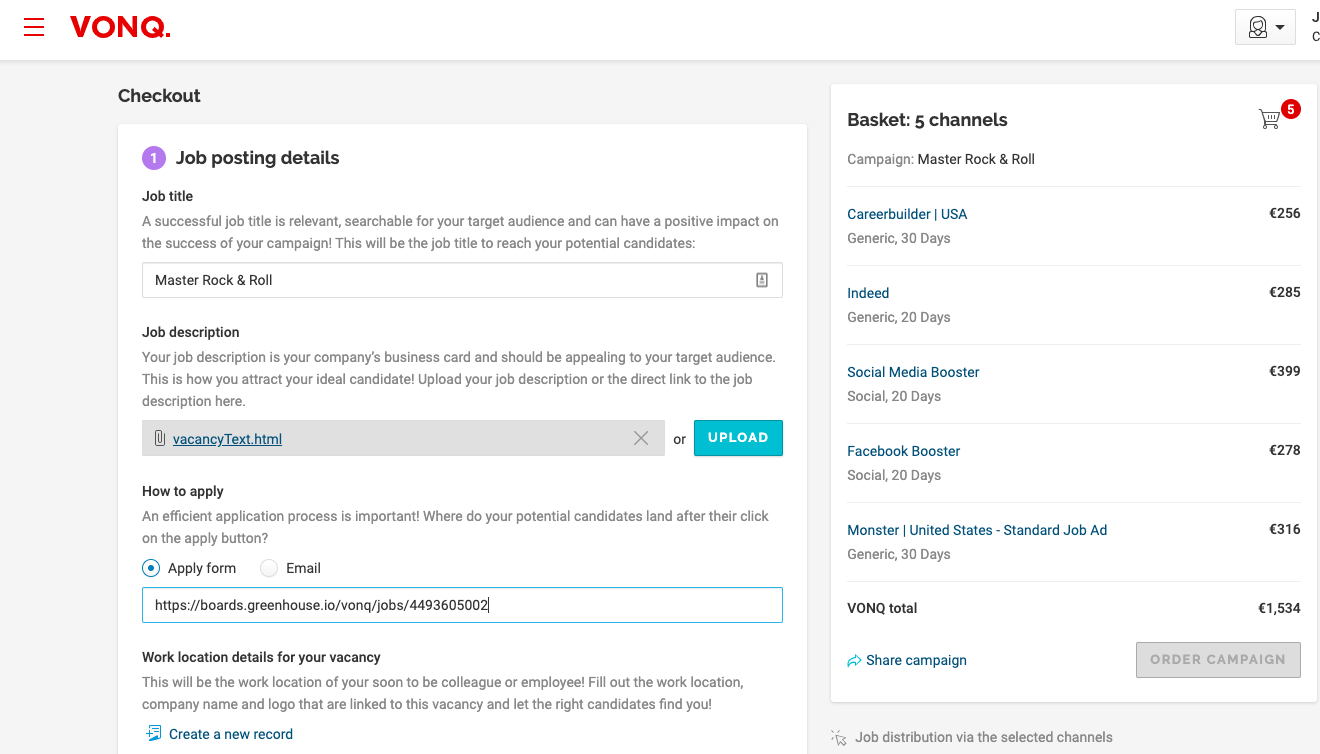 Once, all information is filled. Hit the order button.
VONQ will put the ad online and inform you via email and via our interface about the progress of the campaign.
Review the performance of the campaign in your dashboard.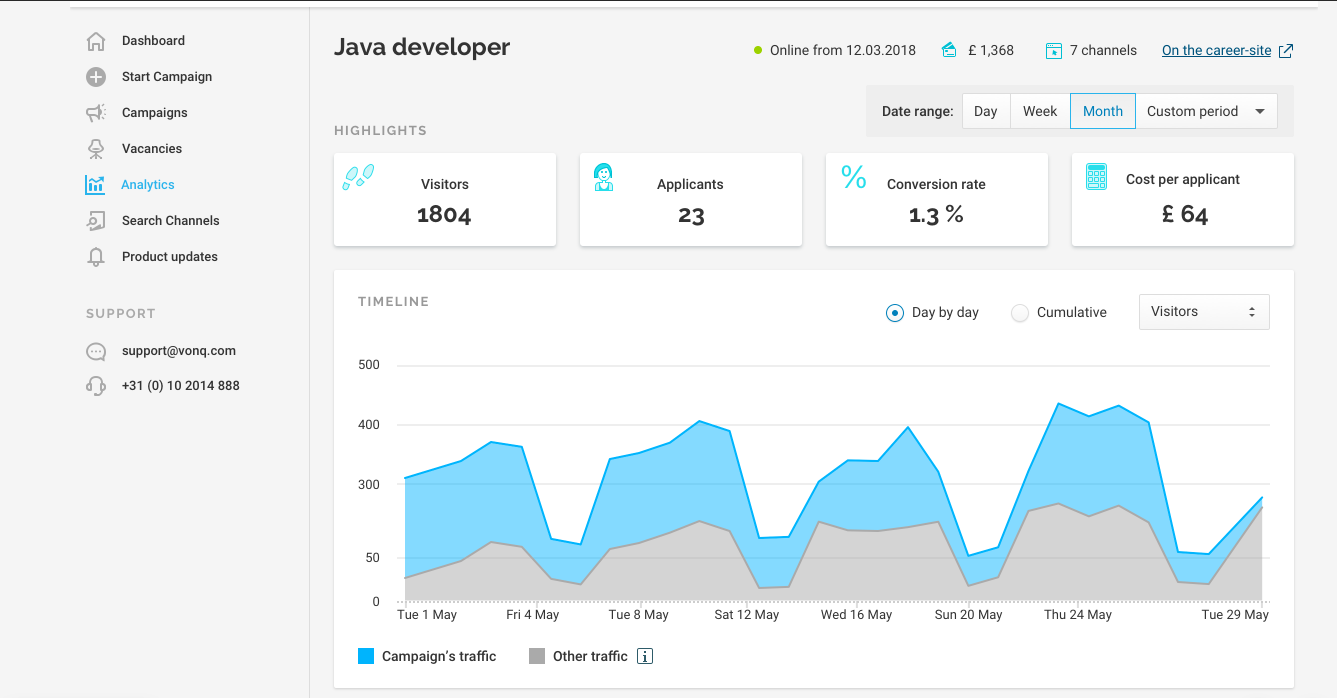 Applications will flow back into Greenhouse ATS.